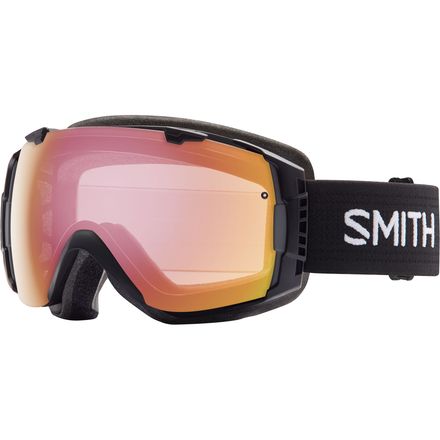 Colors
A simple look and crazy-complex tech—opposites really do attract.
The Smith Photochromic I/O Interchangeable Goggles take a sleek, streamlined design with a wide peripheral view and dumps in the kind of tech that you'd expect to see in a science fiction movie. The double-layered lens system stops fog and distortion to make sure you can see where you're going while the photochromic treatment takes these goggles from light to dark and back to make sure you're ready for whatever kind of light is coming down. It's almost hard to imagine that such a straightforward look could be packing so much heat.

Proposition 65 Warning for California Consumers: This product contains chemicals known to the State of California to cause cancer and/or birth defects or other reproductive harm.
Seamless helmet integration makes your helmet and your goggles one streamlined unit
Spherical Carbonic-X lens with TLT optics are individually molded to offer you a clear, distortion-free view
Photochromic treatment on the inner lens qtuickly changes tint levels to fit the conditions
Vaporator Lens Technology uses a Porex filter and a silicone seal to adjust to air pressure and prevent fogging
Quick-release lens system lets you swap out lenses at lighting-fast speeds
5X anti-fog inner lens has a hydrophilic, micro-etched surface to stop fog before it can even start
Nearly frameless design throws down with wide, unrestricted peripheral vision
Triple-layer DriWix face foam with fleece lining creates a smooth seal with your face and is insanely soft
Ultra-wide silicone-coated strap with QuickFit strap adjustment holds these goggles to your head
Microfiber goggle bag has a replacement lens sleeve safely get your goggles to and from the mountain
Comes with one photochromic and one non-photochromic replacement lens
Do not buy the Photochromic lens
Familiarity:

I've used it several times
Smith designed a self fogging lens. I got these brand new to start this year, every time I use the photochromic lens it fogs as soon as I put it on, even before skiing. Smith was great and sent me a replacement and that one fogged as well. The spare lens (non-photochromic) works great and are generally awesome. Just don't buy the photochromic lens.
Edward R.
Awesome goggles!
Familiarity:

I've used it several times
These goggles made my trip so much better than before! I was using some older goggles with bad peripheral vision that fogged up easily. With these goggles however, I could clearly see everything in front of and around me! I went the whole day without any fogging issues at all!
Jake Allison
Chromapop for the win!!
Familiarity:

I've put it through the wringer
These goggles perform as well as any top end goggle that you'd expect from and industry leader like Smith. Fog resistance, scratch resistance and comfort.
The thing that sets the Smith goggle line apart, is the Chromapop. This technology really makes everything you look at pop. It doesn't change the colors of your environment, but it enhances them. When i take these goggles off after a long day of riding, the world seems much more dull. I also have the founder chromapop glasses from smith so i can throw those one to help sharpen things back up. All in all these goggles are awesome.
D Trent Childs
Eye Comfort All Day Long
Familiarity:

I've put it through the wringer
I am the rep for Smith. The Photochromic lenses have a light transmission that changes between 30% and 50%. You cannot expect these to be clear at night or be your darkest lens on a bright sunny day. What you can expect is a lens that changes tints subtly throughout the day as light conditions change. They will provide you vision that stays comfortable on your eyes all day long. In the IO Series, since you get two lenses, you will also get a Blackout lens for bright sunny days. As a reference point, the blackout lens has a 10% visible light transmission. One of our darker lenses for bright sunny days....and hiding suspect eyeballs:)
Garret R.
4 Days Of Skiing Before The Season Ended
Familiarity:

I've used it several times
I've only used these in fairly spring like conditions, and had no fogging issues. Probably the coldest they saw was mid 20's but all was well. I've only used the Photochromic lens and it performs well. It does't get crystal clear at night, but it's usable. It doesn't get super dark in the day, but it knocks the brightness down enough to keep skiing enjoyable.

Dallace M.
A girl's gotta have options
Familiarity:

I've put it through the wringer
Favorite thing about these goggles: multiple lenses! I love having choices for the many different weather patterns the Northwest throws at me. It is easy to switch between lenses and I love having so many to choose from.

This is my second pair. Fun fact: they are not puppy proof! And I would keep buying them.

Second thing I love about these goggles: easy to adjust, no slip fit, and amazing comfort.

Third and final praise: they aren't huge! They don't take up my whole face and give me good visibility.
Moonie
Great google
Familiarity:

I've used it several times
I have been able to use these a couple of days this season already. Overall, I have been really pleased. The lenses are great in sun and shade, transitioning seamlessly between either. They are comfortable and provide great eye coverage. From a design and aesthetic standpoint, they look great.
Shae McCowen
Photochromic is Phenomenal!!!
Familiarity:

I've used it several times
No matter which style goggle you choose make sure you choose the Photochromic lenses! These lenses are unbelievably versatile, from white out conditions to bright blue bird days and everything in between these lenses allow you to have crisp clear visibility.

The lenses actually change, so when you pull them out of the box and on grey bird days they will look more like the red sensor lens, but when you hit some light they turn more into a solar x type lens (and have the mirrored looked to go with).

All and all I have never been so excited about something so seemingly small, but this is something to get excited about!
Shaun Raskin
Smith I/O Interchangeable Goggle
Backcountry Video
Great goggle and GREAT service from BC
Very comfortable goggle with decent adaptability given lighting conditions. I used to use Zeal's photochromatic goggles and there are on par and give me a different tint than the more gray/black of the Zeal goggle. I had a slight glitch with my I/Os however, but backcountry service took care of it right away - you guys rock.
skiaddict
Fogging issues
Familiarity:

I've used it several times
I have had several fogging issues with this lens. I used a anti fog wipe (which i know you shouldnt) which seemed to help. But these lens seem to fog more than they should. The photochromic lens works okay. never seem to notice a huge difference from light to dark. I often think they should be darker than they are most of the time. I have a small face and the frame fits well.
AAnderson
What is the the range of % VLT for the...
What is the the range of % VLT for the smith photochromic lens?
Michael Morich
Best Answer
From what I read, 20-50% for the photochromic lens.
Marcin K.