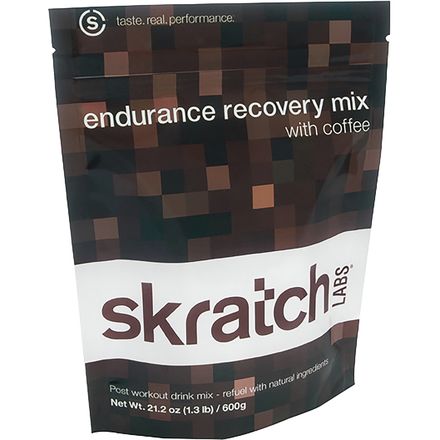 Colors

Detail Images
The four R's of cycling.
Skratch Labs tells us that the impetus behind its Endurance Recovery Mix was the working athlete whose schedule (and lack of a team chef) means they can't always recover with "a freshly prepared meal made from scratch." Naturally, something made from Skratch is the only appropriate substitute. The Endurance Recovery Mix adds three essential R's to Riding: Refuel, Rehydrate, and Rebuild. Though Skratch rates it as priority two, Rehydration strikes us as the most obvious element, and the Endurance Recovery Mix takes the most direct route towards that end by replacing the water and salt you left on the road.
The refueling step starts with the Endurance Recovery Mix's ratio of five grams of carbohydrates to every one gram of protein, which is a targeted blend that treats your post-workout body much more favorably than whatever's lurking in that week-old carry-out container behind the mustard in the fridge. This ratio prioritizes refueling by providing an easily consumed dose of calories in the form of carbs, but it goes a step further than microwaved leftovers of questionable provenance because it places special emphasis on replenishing glycogen—essentially stored fuel—in the muscles generally and the liver specifically.
Re-upping on liver glycogen is particularly important for two reasons. First, glycogen stored in the liver is depleted during bouts of endurance training because it converts into sucrose that is then distributed to hungry muscles the body over. Second, the liver is often the victim of post-ride beverages. So we really owe it to the poor little guy.
The protein element is not only a complete protein, it's also a naturally occurring ratio of whey protein and casein protein. Skratch uses this particular ratio to meet its Rebuild dictate because, according to the metrics recommended by the Food and Agricultural Organization of the United Nations, it's one of the best sources for human digestion. The dairy-derived whey/casein protein featured here rates higher than whey protein isolate, casein protein isolate, and any vegetable-sourced protein. The protein's mission of reconstruction is further aided by the inclusion of some naturally occurring milk fat, which helps replenish critical macronutrients that are cashed-in during workouts, but it also improves the taste.
Finally, a note on what Skratch leaves out of the Endurance Recovery Mix. For everything Skratch included, there's an even greater list of typical supplement ingredients it left out. The brand has built a reputation on its ability to maximize effectiveness with limited ingredient lists, and this helps keep the Endurance Recovery Mix comfortably in line with the proscriptions of non-GMO, growth hormone and gluten free, vegetarian, and kosher diets, all without compromising on the all-important element of tasting good enough to actually enjoy.
A recovery mix for endurance athletes
Specifically targets replenishing glycogen stores
Replaces water and salt lost during training
Contains easily digestible milk-derived protein
Naturally occurring milk fat for tasty recovery
Minimum ingredients and maximum recovery
Non-GMO, gluten free, vegetarian, and kosher
Sugar, milk and vanilla
Familiarity:

I've used it once or twice and have initial impressions
I don't understand what the hype is. The main ingredient is sugar, followed by milk. Why not just put sugar in your milk and add a little vanilla extract? That's all this is.
Alexandra T
Just Delightful
Familiarity:

I've put it through the wringer
You see a recurring theme with all things Skratch, and that is TASTE!
Seriously this stuff is just so very good!
Post workout fuel to speed recovery and give you the energy you need to get after that "To Do" list instead of crashing after a big ride.
Forrest
Always look forward to this little treat after a hard ride. The taste is fantastic and its nice know that muscles are getting the recovery they need. Easy to throw in the bag and take to the race. Another awesome product from Scratch.
Eric White
Finally a recovery drink I can get down. This is so much more convenient than bringing chocolate milk and having to worry about keeping it refrigerated. I swear this stuff keeps me going, after long bike rides I am always recovered the next day and ready to go again. I love everything that skratch makes.
Alisha J.
Great Taste
Familiarity:

I've put it through the wringer
I've used a bunch of the skratch labs products and enjoyed them all, so I figured it was time to give this ago for some post work out refueling.

Taste:
It tastes just like chocolate milk and I love chocolate milk. The taste is spot on.

Mixing:
At first it didn't mix well but I kept mixing and eventually the whole think mixed perfectly. So if yours looks clumpy....keep mixing and it'll work out!

Cost:
I do think this is a little expensive since it's identical to the nutrition facts on chocolate milk (I compared against the stuff I can get at the local grocery store and everything was almost a perfect match). But the big upside with this (that I can't do with chocolate milk) is travel easily. I've tried putting chocolate milk in a thermos before and then going to the gym, working out and then consuming the milk, and that was always a gamble on whether the milk would be good or not. There were some quesitonable days.

But with this stuff, I can hit the gym, bring this with me, work out, mix it up and then get on with my day and I don't need to worry about it going back in the next hour or two. Just leave the powder in a cup until I'm ready to add water/consume.

I've mixed this in only 6oz servings to get 24 uses out of a pouch rather than 12oz servings which give you 12 uses.
Jared Downs
Taste good AND works
Familiarity:

I've put it through the wringer
I started using this after my rides over 1.5-2 hours and I love it. Being able to get the individual packets for travel and bulk bag for home are very convenient. Take it right away and it'll keep you from hitting that post workout wall that leaves you paralyzed and useless on the couch. Plus, your rebuilding all those muscles you just destroyed during your superhero workout. Oh and it taste fantastic...so, win, win win!
Sterling Watson
Easier than chocolate milk
Familiarity:

I've used it several times
This product has many of the same proprieties as good ol' chocolate milk. The value is in being able to take this with you without worrying about it going bad. I took this on an over-night cycling relay. After each leg, I was able to mix this up (with a shaker bottle) and get some quick recovery nutrition in before finding something more substantial to eat. The Chocolate flavor is great.
Josh Spongberg
Not just snake oil
Familiarity:

I've put it through the wringer
Taste on this is great, the added protein/salts/sugars keep you hydrated really chase away the post-ride recovery drag. Coffee flavor definitely mixes easily, and is pretty strong coffee flavor to boot! I'm glad I tried this one vs. Chocolate as this is plenty chocolaty.
AaronC
Great alone...not quite chocolate milk
Familiarity:

I've used it several times
I used this for mixing if I want to do a chocolate banana smoothie or with almond milk if I can't stop to get a Chocolate milk on the way home. Great product, but I am still a sucker for old school chocolate milk recovery. Great taste and good easy to digest ingrediants keep this in my cupboard.
Eric Worley
Unanswered Question
How long is the shelf life of these products?
andrew
Basically just dried chocolate milk. Add ice water and shake. Needs a good shake though. Doesn't mix that well if you have use a spoon and stir.
CaseyBurrows
Tasty!
Familiarity:

I've used it once or twice and have initial impressions
I've had the chocolate flavor. Tastes a lot better than most protein recovery mixes that I've had in the past, and is great mixed into coconut water, my favorite post-ride beverage. Takes quite a bit of stirring to get it to mix into your drink, but that is fairly common. Note that in addition to milk based protein, this also has a significant amount of carbohydrates, fitting with its intended use as a recovery supplement.
Stephen H.
Better Than Chocolate Milk!
Familiarity:

I've put it through the wringer

Fit:

True to size
Recent science has shown that real foods and drinks work as well for recovery as the latest foul-tasting engineered "recovery drinks" - yes, even things like beer (yay!) and chocolate milk can aid in getting you back to baseline so you can go ride more.

Skratch Lab has hit a home run with their latest creation in this recovery drink. The nutrition profile matches what you'll find in chocolate milk but without the preservatives and emulsifiers, you'll find in an off-the-shelf bottle of chocolate milk.

I haven't tried the vanilla but that's because both the coffee and chocolate flavors taste so good that I don't want to chance it. Best of all just add water and you've got an easy way to get some quality calories after a big ride.

My biggest complaint is that the scoop inside can be tough to find in the big bag of mix.
Sandy
World's most expensive chocolate milk
Familiarity:

I've used it several times
Read the ingredients- cane sugar whole milk nonfat milk sucrose. Tastes great but anything with this much cheap sugar should. Nothing special about this. Really disingenuous for Skrtach to market it as anything other than chocolate milk mix.
Eric H.
A huge upgrade from chocolate milk
For serious endurance athletes, the Endurance Recovery Mix is a huge upgrade from chocolate milk and other unpalatable protein drink powders. I've used both the Chocolate and Vanilla mixes so far (try combining a scoop of each - tastes great) and both have a great flavor and mix up well in water. It's simple, portable and there's no need to add anything else to your drink to help get it down. As most endurance athletes know, it's really critical to take in protein AND carbohydrates immediately after strenuous exercise. Skratch's 5:1 carbohydrate to protein ratio is optimal for endurance athletes; you get your protein for muscle repair and help top off depleted glycogen stores. The recovery process is subtle, but as a runner I could notice an improved and sustained energy level from my mid-week workout to my weekend long run, so I have to credit the addition of the Endurance Recovery Mix into my recovery routine. Looking forward to trying the Coffee flavor next!
Jeffrey Eggleston
Tasty!
Familiarity:

I've used it several times
Used this in a recent 24hr race between laps, and it did the trick. Doing a hard lap every 3 hours on our four man team, I never had that "race gut" feeling. The vanilla mix tastes like a melted milkshake, and isn't a chalky consistency like other recovery mixes I've tried in the past. Great to mix up in bottle for the ride home from a hard effort!
Jon J
Love it
Familiarity:

I've put it through the wringer
This is the best working and best tasting recovery mix I've ever used. It's something I look forward to at the end of every workout or ride. Somedays justifying the shake afterwards is a major source of motivation to get out there. The ingredients list and nutrition facts show why the mix is so important for recovery. The best thing is how enjoyable it is to drink, no matter which of the three flavours you pick or what you choose to mix it with. This recovery mix exceeds expectations, just like every other Skratch product will.
Mark
Height:
5'11"
Weight:
170lbs
Perfect Ratio & Taste
Familiarity:

I've used it several times
I've been using this for post long MTB rides and races. It's super tasty when just mixed with water and I'm a almond milk guy. Seriously, try it! This makes it super easy to drop the 3 or 4 things I was eating post ride and something that I can have ready to go right after a big ride or intense race. Definitely not disappointed!
Tony R.
Balanced, flavorful and versatile - win!
Familiarity:

I've put it through the wringer

Fit:

True to size
I've been using Skratch Exercise Hydration Mix for several years and have seen major improvements in my ability to do the work (swim, bike, run, hike) I want to and not have to think about what I'm using to fuel those activities. I can pronounce every ingredient, the taste is just right and a happy stomach makes life that much better. When I saw this was being released I couldn't wait to get it as that has been an aspect of on-the-go nutrition I was looking to improve and it delivered in every way! Can't give Skratch enough credit, they did it again (not surprised) with recovery! The balance of carbohydrates and protein is great, flavor - can't beat it and knowing all the ingredients makes the decision to use a no-brainer. Using both the chocolate and vanilla, can't wait to try the coffee flavor for an added boost in the morning post-workout. Couldn't have a stronger recommendation for a recovery mix!!
Jared Smith
Height:
5'11"
Weight:
160lbs
What's your flavor?
Familiarity:

I've put it through the wringer

Fit:

True to size
This is unlike any other recovery drink on the market~! You have vanilla, chocolate, and coffee as your three delicious options to savor as you relax and enjoy your recovery. What makes this so unique? Well, for one you are not fiddling with overly complicated and highly processed or synthesized proteins nor is it loaded with preservatives or artificial sweeteners.

Lets be honest with ourselves. When you have just completed an intense training routine in the gym or perhaps a long day on the trails without whole foods near by, this is the next best thing. It reminds me of a healthier version of a milkshake with respect to taste, flavor, and even texture. Simply mix it with 12 oz of your preferred fluid. I think water is perfect, but I have friends who like mixing it soy or almond milk for added flavor and nutritional intake. Shake well and enjoy~! No shaker balls, agitators, or other additional equipment is needed.

Whats in this stuff? You will be taking in some sugar (to help replenish your glycogen stores) whole milk and non fat milk (for protein, fat, carbohydrate, vitamin and mineral content), natural flavors such as cocoa, vanilla, and even COFFEE to give you a kick of flavor and finished with a little bit of salt. Yes, salt is needed to help enhance the other flavors present but also to replace what is lost during activity and other bodily functions. It is the largest extracellular ion in the body.

This product will leave you feeling satisfied until you can get a proper meal in your system. Until then, you'll have 200 calories or deliciousness to tide you over~!
Chasen S.