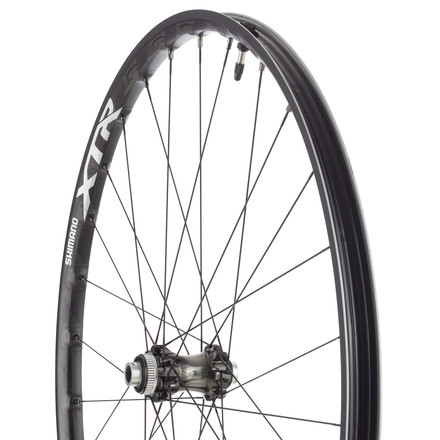 Colors

Detail Images
Bigger, burlier, XTRer.
With the introduction of an all-new Shimano XTR drivetrain comes a swarm of new XTR wheels, too. The new Shimano XTR M9020-TL Trail 29-inch Clincher Wheelset is wider and tougher than the XC-focused Race 29ers, but they don't lose an ounce of XTR's race-bred engineering.
The new XTR wheels are built with Shimano's new carbon-laminated alloy rim construction. The technique capitalizes on the advantages of both materials while using each to compensate for the other's shortcomings. For example, full-carbon wheels can be prohibitively expensive. Aluminum rims can be cheaper, but often heavier, sometimes weaker, and ride quality can be compromised, as well. Shimano decided to engineer the two in conjunction with each other: a lightweight alloy rim extrusion receives full carbon fiber reinforcement here, the result being a durable, light, and relatively inexpensive rim that is torsionally stiff, vertically forgiving, and doesn't cost a down payment on a car. We love the new look, too.
The Race version of the rims are 20mm wide internally, while the Trail versions are wider, at 24mm internally, to accommodate wider tires and create a larger contact patch for greater control in technical situations. Down in the hubs, proprietary bearings keep the precision-machined hubs spinning for years, and a revised axle and bearing configuration saves a bit of weight, as well.
The Shimano XTR M9020-TL Trail 29-inch Clincher Wheelset comes with a 142x12mm rear axle, and 100x15mm front axle, and a freehub body that can accommodate Shimano 10- or 11-speed XTR drivetrains. Both front and rear wheels have 28 spokes, and both are compatible with CenterLock rotors only.
You can't go wrong with these.
Familiarity:

I've used it several times
Yes I could have gone lighter. Yes I could have had red spokes. But the fact is Shimano is king for a reason. I put them on 300 miles ago and haven't had to think about them. Not once.
Dennis H.
All the performance, half the price
Familiarity:

I've used it several times
This wheelset is very light and strong, easy to setup as tubeless. The wider rim on the trail helps your tires profile without making the contact patch too flat which increases rolling resistance. Also a great price where some other similar wheelset are around $2,000.
Mark Smith
Do these new XTR wheels have a rider weight limit ?
Dwayne O.
I have not seen a Shimano specified weight limit. Any time there is carbon fiber involved I don't recommend anything over 250lbs at the maximum. With anything less than 28 spokes I don't recommend anything over 200lbs. Hope this helps make a safe choice! you can ask me any and all questions at gmcbride@backcountry.com
Gavin McBride