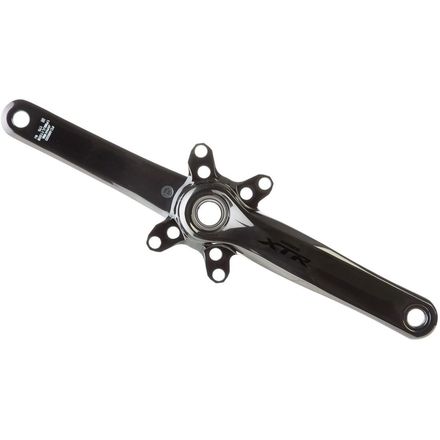 Colors
Drool-worthy.
Without getting into any of Shimano's new technology, just take a look at the XTR 1x Trail Crank Arms. They're stunning. Shimano's slow march back towards aesthetically-pleasing parts has been good to see, and the new XTR kit looks to be the crowning achievement.
Now, while Shimano maintains that front derailleurs still have a place in mountain biking, the vast majority of us have seen the single-ring light. So, Shimano's made their XTR arms available for those of us who wish to use a single ring but can't resist the glossy gray allure of Japanese drivetrain parts. The Trail version of these arms, which you see here, is constructed using Shimano's tried-and-true HollowTech II technology, though the Trail version is a little less hollow than the Race versions.
The XTR Trail Crank Arms include neither a chainring or a bottom bracket –it's up to you to find the perfect match for your frame and riding style and put together the ultimate drivetrain.
Crank Arms only
HollowTech II forged construction
168mm Q-factor
Will accept single and double chainrings
Stiff and Strong
Familiarity:

I've put it through the wringer
no crank is stiffer than XTR. Enough said.
rob
Not bad for a set of cranks
Familiarity:

I've put it through the wringer
At heavily discounted prices these are typically going for, they aren't a bad choice. You can save a little bit of weight, gain a little bit of strength and save a fair amount of money by going with Race Face Turbine cranks instead, though. Ultimately, I chose these for vanity in matching my XTR drivetrain. That sense of vanity is easily dashed, though, when you find that the XTR graphics come off if you so much as rub on the cranks. I had placed protective tape on but the tape wore down and peeled, taking the graphics with it.
Lloyd McFarlin
juan
Are these boost compatible? Thx
Patrick S.
To answer your question in short; those cranks are not boost compatible. Unfortunately and to everyone's astonishment, Shimano is not making a Boost XTR crankset yet. Most people are defaulting to the Next SL Crankset.



http://www.backcountry.com/race-face-next-sl-crankset?s=a



Shoot me an email back and we can talk more about some options for you.

gcelentano@backcountry.com
Greg Celentano
Unanswered Question
This crank comes with the caps to cover the bolt holes? Or just like its pictured.
Jesus