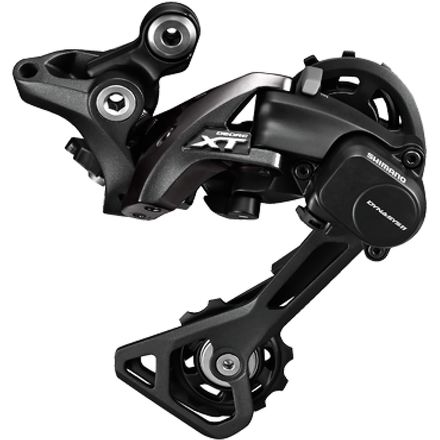 Colors
The shadow knows.
Bringing constant refinement to the 11-speed XT drivetrain, the Shimano XT RD-M8000 Rear Derailleur offers improved chain retention when you're riding across jarring, rock-strewn trails. Benefiting from trickle-down technology from the XTR group, Shadow RD+ technology keeps the chain from bouncing around with its handy stabilizer switch. The Shadow design is optimized for increased stability with its slanted position, allowing for silky-smooth shifting in every gear.
The XT's robust aluminum construction takes a serious beating without fuss, equating to worry-free confidence when you're rallying across technical terrain. In conjunction with a low-friction shift cable, Shimano claims shifting requires 20% less effort. Other key features include an easy-to-adjust chain stabilizer for effortless fine-tuning, as well as Direct Mount attachment with compatible frames for a stronger and lighter mount interface. As a bonus for riders with older frames not compatible with Direct Mount, the included link attaches in a conventional manner.
11-speed rear derailleur: gs/medium 1x11/2x11, sgs/long 3x11
Durable aluminum construction withstands trail abuse
Shadow RD+ with stabilizer switch prevents dropped chains
Direct Mount option with compatible frames (without link)
Compatible with conventional derailleur attachment (with link)
Unanswered Question
Now, if I use a 1x11 with a 9-46 cassette,
should I use the medium cage or the long cage
Federico
Amazing for the price
Familiarity:

I've put it through the wringer
This derailleur is one of the best I have ever owned. The clutch is great, the shifting is instantaneous, and it is lighter weight than my 10 speed SLX derailleur.
Brandon Anderson
One sturdy derailleur
Familiarity:

I've put it through the wringer
I think that the XT groupset is one of the best you can buy at this point. They are fairly light, very reliable, and will last forever. Not to mention, it's super affordable! Easy to install and also really easy to maintain. Might not be the ultra light race set up you want, but is just flat out reliable.
Porter Trapp
I just put my first XT groupo on a build and I'm loving the clean shifting of this derailleur. The chain retention stabilizer switch is cool once you realize you have it and lock it instead of wondering why things are rattling so much on a descent.... but that's just my bad
Adam
With a 34T oval should I go for the med or long derailleur? I have not decided on the cassette yet. probably stick to 42 and get in shape.
The Chad
Hey The Chad - If you are sticking with a 11-42 cassette then the medium cage will work fine for your set-up. Give me a shout with any additional questions.
Kyle Livingston
Great Set Up
Familiarity:

I've used it several times
This was one part of my 1 x 11 set up for a Surly Krampus. Great value and quality. Another outstanding product from Shimano. If you have questions on set ups for your bike make sure you call in to talk to a bike Gearhead.
Christian Ceraso
My, what a long cage you have.
Familiarity:

I've put it through the wringer
With the advent of 1x and the huge big cog, derailleurs have had to keep up with long cages. XT the best working, everyman components on the market. Shifts well and never needs adjustments.
Steve Cook
What cassette size will this handle? Or the longcage version? I need 11-42, but would like to upgrade to 11-46.
Kevin Weitz
Kevin, this derailleur will accommodate 11-46 in a 1x11 drivetrain or 11-42 in a 2x11 setup.
Cory Rusher
Best combo price/quality
Familiarity:

I've put it through the wringer
Great value, super durable, shifts really well. What more can you ask for?
Andrew Dickinson
XT is the everyman groupo
Familiarity:

I've put it through the wringer
No, it's not XTR, but mechanically it is the same, and only a little heavier, but a good bit cheaper. I love XT and see no reason to go with anything else. XTR is for the racers with sponsors, XT is for the rest of us
James Pramick
Works great for my 1x11 build on a new Yeti SB6 custom build. Very smooth, cant wait for spring to get ripping!
Sheila
Big bang for your buck
Familiarity:

I've put it through the wringer

The XT rear derailleur's does shift cleaner than other XT products in the past. The clear advantage is Shimano's new clutch design to provide chain retention, so you can run a 1X configuration with a 11-46 cassette. If you have any questions on this product, I will be happy to help you out.

Don Myers
Smooth operator!
Familiarity:

I've put it through the wringer
I bought this after Shae( She is great) from the bike dept at backcountry recommend it as part of the parts ( Race Face Narrow Wide Chainring, Shimano CN-HG600 11-Speed Chain,Shimano XT CS-M8000 Cassette, Shimano XT SL-M8000 RapidFire Trigger) to convert my baby (2016 Santa Cruz Heckler) to a 1 x 11. After a 100 miles the the derailleur is still smooth and is tougher that it looks. I had a couple of bad crashes that had me fearing the worst, however it is still going. I could not be happier; all done at a very reasonable price. My only regret is that i did not changed sooner to a 1 x11
federico M.
Great. Consider adding Goat Link
Familiarity:

I've put it through the wringer
I use this on a 11 x 46t XT cassette. It is crisp, however it does take a while to dial in. I added the Goat Link 11 and it made the derailleur perform incrementally better.
Brock Stewart
Shifts are very smooth. It's quiet and I haven't dropped a chain yet.
Chris Smith
Perfect Alternative
Familiarity:

I've put it through the wringer
Switched over to a one-by drivetrain and decided on XT as a value and performance component. Shifts great, lightweight, and easy to maintain.
John McKone
Good product
Familiarity:

I've used it once or twice and have initial impressions
As described, works perfect. 1X11 only way to go.
Dave Watson
Very nice
Familiarity:

I've put it through the wringer
Excellent product, light weight, solid feel, precise shifting. Used XT deraileurs for over 20 years -- never been disappointed.
Tom N.
Can I use this RD with a Shimano Saint 10sp shifter and Shimano XT 10sp cassette? I need to replace my Saint derailleur and would like to use this RD-M8000 if it's compatible with my current 1x10 setup.
John J.
Hi John! The m8000 derailleur will not work with your 10 speed set up, but the m786 will. Check it out below:



http://www.competitivecyclist.com/shimano-xt-shadow-plus-rd-m786-rear-derailleur
Virginia Dickinson
With apologies to Virginia, it is possible to run a Shimano XT M8000 rear derailleur with a 10-speed cassette and shifter. I did so for some 1,500 miles of the 2,000 miles I put on my bike last year and plan to carry over the same setup (Sunrace MX3 11-42T 10-speed cassette with Saint 10-speed shifter) this season. Shifting was smooth, precise, and immediate through the full range.



I chose the M8000 after reading up on other experiences at MTBR.com, and because it offers an upgrade path to 11-speed and can better accommodate a wide-range cassette than the M786.



Only criticism to date is having to replace the jockey wheels as the bearing for the tension pulley seized up.
hdparrish
Bang for your Buck
Familiarity:

I've used it several times
M8000 rear derailleur is pretty sweet for the money. Shifts crisp and smooth every time. It is more quiet if you pair it with a sram cassette and chain. Does the trick.
Nash