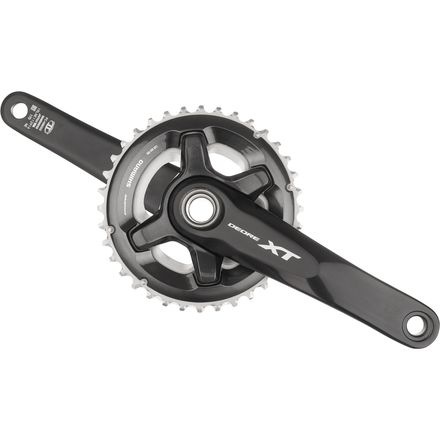 Colors
Double Boost.
If you aren't quite ready to ditch the front derailleur and switch to the single-minded ride style of a the one-by drivetrain, the Shimano XT FC-M8000-B2 Boost Double Crankset helps maintain gear range and adds timeless aesthetics to your whip. Pedal your boost-equipped ride up steep slopes with ease using the Hollowtech II crankarms, which are stiff and light and evoke the class-leading XTR system but with reinforcement that recommends them for proper all-mountain abuse.
Unanswered Question
What's the chainline of this crank? Sheesh. How about listing relevant info instead of irrelevant information like: "Recommended Use mountain bike".
xmtbx
Unanswered Question
What's the weight of the XT Boost 2x crank? In other words, why does Shimano want more money for this crank over the SLX crank?
xmtbx
Unanswered Question
Compatible with a 10 speed xt cassette?
facundo buffo
Unanswered Question
Will this boost crankset work with a Jamis dragonslayer with a 52mm chainline ?
atergo_876368
Unanswered Question
Can this Shimano XT FC-M8000 Boost Crankset be converted from a 2X set up to a 1X set up?
Mark C.