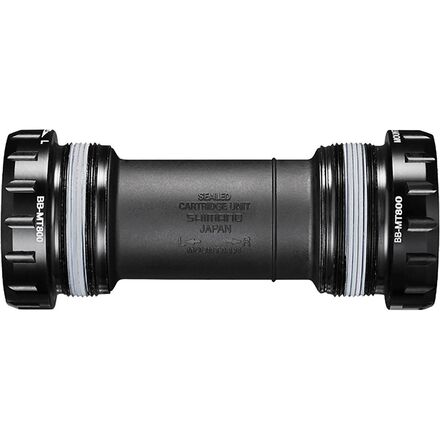 Colors
Smooth spinning.
Keep your cranks turning smoothly with the Shimano XT BB-MT800 Bottom Bracket. Made with small ball bearings for impeccable rotation and strong seals to fend off muck, this bottom bracket is built to last. One could break out the measuring tools and power washers to wade into the XTR vs. XT debate, but in the end this one will save you some cash and keep you rolling down the trail with ease.
The Shimano XT BB-MT800 Bottom Bracket is compatible with threaded 68mm and 73mm shells.
An awesome upgrade.
Familiarity:

I've used it several times
The Bottom Bracket that keeps on spinning. After wearing out an older Shimano bottom bracket, the MT800 seemed like a logical upgrade. The smaller cups do require a special adaptor to install (this is included so installation with a regular BB tool is easy). So far, after nearly a month of hard riding and no maintenance, the BB still spins perfectly.
Lily Krass
Super Smooth
Familiarity:

I've put it through the wringer
If you are looking for a threaded bottom bracket to pair up with your Shimano crank this is it. Super reliable, smooth, and reasonably priced.
Chad Cordell
Great Bottom Bracket
Familiarity:

I've put it through the wringer
I would highly recommend this bottom bracket. Compatibility questions? Hit me up at adickinson@backcountry.com
Andrew Dickinson
Will this Bottom Bracket fit my 2016 S-Work Camber 650b?
Aaron
Hi Aaron, no this is not compatible with your bike. I will shoot you an email with a bit more info.
Scott Gartman
Hi Aaron

This bracket will fit my Felt nine 6 2015 with 73mm shell , and also want to install cranks Shimano Deore M615 10 Speed Double Chainset?

Thanks a lor for you pro advise
domenico
Buttery smooth spinning!
Familiarity:

I've used it once or twice and have initial impressions
Got this BB to replace my old, not quite worn out but definitely needing some help, BB. The old one was also a Shimano, came on the bike lasted about a year or so through some gnarly riding, and since Shimano has always done well for me I selected this one as the successor. I honestly didn't expect much above and beyond the old one, figured this one was just a new version of the one I had, but man this BB is nice and smooth! Installed with 0 problems and works great with my M8000 crank set. For the price, you can't beat it!
B-Man 518
Replaced a SRAM Howitzer
Familiarity:

I've used it several times
The BB on my necro Pug was frozen. I tried to clean it up, keep it spinning, but my efforts were largely pointless.

Yes, Shimano makes a sweet sealed BB. I've ridden it a bit since I installed this. I'm not using the plastic insert since the Q on my bike is 100 mm, but otherwise, it spins freely. I've ridden in very dusty conditions as well as on briny beaches. The sealed cups and bearings are boss. Seriously, if you ride a fat-bike in anything, but the most benign conditions you need to step up the BB to sealed.
Matt Thyer
Perfect
Familiarity:

I've put it through the wringer
Simple, quality and easy to install. No sense in changing a good thing!
Emma
Threaded rocks
Familiarity:

I've put it through the wringer
Durable and it won't creak. Threaded BB's rock Works with all shimano cranks.
Dan Dalton