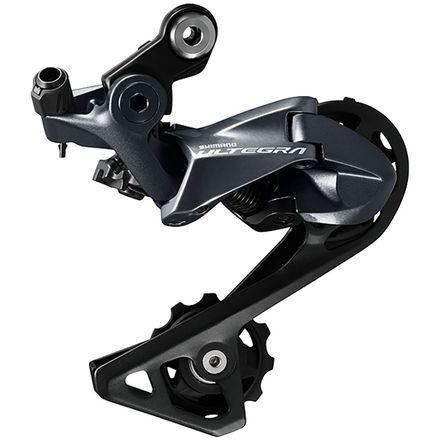 Colors
Wider range, narrower gap.
Shimano has used Shadow technology for years on its mountain bike rear derailleurs. It allows for a lower profile and places the derailleur further inboard, keeping them out of harm's way and allowing a better chain path off the top jockey wheel in relation to the cassette. Shimano's R9100 group is the first time we saw this technology carried over to the road side, and we're happy to see its inclusion on the Ultegra RD-R8000 rear derailleur.
The RD-8000 is the crowning jewel on the new Ultegra group, and if you are building up or updating a bike, you really can't do wrong with this group. The additional range afforded by the longer cage opens up the Ultegra group to adventure bikes and brings the precision, durability, and value to the masses. Additionally, if you just want to add a wider range to your Dura-Ace steed, adding the long cage Ultegra derailleur and cassette is all you need to spin perfect circles up long mountain passes. The shifting is impeccable, the durability is immaculate and the performance gap to Dura-Ace is about a tire width's margin in a bunch sprint.
The change to an aluminum cage and some other minor hardware details are all that separate the Ultegra R8000 version from the Dura-Ace 9100 unit. Two cage lengths are available with cassette ranges from 11-30t (short) and 11-34t (long). Given a few design tweaks, the R8000 rear derailleur works best when paired with R8000 or R9100 levers, and it's a perfect addition to a full Ultegra bike or those running Dura Ace who want to run a bigger cassette.
Another advantage of the Shadow design is the more linear path of the derailleur when shifting, which allowed the engineers at Shimano to create a shifter with a shorter throw resulting in more precise and quicker shifts—even with the larger cassette ranges we're beginning ride on everything from tarmac to gravel. We are happy to see Shimano continuing with a barrel adjuster at the derailleur. Road shifters don't have adjusters at the levers like mountain bike shifters do, and not all of us are fans of in-line adjusters.
Shimano's wizardry in manipulating aluminum creates bodies, pivots, and cages that are strong and light. Precision bushings allow smooth movement and ensure proper indexing, and the alloy cage aids in stiffness, helping to improve the shifting response and adding durability—a trait all the more important now that we're also abusing Ultegra on gravel and dirt.
A road race derailleur that doesn't fear gravel
Shadow Technology improves shifts and protects in crashes
Durable construction equal to years of on- and off-road rides
Barrel adjuster makes tuning less fiddly
Long cage handles up to a 34t and short cage is good up to 30t
Also extends the cassette range of Dura-Ace 9100
Widest of Ranges
Familiarity:

I've used it several times
I purchased this derailleur to get wider/easier gearing for my wife's bike than her current Ultegra 6800 with 11-32 gearing (we live in a very hilly area, she is new, and she does not have an affinity for suffering)
Anyway. Based on a cyclingtips.com write-up I decided to pair this with the SRAM 11-36 cassette and what do you know, it works! Now Shimano would say you shouldn't do it, and if you prize super smoothe shifting over broad gearing then don't do it. However, if you don't mind sacrificing the shifting smoothness (it really isn't bad and only affects coming down the cassette due to the B tension needed for the upper pulley to clear the largest cog), then this is an amazing solution. My wife was super stoked on this setup.
Forrest
Awesome!
Familiarity:

I've put it through the wringer
Purchased the Ultegra RD-R8000 short cage as part of an upgrade to full Ultegra, and this rear derailleur is nothing short of awesome. Easy to set up, low profile design, and it's so smooth I often don't feel my shifts through the bike, only in the change in resistance at the crank. Also, this derailleur seems to require much less input from the shifter, which took some getting used to, but I love it.
The RD-R8000 Short Cage weighed 197 grams on my PT scale.
Jonathan T.
Gear for Gravel
Familiarity:

I've used it once or twice and have initial impressions
I got the long-cage version of this new deraillure because I wanted to run a 40-tooth MTB cassette on my 'cross bike for a gravel race in the mountains. It replaces an Ultegra 6800 long-cage RD. I wasn't sure this new combo would work, since the 40t cassette and my 46t chainring exceed the published capacity of this deraillure. After a 3-hour gravel ride yesterday with lots of steep hills, I can confirm this combo works flawlessly when paired with 46/34t Ultegra chain rings, a 6800 front deraillure, Ultegra 11-speed chain and Ultegra 6800 hydro STI levers. I put the chain in all the worst situations, like shifting from big/big to little/big and then downshifted while going uphill, and it never missed a beat.

The first adjustment I made in mounting the RD was to slam the B screw all the way down. That move provides good clearance between the top jockey wheel and the 40t sprocket. Initially I had some shifting problems, but I put in a new cable and shortened the housing, which fixed the problems. My Lynskey Cooper CX has full cable housing. This new RD does not move vertically like my old 6800, and you need very little slack in the housing where it approaches the mech. Once I shortened the housing and remounted it with the new cable, everything worked perfectly.

The RD-R8000 is a significant improvement over the 6800, which is a really good RD. The new one keeps better tension on the chain, especially on rough gravel, which results in better shifting. I have not yet tried it with the 28-12t cassette on my road wheels. I suspect I will have to back out the B screw and put on a shorter chain. This RD performs so well with the MTB cassette, I may just leave the 40t on my gravel wheels all the time.

Props to CC customer support for a little advice on tuning this new RD. It mounts and tunes a little differently from the old one.
Tom H.
Crisp and Precise
Familiarity:

I've used it several times
Recently upgraded one of my bikes from Shimano 6800 to the new R8000 group and couldn't be any happier! The upgrades to the cranks, derailleurs, brakes and shifters have made this one worthwhile upgrade.
I have been amazed at the crispness of the shifting performance with the new derailleurs and shifters, and it reminds me of the smoothness of the "older" Dura Ace 7800, but much more refined in how quickly is shifts.
If you have questions, please feel free to reach out to me.
Scott Golsan
Will the R8000 RD work with 6800 STI shifters?
Justin
Yes. I just set it up on a bike. Front derailleur works too. MUCH easier to set up new FD.
spookyload
Yes, absolutely. I have that combo, and it's flawless.
Tom H.