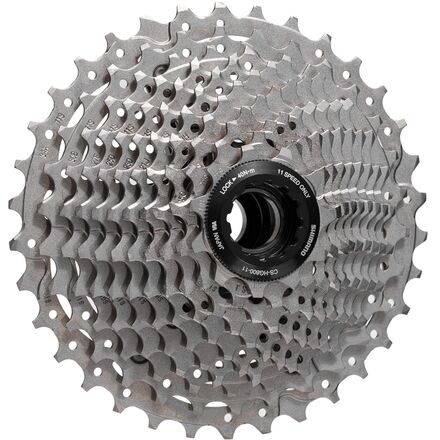 Colors
Slick shifting.
Ultegra might be the heart and soul of Shimano's line, and while we appreciate the precision, weight, and performance that goes into Dura Ace, we find Ultegra to be the perfect sweet-spot in the price-to-performance ratio. Shimano has created gear ranges in the Ultegra line for the most elite road cyclists to gravel grinders, and everything in between, so riders can achieve the sweet Ultegra feel no matter what they ride. In this particular iteration, Shimano creates the Ultegra CS-HG800 Cassette to fit on a mountain bike hub, so those running big touring setups or cross-bikes can now run the smooth shifting feel of Ultegra, and with the huge 11-34 tooth range you won't have issues finding the sweet spot to pedal your way through any adventure.
Shimano's experience in machining and engineering allows for exceptional amounts of technology to go into tooth design, shaping, and shifting ramps. Made from nickel-plated steel, the cogs themselves withstand corrosion and are tough enough to hold up to abuse, which leads to a cassette that stays smooth shifting and precise for longer than before. By opting for nickel-plated steel, it does add a bit of additional weight, but allows for a price that's much friendlier to those of us who have to shovel out our own cash for components.
To increase stiffness and improve shifting, Shimano groups the top five cogs as three and two, and rivets them to anodized aluminum spiders that add strength. The remaining six cogs remain as individuals, along with spacers between them, and a lock ring made of anodized aluminum to screw into your freehub and hold the assembly together snug. True to Shimano's Japanese culture—which has a name, poka-yoke, for built-in preventions of user error—one spline of the cassette is wider than the others and corresponds with the splines on the freehub, so the cassette cogs can only be installed with the right clocking of the shifting ramps, timing them for perfect chain pick-up and release.
The CS-HG800 comes in only one size, but has a large enough gear range to work for most riders at 11-34-tooth. With a gear range this large it's important to pair it with the correct derailleur, as it will not work with a short cage, and requires medium or long cage derailleurs to shift properly.
A MTB hub friendly cassette with Ultegra level performance
Durable steel that performs like Dura-Ace with a little extra weight
Available in 11-34-tooth cassette for huge gear range
Mountain bike compatible hub for HG freehubs
Precise engineering allows for smooth shifting
Exceptional dollar-to-performance ratio for great value
I have had two of these cassettes. Both were defective. There is a problem with the spacing between the third largest sprocket and the neighbouring sprockets. There is not quite enough room, and so the chain constantly catches. This is either a design flaw or manufacturing defect.
Tim
Where does the spacer go on my 11 spd road hub body? The diagram from shimano makes it seem as if it fits between the 11t and the lock ring. But I feel it needs to be the first thing on the cassette before the first cluster. any help?

Brandon B.
Trust your instinct. Spacer is the First thing on the cassette hub body. The thing I'm Shimanos diagram between the 11t and the lock ring is the wave washer which, while removable, is usually attached to the lock ring.
Joseph Manuel
Paul Sukphisit