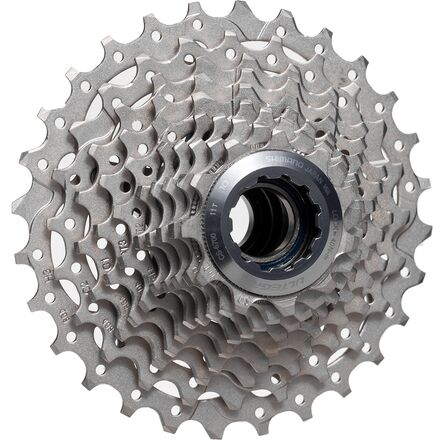 Colors
Step down, go long.
Shimano's Ultegra-level cassettes are one of the gems of cycling components. Significantly cheaper than the top-line Dura-Ace offerings, they're also more durable, and only slightly heavier. And, they're heavier in the center of a wheel, where their effect is negligible.
Shimano's improved its shifting ramps on this iteration, too, meaning the fabulous shift quality you expect from the Japanese component giant is even better than you remember.
Tallest cogs riveted onto aluminum carrier for durability
Variety of ratios for versatility
Excellent price point for the quality you are getting, this cassette is a blast
Javier Meza
Light, durable, and cost effective
Familiarity:

I've put it through the wringer
I have this on my every day bike. My favorite gear has yet to burn out. Can't be happier.
JeremyB
Great cassette!
Familiarity:

I've put it through the wringer
Easy to install, great quality and lighter from my old 105 set. put them on my race wheels and they work great. I went to the 11x28 to give me 1 higher gear and 1 lower gear and that's helped my riding a lot.
Mario M
Inexpensive lightweight-ness...
Familiarity:

I've put it through the wringer
Love these 10 speed cassettes! Lightweight, cheap, and crisp shifting. Plus backcountry always has great deals on them!
Sterling Watson
I currently have a Dura Ace 7800 (10 spd) front and rear derailleur with a Compact front crank set (50/34). Would the Ultegra CS6700 cassette 11 x 28 work with my setup?
Eric G.
I have been asking my self the same question there are a few answers at this link - http://www.velocipedesalon.com/forum/f40/7800-cassette-supply-drying-up-27886.html



JR
James T.
Great Cassette
Familiarity:

I've put it through the wringer
I use the 11-25 on a DH bike and it works great. Shifts super crisp and is fairly light weight
Chad Cordell
Solid Shimano Performance.
James Jolly
Best for the Money
Familiarity:

I've put it through the wringer
I have used DA, Ultegra, Sram 1050/1070/powerdome and a few other smaller brands, and keep coming back to the ultegra. The higher end cassettes wear out too quickly, even for racing only my DA cassette was toast after less than one season and the Sram Red was not much better. Ultegra is the best balance between shifting performance, weight, and long life. For 85 bucks you really can't beat it. In fact i have an Ultegra 11-25 that i have over 30,000 miles on and its still truckin.
Michael M.
rock solid performance at reasonable $
simply works. not too heavy, very strong/durable, and the price isn't outrageous. i'm running dura-ace cranks on main bike, and ultegra cranks on my 2nd bike, both 53/39 with the 12-30 ultegra cassettes which give me some extra range, especially at the lower-end for climbing. the jumps on the bigger cogs in the cassettes are noticeable to the eye, but shifting is still very smooth with both bikes using Ultegra Di2 derailleurs. great all around product.
Rickshaw
If you want to shed a few grams, then put that croissant down. No need for Dura Ace, and compared to Sram's older high end cassettes these Ultegra cassettes are much cheaper and quieter. Worth every penny, and when you can find them for around 50 it is even sweeter. Shifts are smooth and quiet.



I use Rival shifters, brakes, and rear derailleur with an Ultegra 12-25 cassette, Ultegra front derailleur, Sram Red 53/39 crankset, and yokozuna cables. Couldn't be more satisfied with the performance of my Frankengruppo drivetrain
Peter Hamm
Is this a 10-speed or an 11-speed?
Is this a 10-speed or an 11-speed?


Elizabeth C.
10-speed. The 6800 series is 11-speed.
Jonathan Haas
Solid and reliable
Familiarity:

I've put it through the wringer
My favorite cassette by far, great shifting and price allows me to have enough cassettes for training and race wheels.
Kim B
I have a 50/34 compact front and 12/25...
I have a 50/34 compact front and 12/25 10-speed Ultegra CS-6700 rear cassette on a 2012 Cervelo P2. I'm not a small guy and struggle on some of the local IMWI hills. Would the 11/28 rear cassette work and do I need a new chain? Thanks for your advice! Peter
Peter D.
The 11/28 would work as long as it is within specification of your rear derailleur, may require a medium cage. Check your RD model number on shimanos site and it will give you that info. As for the chain, you should be fine.
Nick P
Performance at the right price
Familiarity:

I've put it through the wringer
This cassette offers many different sizes for different terrains. I use a 12x23 on the flat roads where I live and a 11x25 when I travel to the mountains. The shifting is excellent and the price point allows you to replace the cassette as it wears out without breaking the bank.
Jon Bear
Excellent
Familiarity:

I've put it through the wringer
I think I've said this before on other items but its true: Its Shimano! its going to be awesome. I've ridden Dura Ace, 105 and Ultegra and for the money Ultegra wins hands down. I went with 11-28 for cross season.
Patrick
I have a FSA Gossamer 50/34 crank with...
I have a FSA Gossamer 50/34 crank with Ultegra 6700 Rear and Front Derailleurs. Will this cassette work on my bike (it is a 2013 Cervelo P2)? What gearing would you recommend for New England's hilly terrain?

Thanks,

CM
CM
This cassette will work. Go for the 11 x 25. On a compact crank a 34/25 ratio will get you over the hilly terrain.
Jon Bear
This is a fantastic cassette. It is very durable and light weight. I got the 11-28 to help assist in climbing our steep Utah canyons. The gear ratio is awesome and definatly helps to easy my achy, aging knees! It sucks getting old.
Duncan Britt
upgrade for my Pinarello FP Team
Familiarity:

I've used it several times
my '12 FP came with the 105 cassette and immediately upgraded to the Ultegra completing the drivetrain to full Ultegra components. I went with the 12-25 ratio that the stock set up called for.
Joe Peraza
Great affordable replacement for D-Ace
Live in Utah and spend a lot of time climbing, my bike came with Dura-Ace and I just couldn't bring myself to dish out the cash for an 11-28 Dura-Ace cassette. Really negligible weight difference and way cheaper. My last Ultegra cassette went 3 years commuting and was still fine when I sold my old bike. Best value in cassettes, unless you race for a living this is the one.
Dane Uriona
Will the CS-6700 11-28 cassette work as...
Will the CS-6700 11-28 cassette work as replacement for CS-4600 10 speed 12-30? What do you think about chain length?. Bike is full TYiagra compact double 50/34 up front.

TKS!
Thorn
I would recommend that you consult your local bike shop mechanic (and you could be a nice person and buy him or her a drink in exchange for the advice). But if you are the "do it yourself" type... this would be a suitable replacement, you won't miss that 30 tooth cog. Ultimately, chain length will not be a problem, although you may have to shorten the chain slightly. Just ensure that your current chain is compatible with the CS-6700 (and isn't worn out). If it is significantly worn or stretched, get a new one.



That said, I would check the minimum capacity of your rear derailleur, verify that it can work with an 11 tooth cog (it probably can). The upper capacity won't be an issue since it currently manages 30 teeth. Hope this helps.


Duncan Poling