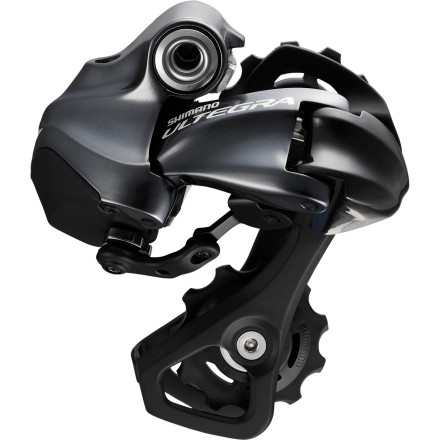 Colors
A close second.
Shimano's Ultegra Di2 RD-6870 Rear Derailleur features much of the same level of performance as the Dura-Ace group without the podium-topping price tag. Taking its cue from the Dura-Ace 9070, the profile of the 6870 has been trimmed, making it leaner than the previous Ultegra Di2 rear mech. The 6870 Di2 rear now also has 11-speed shifting capability with sleeker, more professional-looking wiring and a mid-cage version that can accommodate a 32t cog in the rear.
Shimano's electronic shifting features E-Tube technology, which allows you to customize shifting speed and even program how many gears the rear derailleur shifts through when holding the shift button down. Finally, the 6870 rear derailleur has built-in crash protection. In the event of an accident, the rear mechanism will actually compress and tuck away.
Slimmer profile
11-speed shifting capability
Mid-cage accommodates a 32t cog in the rear
E-tube technology
Built-in crash protection
The perfect rear derailleur
Familiarity:

I've put it through the wringer
I have three of these now, and have ridden over 35,000 miles on them over the last 3 years (roughly 20k miles on one, 15k miles on the second, and the third is in a box, awaiting a new bike.)

During this time, I have adjusted my rear derailleur exactly once, after bending the derailleur hanger when the bike fell over. One mechanical adjustment, and that's only because of a fall. That's saying something.

Anyone who says this stuff is too expensive needs to consider how much time and money they spend on maintenance. Mechanical stuff goes out of adjustment with cable slip, housing compression, and cable stretch. Adjustments cost money (or time, if you do it yourself.) Di2 requires no maintenance unless you crash.

J Bond
Bigger is Better
Familiarity:

I've used it several times
Upgraded to the mid cage version to gain precious additional cog teeth. My previous version would only allow a 28t max rear cog while the mid version allow up to a 32t rear cog, which is more. And better if your bike likes to climb. Seamless installation, plug in, adjust limit screws and you are good to go. Shimano reliability is always appreciated.
John McKone
Unanswered Question
Hey Guys,
I have a question pls. I smashed my RD Ultigra 6770 today. As you know this is 10 speed. I purchased the bike in first half 2014. So since I can no longer find 6770 can I use a 6780 for 10 speed. I don't need 11speed.

- Would I also need a firmware upgrade if I'm using it as 10 speed or not really?

- would I need to replace the cassette to 11 and also the chain? again I just want to use 10 speed.
Thanks
Joseph
Joseph B.
Ultegra FTW!
Familiarity:

I've put it through the wringer
I thought long and hard about a Di2 derailleur, Dura Ace or Ultegra. I'm VERY pleased with the Ultegra for a fraction of the price. Lets face it, it may be a few grams heavier but who cares!?!? This is bomber, it is up to the challenge of taking and beating and always delivering crisp, precise, and fast shifts.
Cam Christensen
Robot Bike
Familiarity:

I've put it through the wringer
Whiiiiiiir Zip Beep Boop Beep

It occurred to me how crazy Di2 is, as I was running a firmware update on my bicycle. When Skynet takes over we Electronic Shifting cyclists are in trouble.

All Jokes aside though. 1600 miles on this drivetrain and not a single issue or adjustment needed. Every shift has been flawless, and barring any unforseen circumstances, like a crash or some good old fashioned garage or transportation mishap, I fully expect go 6000+ miles with no issues. The only drawback I can find, and this is totally a personal preference, but I sort of miss the mechanical drivetrain for no reason other than the simplicity of pushing a lever which pulls a cable which moves a derailleur. I would argue that the Di2 lacks tactile feedback when shifting, but that is just me nitpicking. I rode the battery until it completely died just to see what would happen. At about 1300 miles (this includes plenty of playing with the new group, shifting just to hear the sounds and show off the auto trim) The battery died on my 18 mile commute to work one morning, first the front derailleur refused to shift, after a few more shift button clicks it did shift down into the small ring, and I had about 30+ shifts of the rear derailleur before the system became unresponsive. So 1300 miles, I think it is safe to say a rider would need to be quite negligent to run out of power on accident.
Forrest
Nice!!
Familiarity:

I've put it through the wringer
I've had the 6770 and now this 6870 and the work just like they should, quite, fast and precise. The 6870 is much smaller than the previous 10 speed 6770, the cable hides better too since the exit port come in the back between it and the seat tube. Don't spend extra for Dura-Ace, unless you get it at the same price, Ultegra is just like dura Dura-Ace, just a few grams heavier, diet for a week and your there.
Juan C G.
Durable & Precise
Familiarity:

I've put it through the wringer
I've been extremely impressed with the performance of the Ultegra Di2 rear derailleur. I've logged considerable miles off road on my gravel bike, and while it's been banged around a bit, it hasn't missed a beat. It still delivers precise, quick shifts every time.
Hap Seliga
Reliability and value
Familiarity:

I've put it through the wringer
This stuff works great and is super durable.
Tyson G.
Reliable
Familiarity:

I've put it through the wringer
I purchased a bike with Ultegra Di2 about a year ago. It was my first foray into electronic shifting and it's just flat out reliable. The batteries last forever and you get quality dependable shifting. In the year that I've had it, I have had zero hickups.
Shawn Craig
I am currently running Ultegra 6770 Di2 10 speed drivetrain. Can I convert to the newer 11 speed by changing to a Ultegra 6870 rear and Front derailleur, cassette, and chain or will I need the new junction box too?
James S.
One bike mechanic told me that you need to replace the brake shifters as well because the 10-speed shifter only accommodates 10-speeds. Plus, there's the question of whether your old Di2 has an external battery that you'd like to replace and make it internal. In that instance you'd need wiring, the internal battery and a junction box too. One other potential issue is whether your rims can accommodate 11 speeds. I discovered that not all 10-speed rims can accommodate 11-speeds.
Phillip M.
you can use your 6770 shifter, just need a firmware update and it's 11S ready, the rest you have to switch out even the junction box (referring to the Y type). you need the 6870 FD, RD, a 3 or 5 port junction box, new cassette and chains...I have the same setup...
joelv
Solid, fast shifting
Familiarity:

I've put it through the wringer
I've been riding this RD since last Oct. 2015 and it is awesome. Super quick, precise shifting RD that was very easy to install and set up.
Zach
Sticking with it!
Familiarity:

I've put it through the wringer
Building a new bike is always exciting and it's always tempting to try new things. The drivetrain decision was particularly easy this time however, after my previous experience with Ultegra Di2. The light weight and sexy lines of the Dura Ace Di2 group are indeed tempting, but for the cost you can't go wrong with the Ultegra. I have had exactly :::zero::: issues with my previous group other than problems I have inflicted (read: derailleurs are not-crash-proof). This also makes the Ultegra a great option if you race, where close quarters and periodic pavement sampling are a fact of life.
Ed Kilbourn
Works great, easy to install
Familiarity:

I've put it through the wringer
I bought this as part of an upgrade to 11-speed for my Trek Domane. Installing the derailleur was the easiest part of the installation. I got the medium cage because I wanted to use a 32-tooth cog on my cassette.

The derailleur was very easy to install. I don't have the special tool Shimano recommends for disconnecting and connecting the Di2 wire to the derailleur, but I did it easily with my fingers. I disconnected and unbolted the old derailleur and bolted on the new one. I connected the wire, and tested it - it worked immediately.

After putting on a new 11-speed chain, I ran through all the gears and it worked right away. Adjusting the Di2 is simple, first the limit screws and then the shifters. All 11 gears worked immediately, and the derailleur is fast and quiet. I've used it a lot on steep hills and on the flats, and it works like Di2 should - accurate, fast, and quiet.
Paul P.
best der ever
Familiarity:

I've put it through the wringer
I have no review that would actually convey my feelings for the DI2. I love this stuff, mechanical is dead, long live mechanical.

Robert Smallman
I am currently running Ultegra Di2 10 speed drivetrain. Can I convert to newer 11 speed by changing rear derailleur, cassette, and chain or will I also need to change shifters?
Bill Brown
Best Answer
Bill,



Ideally, you want the entire drivetrain to be Di2 but you can make do with rear derailleur, cassette, and chain. The front shifting won't be perfect, but it will work. Shifters, Wires, and battery don't need to be updated but you may need to plug them in for a firmware update.
Adam D
consistent & reliable shifting
i'm running the 6770 on both of my road bikes and i love how effortless the shifting is. no missed shifts, no adjustments for cable stretch/fatigue that often results in chain rattle. i have > 2,500 miles on these derailleurs and they have been very reliable, even in long rainy rides. battery life is sufficient for several months of shifting between charges. micro adjustment makes dialing in various/different cassettes very easy to do, even on the fly. i will never go back to mechanical.
Rickshaw