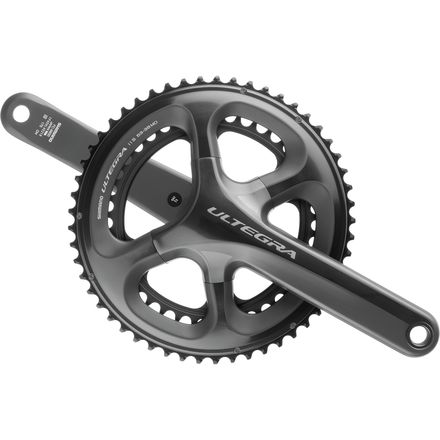 Colors

Detail Images
Tuned to take whatever trail you desire.
We've all got multiple cycling lives, ranging from racing road and 'cross to riding charity sportives and all the long training miles that go into preparing for them. Few cranks can comfortably straddle every aspect of the mutable cyclist's life like Shimano's Ultegra 6800 Crankset, which brings the stiff Hollowtech II design of Dura-Ace to a price that appeals to riders outside of the peloton. The Ultegra 6800 Crankset may not be as light as the Dura-Ace model, but it still checks-in at a race-worthy 765g.
While the Ultegra 6800 drivetrain's two extra speeds may be the most noticeable upgrade, in truth, the entire crankset has been redesigned to follow in its big brother's footsteps. The biggest change is the use of a four-arm, rather than the traditional five-arm, spider, which saves a claimed 26g. The new crankset design also standardizes the bolt circle diameter, so it accommodates standard or compact chainrings without having to spring for a completely new crankset. You're able to switch gearing from a 55-42t down to a 46-36t in a matter of a few minutes.
The crankset favored by privateer racers
Hollow aluminum construction based on Dura-Ace model
Ring sizes can be swapped without changing spiders
4-arm spider accommodates chainring sizes from 46-36t to 55-42t
Compatible with Shimano 6800, 11-speed shifters and chainrings
this is a well proven shimano product, you get the exact same functionality than the dura-ace lineup but a more reasonable price and just a few grams more
Javier Meza
quick and exactly as represented
gar100418897
Unanswered Question
need the bolts that hold the small chain ring on

Mitchell J K.
Good Looking Road Crank
Familiarity:

I've used it several times
This is a good crankset. It looks great and is well designed. I wish it offered the option for slightly lower gearing for gravel riding and it would be nice if Shimano kept the same BCD as in the past for more chainring options but for most riders these are perfect.
Daniel
I replaced a worn out 105 crank set with this Ultegra. No complaints, does what it's suppose to with easy access to service the bottom bracket.
Shawn
Shimano Quality
Familiarity:

I've put it through the wringer
What more is there to say about Shimano? Ultegra is simply good. It's reliable, it's quiet, it works. Not everyone loves the look, but few bike parts look "traditional" these days. If you don't mind the extra grams, go for this over Dura-Ace. Less bling, but then again, I like to fly under the radar.
Cory Rusher
Would the ultegra crankset function with a 105 5800 front derailleur/groupset?
Ryan Hwang
That would work perfectly fine with no issues.
Tommy Liao
Flawless function
Familiarity:

I've used it several times
I bought this crankset because I wanted shorter crankarms for my cyclocross bike. The rest of the drivetrain is SRAM Force or Red 10-speed, but the Ultegra 11-speed rings (46T/36T) shift perfectly.
Installation is a snap; if you're new to Shimano's Hollowtech design, don't go crazy with the preload widget, and follow the torque specs for the non-driveside crankarm bolts.
I only have a few hours of ride time on this crankset, but if it's like any other Shimano products I've owned, I expect it to provide trouble-free use for a long time.
Paul R
No complaints at all!
Familiarity:

I've put it through the wringer
I use this crank on my racing bike, so I've thrown a lot at it. I'm not so much concerned about the weight--which is light enough--more important is the shifting performance. As part of the Ultegra system, the shifting is really good and I don't have problems with dropped chains. Having Ultegra won't make you 10 watts faster, but it matters having shifting you can trust in a high pressure situation. I take care to maintain my chain (with Molten Speed wax) and so the teeth on the rings have survived two racing seasons and still look great.

I also like the Hollowtech system, which makes removal and maintenance very easy--you just need an allen wrench. I once had Campy Centaur and unless you had specialized tools you had to take it into the shop to remove.

Ultegra is not bling-y or fearsome looking, instead it's rather subdued or stealthy, as the picture suggests.
Chris S
Works great, reasonably light/stiff, finish wears a bit over time but still looks pretty good.
Matthew Kiel
Unanswered Question
What bottom bracket is this crank designed for? Is this crank for an english threaded bottom bracket, and is this bottom bracket included?
David G.
one word..Shimano
Familiarity:

I've used it several times
I ride Shimano because it works, every time. This crankset is no exception. Minimal upkeep/maintenance and the price keeps everyone happy.
Jesse DeKrey
Does this crankset include the left arm as well?
Geoffrey R.
Hi Geoffrey, yes this includes both crank arms.
Scott Gartman
My go-to crankset...
Familiarity:

I've put it through the wringer
I use these on multiple bikes in different configurations. I even use them for my 1x11 cross bike set-up. I like that they are stiff and light enough for the price. You can pay a lot more to get something lighter and possibly stiffer but these are a great higher end crank in comparison. My one gripe would be that they show any imperfections like they are neon.
Larry S.
Reliable.
Familiarity:

I've put it through the wringer
I use the 50/34 (compact) in the mountains around Salt Lake City. I'm a big dude (210 lbs) and it handles the abuse. The dark grey color makes any bike look good.
Josh Spongberg
Benchmark
Familiarity:

I've put it through the wringer
It is hard to beat the reliability, quality, and acceptable weights that are offered by Shimano's Ultegra group. These cranks are plenty stiff for most riders and offer excellent shifting.
For the money, you really cannot do better than the Ultegra cranks.
Forrest
An Excellent Piece of the Puzzle
Familiarity:

I've used it several times
While Ultegra 6800 is very much the sum of its parts, this crankset ends up playing a notable role in the overall performance.

While it may lack the shiny Dura-Ace looks and packs a few more grams, this is really is a top-tier crank. Construction delivers the level of polish you expect from anything carrying the Shimano name.

Paired with the Di2 front derailleur I have found the shifts to be fast and reliable no matter the situation. The shift up to the big ring is particularly impressive and at times so immediate I question whether the shift happened at all.
Ben Kuhns
Ultegra crankset
Familiarity:

I've used it several times
Bought the 172.5 X 46/36 for a CX bike I'm building. Super strong and fairly light weight.
Joseph
Smooth
Familiarity:

I've put it through the wringer
A definite improvement over the previous model in that the shift from the smaller chainring to the larger one is extremely smooth; it's almost as if you have to look down at the chainwheel to see if the shift occurred. More durable but heavier then the dura ace, but at a much more affordable price. No flex in the crank arm, stiff and smooth.
Patrick Law