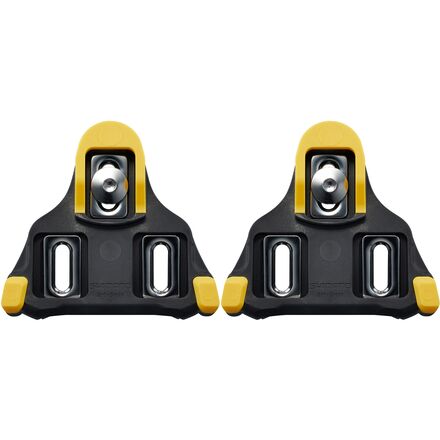 Colors
Step in with something new.
Shimano's SPD-SL Cleat Set includes two cleats and all the installation hardware you'll need. The cleat set is compatible with all Shimano SPD-SL pedals, including the Dura-Ace PD-7810 and the Ultegra PD-6620 models. The SM-SH11s are the Black/Yellow floating cleats with 6 degrees of float—this is the stock cleat that comes with the Dura-Ace and Ultegra SL pedals. Or if you prefer a fixed cleat with no float, there is the option of Shimano's Black/Red cleat, the SM-SH10.
Replacement cleats for Shimano SPD-SL pedals
Includes two cleats and all installation hardware
Black/Yellow floating cleat with 6 degrees of float
Black/Red fixed with zero float
Glad I got them
Familiarity:

I've used it several times
I've had Shimano road pedals for a while and love them, so when I got new road shoes, I decided to put on new cleats. Guess I didn't realize how worn my other cleats were -- these work great and have that nice snappy new-cleat feel. Definitely recommend.
JB Brockman
Shimano...
Familiarity:

I've put it through the wringer
...makes the best components bar none. Have been using their cleats for over 15 years. Very durable and reliable. Fit's all three hole road shoes. Highly recommend!
Mark McEwin
The reason I use shimano pedals
These cleats last a really really really long time. The pedals they attach to tend to do the same. Pretty walkable for a road cleat.
Scott Gartman
Unanswered Question
Will the yellow float cleats work with PD R9100 pedals. I just ordered some to replace my old 2001 dura ace and am not sure if I will need to change my cleats or not. I would rather keep the float for knee problems.
Brent Waliduda
Quality Cleats
Familiarity:

I've put it through the wringer
Shimano cleats that get the job done and last quite a long time. If you're not sure which color to pick up, most people go with the yellow cleats (6 degree float), unless you know you're looking for the Red (fixed float).
Renzo B
Just works
Familiarity:

I've put it through the wringer
Be sure to scuff up the bottoms before riding where you need to stop quickly or often (city riding) as the retention is too tight until you break them in a little.
DJ Dawson
Nice cleats
Familiarity:

I've used it once or twice and have initial impressions
Great quality, I like the float on these ones.
Jonathan Calderon
Durable and dependable
Familiarity:

I've put it through the wringer
The DA cleats will last for ages. I like to go with the yellow version with 6dgrees of float, which are easy on the knees.
Brett Cole
Great cleats
Familiarity:

I've put it through the wringer
These cleats are easy and inexpensive to replace. Light weight, but a little bulky. Not designed for walking, duh. But, they will get you from your bike to the car/garage. I have never had one slip out.
Josh Spongberg
I just bought these cleats to have a backup to my current one. These are same as the one that came with my pedals. Not any complaint with these cleats!
Andres Soto
The best at a low price!
Familiarity:

I've put it through the wringer
There is simply nothing to complain about these cleats.. They are light, they are stiff, easy to figure out, and all for a very low price. I wouldn't want to walk much in them, since they are plastic, but why walk when you can ride?!

I'd definitely recommend to get these. Doesn't get any better at a cheaper price.
Giovanni V.
SPD-SL Cleats
Familiarity:

I've put it through the wringer
I must be cheap since I feel like plastic cleats should be closer to the price of a tube. That being said I try not to walk in these too much. Whereas other brands tend to slide around more on slick surfaces, these tend to grip a bit better. If you're unsure of which ones you need, you're likely looking for the yellow version with more float.
Kevin K
Needed Replacement
Familiarity:

I've put it through the wringer
If your SPD-SL cleats wear out, replace them. Don't ride with cleats that don't stay in your pedals when you need them to. Plenty of people have crashed due to walk-worn cleats. Don't become one of them.

To answer some previous reviews, these cleats aren't designed to be walked on for long distances or over rough surfaces. Stay on your bike.
Marc DiVall
Light, stiff, plenty of grip when walking. I wouldn't change a thing.
Steve Simpson
Functions as they should
Familiarity:

I've used it several times
These work great. easy to install.
Anthony Webster
Gets the job done, well.
Familiarity:

I've put it through the wringer
Not much to say about these other than that they are workhorses. I've always liked the red ones(fixed, no float) and each pair generally lasts me a couple seasons. I usually put about 7-8k miles per year so for a $20(on sale) cleat, I'm impressed.
Sterling Watson
Awesome cleats
Familiarity:

I've used it several times
Gotta say, I've never used clipless pedals before, but figuring these out was a breeze. Took me a couple minutes to attach them to the shoes and only another minute or two to learn how to clip and unclipped them.
Paul Baker
Replacing your cleats is one of those small things that can really make a difference in your pedal stroke. Nobody likes a loose feel in their pedal stroke, and a brand new pair of cleats brings back a solid and confident feel. These do the job and are not very expensive.

Pro Tip: to reduce wear an tear on one cleat, practice clipping out with a different foot each time you come to a stop, and avoid walking around whenever possible.
Trevor J
would these fit for SPD 5800 series? I have 105's peddles.
Best Answer
Yes, this will fit the 5800 series pedals.
Trevor J
What about the new Ultegra 6800 pedals?
Dan B.
The Yellow cleat gives you some floatability (but not an excessive amount), which for an avid mountain bike racer I am used to, and I like on the road as well. For road racers the red no float might be a better option depending.
The cleats are great and allow no slip rubber so you don't skate on the kitchen tile floor, or in line at the coffee shop (if that's your bag).

Arguably, pedal and cleat combinations are a function of price, and personal preference. IMO on the road they engage well with my Shimano Ultegra pedals and offer a firm, solid platform. I am pleased with the setup allowing me a nice setup for long days in the saddle, and shorter more intense training rides. Enjoy!
JC