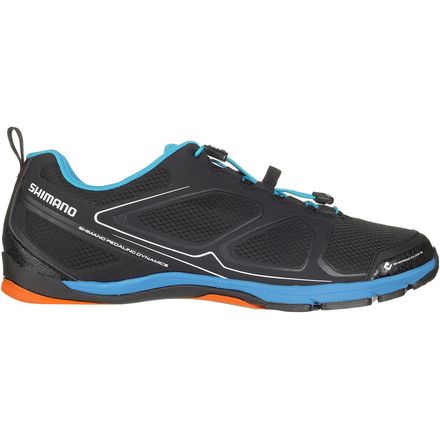 Colors

Detail Images
The anti-slipper.
Pulling on a pair of $400, 170g carbon-soled slippers for a commute or spin class is excessive, so Shimano designed the SH-CT71 Men's Cycling Shoes to offer a more practical alternative for errands and utilitarian use. The shoes rate a three out of 12 on Shimano's stiffness scale, so they're not exactly suited to winding up in the final meters of a crit, but they do facilitate a pedestrian life when your day on the bike is punctuating by social stops and errands that don't necessarily benefit from the Euro minimalism of top-end race shoes.
The shoes are built with a synthetic upper with a speed lace enclosure. The combination secures your foot to the sole without the fuss of a typical racing shoe and blends into the crowd when you're off the bike. They're also built for abuse, so you can spare the added mileage on your race shoes without drawing sidelong looks because you have to skate across the bank's tile floor.
The soles are compatible with the simplified interface of Shimano's Click'r pedal system, which combines the sneaker-like functionality of the SH-CT71 with an easier, more intuitive clipless design. At the center of the soles, a shank with engineered flex allows for easy walking but reinforces the forefoot for efficient pedaling. It's housed in an EVA midsole which is then covered by a grippy rubber outsole. The latter two layers expose a recessed cleat mount plate with a standard two-bolt attachment.
A cycling shoe for commuting and recreational use
Walkable outsole privileges comfort over stiffness
Cushioned midsole absorbs road noise and ground impact
Grippy rubber outsole with recessed cleat mounts
Speed lace enclosure system is fast and secure
Casual aesthetics fly under the radar during errands
Built to pair with Shimano's Click'r pedal interface