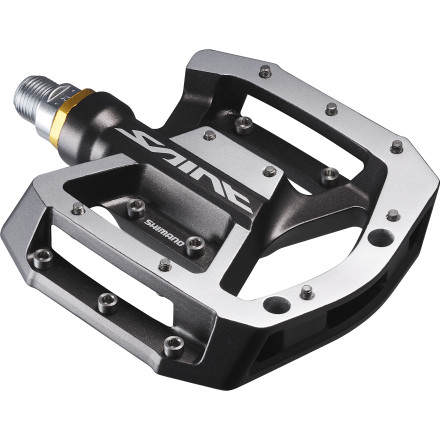 Colors
Tempting.
Though we're typically leery of manufacturers tinkering with our favorite pieces of kit, Shimano's PD-MX80 Saint Pedals are a successful and welcome update to the classic DX Flat model. The durable aluminum body, nine adjustable traction pins, chromoly axles, and sealed bearings ensure that you'll be able to ride BMX parks like a saint and DH like a sinner. The new platform design keeps your foot closer to the axle, and the open bodies shed mud and debris like temptation rolling off the back of St. Thomas.
Solid alloy body absorbs park and DH abuse
Nine adjustable and replaceable traction pins
Open design for mud and debris clearance
Awesome
Familiarity:

I've put it through the wringer
Heavy but super solid for use on my DH rig. I do wish they were thinner, though, as I hit them on stuff more than I'd like.
Fleshwater
They're not that heavy...
Familiarity:

I've used it several times
I was not going to purchase these awesome pedals because of their weight, glad I did...These pedals are great! Customizable with extra pins and the included allen wrench is a nice touch. I have plenty of bike specific tools but like the added push-Shimano. Remove washers and pins are perfect height, it takes minutes! R and L are clearly marked and allen head simple. Don't hesitate to ride platforms any longer, clipless are OVERrated!! I wear Teva Forebay sandals with no problems:-)
Robert D.
Picked these up because I am personally not a clip in fan. With my 5Tens I haven't slipped a pedal yet. Overall very satisfied!
Ryan Lee
Cheaper Metal Pedal
Familiarity:

I've put it through the wringer
These aren't what I'd call the best pedals but the best pedals will also run you another $100 on top of this price. So for the price they're pretty decent unless you want to drop the same on some plastic pedals.

I used these all last year on my Santa Cruz Bronson and they worked nicely but definitely felt a little on the heavy side.

There was a little wiggle in the left pedal after a few months of riding which was able to be adjusted when i took the axel out of the pedal. But if I had a ton more play then there wouldn't have been much i could have done. It looked like it was largely due to the bushing.
Jared Downs
great!
Familiarity:

I've put it through the wringer
put these on my mountain bike and have beat the crap out of them. They are holding strong against rocks and whatever else I crash into. I would definitely recommend these to anyone. Also, GREAT PRICE!
Tyson Purkey
Can't go wrong
Familiarity:

I've put it through the wringer
I have had 2 pairs of these saints. no problems no squeaks. I know there are better pedals out there, but for the money the saint is hard to beat.
Diana Jenson
Bombproof and functional
Familiarity:

I've used it several times
Pretty much you get exactly what you pay for, not the lightest pedal out there, but bombproof and solid. I have them on my cross bike when I want platforms and they've been nothing but good so far. The default pin set up is fairly grippy without even removing the washers on them as well
Evan Gerry
These pedals have taken some abuse and are still going strong. I suggest removing the spacers on the pins. Solid pedal.
joseph.qua2129383
Great Pedal
Familiarity:

I've used it several times
These are a classic! At first years ago they seemed like a super high end premium offering, one of the first "nice" platform pedals. Now they remain unchanged, still a great pedal, but somehow other pedals have become so insanely expensive that these are now a great "value." Anyway, the price on these is fair and they are a great pedal. There are some lighter, thinner, more sexy options out there for sure, but these pedals get the job done for half the price of those sexier options.
Vinny Mauro
Bearings are no good
Familiarity:

I've put it through the wringer
I have two sets of these pedals, one for my wife's bike, and another for mine. After 30 rides their is significant play in the bearings. Pulling the pedal apart you can see how badly the bearings are made. The balls are held in place by a nut that keeps the hole assembly together. It looks like the pedal is designed to allow up and down play, as the bearings are only near the inner side of the pedal. The outside is a simple medal sleeve. After repeated use the sleeve appears to have worn down, allowing up and down play in the pedal.

Replacement axles are $23 each, the same cost as buying a new set on sale. If you want pedals without up and down play, then buy something else.
Mark M.
Great Pedals!
Familiarity:

I've put it through the wringer
Great looking pedals that are super grippy once you remove the washers on each stud.
With the washers still in place, they're fine but much better for me without.

David Yath
Great for bombing trails
Familiarity:

I've put it through the wringer
I used to ride with clip-ins, but when I changed from hard tails to a Giant Trance SX, decided to give these a go. I wear 510 shoes, which have great grip, and never have any problems slipping off the pedals, and have found the advantage of being able to make slight adjustments of foot position on the fly to help change my stance on the bike. I use a dropper post on the bike, so constantly changing body position on the bike, but the Saints stay solid. Works well in the wet, as well as dry.
Garth Perry
Shimano = quality fun
Familiarity:

I've used it once or twice and have initial impressions
I ride clipped for the road, but when it comes to offroad, its always been flats. These are the first pair of platforms that i've had in which the pin height is adjustable. Pedals come with washers installed at base of pins, creating a very low profile spike. Remove the washers and you get a longer DH style pin height. I expect these pedals to be quality and last the length of my AM bike.
D-rock
Installed on my 2015 Diamondback Overdrive Comp which I mostly use for commuting and so far they've been great. No matter what I wear on my feet, the grip is always there! Highly recommended!!
Vinay S.
Put these on my wife's bike.
Bought my wife a Giant Talon so she could get into some trail riding with me and put these on to replace the junk pedals that come with all bikes. She's ridden them a couple times and loves the feel of them. I'm positive these had saved her from slipping off the pedals a few times as she gets back into biking!
fdw6257774-0
Excellent
Familiarity:

I've used it several times
Very heavy duty design. No slippage (I use normal sneakers and had no problem). Lighter than I thought it would be.

Shipped quickly.
David L.
Burly Pedal
Familiarity:

I've put it through the wringer
These are solid pedals. Good grip with a flat sole shoe and they are pretty bombproof. Only downside is they are pretty heavy and thick, but awesome for the price.
Dan Murphy
Great pedal, with the right shoes...
Familiarity:

I've put it through the wringer
I'm a fan of this pedal, but I just wish I could wear other shoes with it. I have to wear shoes with a flat sole in order to get a good grip on the little screws. When I do wear my flat soled shoes I really enjoy the ride, but it's not a good pedal if you want to ride and hike because you'd have to wear one pair of shoes for riding and another for hiking. Just a disadvantage of circumstance, but this keeps me from giving it 5 stars.
Scott Bailey
Solid
Familiarity:

I've used it several times
Replaced stock pedals on a Cannonade Quick CX4. Only have about 200 miles on them at this point but they have been a great purchase. They are much more durable than the stock pedals they replaced and have much more grip as well.

I would highly recommend giving the Shimano pedals a try if you are in the market for replacement flat pedals.

Not using any special shoes and the grip is sufficient for road use and I have not lengthen the pins either. They are quite no squeaking as mentioned by others and they are available here for a great price.
Kevin V.
Yep - what they said
Familiarity:

I've put it through the wringer
I use these on my Carbon Tallboy ... and bought a pair for my son to use on his Tallboy as well. Great grip - I removed the spacers from one side and left them in on the other - takes a bit of getting used to but the setup gives great grip in both dry and muddy conditions. No squeakiness at ll (vs. review below). a very solid and reliable choice that's at a nice price point
Ted F