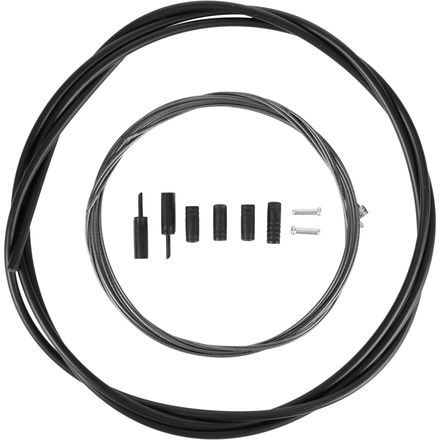 Colors
Gain smoother shifts.
Overhaul the old, worn-out shift cables and housing on your mountain bike with the Shimano Optislick Derailleur Cable and Housing Set. This set comes with everything you need to replace your front and rear shift cables and housing on your mountain bike. Stainless steel shift cables are highly corrosion-resistant, with an Optislick coating for smoother shifts and greater longevity. Sealed end caps keep out mud and grit encountered on the trail. Shimano's SP41 cable housing uses a special silicone grease for lighter shifting actuation. Please note, the included shift cables attach to both SRAM and Shimano derailleurs.
Overhaul your worn-out shift cables and housing
Stainless steel cables are corrosion-resistant
Optislick coating for smoother shifting action
SP41 cable housing with mud-resistant end caps
Set replaces both shift cables and housing
Works with Shimano and SRAM derailleurs
Bashed my cable a few seasons ago and until recently had no issues with the shifting. Overtime the plastic wore out and exposed cables rusted causing my shifting to completely suck - slowed, skips a gear, etc. Replacing it was super easy and quick, this cable did the trick, shifts beautifully!
Emma
Unanswered Question
Could I use these on a set of late 90s shimano V brakes?
Sam L