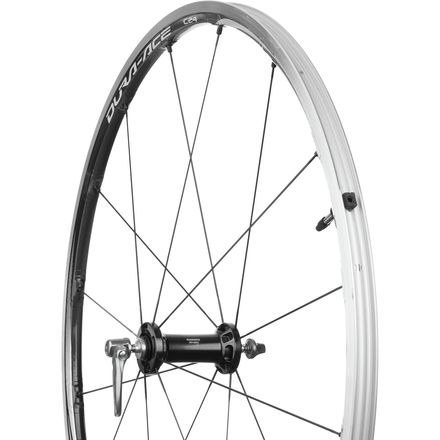 Shed weight without compromise.
Logic prevailing, you'd assume that a lightweight wheelset would sacrifice its durability and ruggedness for weight savings. Well, the Shimano Dura-Ace WH-9000-C24-TL Carbon Tubeless Road Wheelset is here to throw that notion by the wayside. Shimano's proprietary Carbon Lamination technology reduces the rim's aluminum to only 0.6-millimeters thick without sacrificing strength or stability, courtesy of its fused carbon layers for added lateral stiffness and strength.
Although deep-dish rims are all the rage these days, this wheelset sticks to a lower profile 24-millimeter depth for fast spin-up, as well as nimble handling in tricky crosswinds. Its 20.8mm width adds a bit larger contact patch for greater traction, also allowing you to run a lower pressure for increased shock absorption, especially considering its tubeless-ready design.
Additional performance-enhancing features include an offset design that takes into consideration the stress exerted by drive and non-drive sides, further reinforced by sturdy T-nut construction at the junction of the spoke and rim. The lightweight titanium freehub is housed within a wide flange hub for maximum efficiency and power transfer. Moreover, its cup-and-cone bearings resist undue stress from straightaways and hard corners. Please note that this wheelset works with tubes and tubeless setups, as well as 11-speed and 10-speed cassettes (with additional spacer).
Proprietary Carbon Lamination technology (aluminum-carbon hybrid)
Tubeless-ready design
Titanium freehub, wide flange hub
Cup-and-cone bearings
Compatible with 11-speed, 10-speed (with additional spacer) cassettes
Can anyone compare this wheelset with Mavic Kysrium SLs? I'm riding Kysrium SLs now & looking for an upgrade. Thoughts??

Robert
Do it. Unless you're a carbon fetishist (despite the carbon laminate, these are effectively alloy wheels) or you're running Campy*, then these are the only high-performance/low-profile wheels you should consider. Unbeatable for the price. Alternatively, you might like the Ultegra wheels, which are more affordable and a blast to ride as long as you're under 170lb and aren't racing.



*Shimano wheels should never be run with a Campagnolo drivetrain. You can use an Ultegra cassette with Campy derailleurs, but it's just poor form.
Rob Ware
Unanswered Question
How do I figure out if these will fit on a 2006 Cannondale Six13?

David K.
Light and Bombproof
Familiarity:

I've used it several times
I have used both the Dura-Ace and Ultegra wheels. They are both bombproof, stiff, and light. Very easy to setup tubeless.
Clayton Otto
Can I use a Conti GP4 and tube with this wheelset or do I need a special tire?

ARVI
Yes. Any standard tire and tube will work. But this is also compatible with tubeless road tires.
Carl N.
Regular clinchers work fine. That's actually all I've used so far.
Brandon S.
Hello, I'm wondering if anyone could chime in on some good tubeless tires for these wheels. Thanks!
Stephen K.
I put Specialized S-Works tubeless on mine. Very nice.
Carl N.
If you've not read the article below, it's probably a very good starting point.



http://velonews.competitor.com/where-the-rubber-meets-the-road-what-makes-cycling-tires-fast


Brandon S.
Panaracer is making GREAT tubeless tires. Typical Japanese attention to every detail


David McCarty
Fantastic Wheelset
Familiarity:

I've used it several times
Not much more needs to be said. You'll be extremely happy with these wheels. Feel free to reach out with questions.
Brandon S.
I'm hoping to upgrade my RS30 wheelset with these. The RS30's are 10 speed, will the hub on these 11 speed wheels fit the frame or is the hub wider? Thanks!
Mike H
11 speed and 10 speed hubs maintain the same overall width. To use these with your 10 speed cassette you would need to use the included spacer.
marmboy
Can tire sealant be used with these TL wheels?


Brian L.
Does anyone have an answer for that? Tubeless compatible but does running sealant void warranties? Like anyone would run tubeless without sealant...
Trent S.
Best Answer
I have been using the Shimano C24-TL Dura-Ace for two years now and when I bought them first called Shimano to find out how to find sealant that did not contain ammonia and they would not help me. I found Stan's NOTUBES tire sealant in two ounce tubes and Stan's 44mm universal valve with removable valve core a perfect match to setup the wheel for ammonia-free sealant. A tire without sealant will only stay filled for about one hour within the 80-100psi limit area. Sealant is a MUST have but only around one to two ounce is required for each wheel. Cleaning the old sealant out is time consuming but I have put over 15,000 miles on the wheelset and really enjoy the way they roll on the road.
hoborider
Old question but maybe still relevant reply:

I've used Shimano tubeless rims since 2011 -- the earlier model (forget the number) and, for the past 3 years, the 9000 TL's.

I've never put sealant in them. My LBS did once, without my knowledge, and cleaning the rim was NOT fun.

I run Schwalbe ONE tubeless (23mm) and find that they lose about 10 lbs of inflation OVER NIGHT (not in an hour). Had similar experience with Hutchinson Fusion tubeless but I think the Schwalbe run smoother. I inflate to 90-100 PSI (I weigh 150).

These are excellent rims. I see they're priced at $750 now -- an absolute screaming deal.
Dana S.
Contrary to some other answers here, I have run about 6000 miles of tubeless on these rims, and feel no need to use sealant. You'll be fine for a three hour ride, then will need to fill again next day before riding. Hutch Fus 3 Tubeless. Although these partic tubeless supposedly have higher coeff friction than many tubed tires.
Donald A.