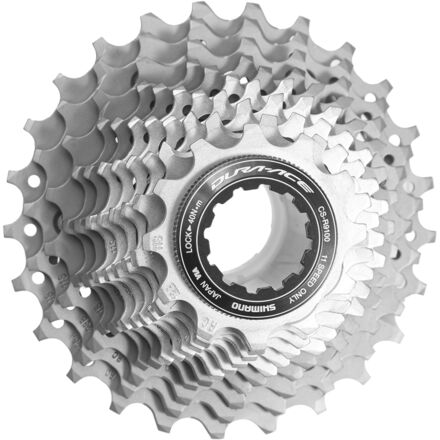 Colors

Detail Images
Reliability is elegant.
Shimano's groupsets often often miss call-outs for European elegance or relentless pursuit of weight loss at all cost and innovation for innovation's sake, instead earning their loyal following through the incredible dependability and meticulous engineering of the Dura-Ace CS-R9100 11-Speed Cassette. 9100 isn't a typo there, it is, in fact, a newly reworked version of Dura-Ace. When the brand introduces a new groupset, you can be sure it's actually boasting improvements you don't have to be Porte or Stannard to detect on a routine Sunday in the saddle.
The latest release of Dura-Ace 9100 delivers subtle, thoughtful tweaks to an already intelligent collection of moving parts, retaining the romance of mechanical shifting that's becoming less common each year. The cassette adds new combinations of gearing options, including expanded options for gearing appropriate to rouleurs, climbers, and the puncheurs who demand the best of both worlds. Shimano saw no need to improve the cassette's feathery construction, trusting the same proven combination of titanium and nickel-plated steel cogs and an alloy and carbon carrier that Dura-Ace 7900 introduced two generations ago.
Since Dura-Ace is the top-tier drivetrain in the Shimano road lineup, you might be surprised that only the largest five cogs are titanium. That's because—though it's lighter—titanium is generally more prone to wear than nickel-plated steel, and the smaller cogs are more prone to wear than the larger. Because of these material properties, Shimano only uses titanium where the softer metal doesn't create a significant negative impact.
Ride with more intuitive gearing on this improved cassette
Precisely machined cogs balance weight and durability
Carbon and alloy carrier blends low weight and strength
Great Cassette
Familiarity:

I've put it through the wringer
Bought both the 11-28 and 11-30 for a race with 20% pitches.
Used the 11-28 on race wheels worked great. Flawless shifting with Di2.
Routinely use the 11-28 on training wheels.
Will S.
Fine jewelry
Familiarity:

I've put it through the wringer
This thing belongs in a jewelry box or on display under glass. I am floored by the quality of this cassette.
Update: I have now put several thousand miles on this cassette; still a 5 star in my opinion, love it. Smooth and incredibly precise shifts. Lighter weight. Awesome!
brad J.
Wish I would have known sooner.
Familiarity:

I've put it through the wringer
I have 4 11 speed bikes, 2 are Campagnolo super record and 2 are Sram eTap, after spending way to much money on Campy and Sram cassettes I accidentally found out the best shifting, best gear ratio (same ratios as Campy except Shimano gives you a 28 to Campagnolo`s 27 and Sram starts to triple the big sprockets way to early), quietest running, almost the lightest (Sram is a bit lighter) cassettes you can buy and they are the least expensive by far. half the money of the Campy SR. a quality source told me this 2 years ago and I arrogantly didn't listen.. da
brt
It goes to 29
Familiarity:

I've put it through the wringer
I bought this DA cassette trusting Shimano's unwavering quest for quality. On that, Shimano never disappoints. Now I can run my 50/34 chainring and have plenty of gears to spin up the climbs around Park City. Guardsman, here I come.
Jose M.
Great Upgrade
Familiarity:

I've put it through the wringer
2017 S-Works Tarmac eTap. On a tech's suggestion, I ditched my SRAM Red cassette for the Dura Ace. Immediately solved noise and occasional hung shifts. 300 miles in. Drivetrain is whisper quiet and rock solid now.
Mark F.
Great value
Familiarity:

I've put it through the wringer
Works great on my Shimano, sram and campy groupsets.

Great fit travel to the mountains
Replaced my Ultegra
Familiarity:

I've used it several times
I decided to go with the size 12-28 to replace my ultegra cassette and I am shocked by how much better this Dura-Ace cassette is in comparison. The sizing is better and the shifting is smooth.
Finally, I was impressed how cool the packaging was too!

Steven Goemaat
Same Shimano Quality
Familiarity:

I've used it several times
The 9100 cassette carries the same Shimano quality we all have learned to expect. Switched from an 11-28 to this 12-28 and am very pleased. The marginal amount I have lost on the top end has been greatly outweighed by the addition to the 17 tooth in the middle of the block.
michael radcliffe
I have Dura Ace 9000 11 Speed Derailer with 11-28 CS9000 cassette. Will this 11-30 R9100 cassette work with my current derailer?
WLayton
Best Answer
I have the same question but also have the DI2 shifter.



Just got off the phone with Shimano. The new 30 tooth gear is too big for the existing derailleur
Gilbert
no max size for the 9000 is 28 teeth


Caleb C.
Actually, yes it will, but Shimano won't back it up, so the official answer is no. Researched this a couple places (Lennard Zinn for example) as well as talking to a friend who is currently running the 11-30 set up and it works fine. Zinn recommends adding a link to your chain, and maybe adding a turn or two to the B spring adjustment screw to keep it quiet in the 30 cog. And don't cross chain!
Eric Haugland