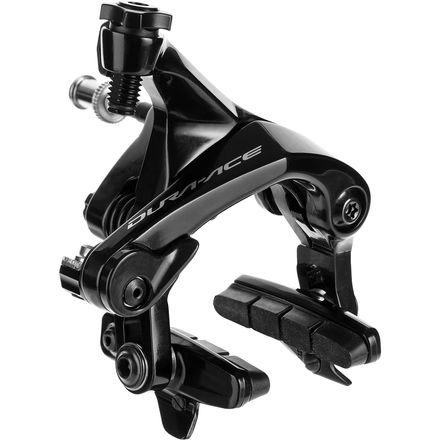 Colors
Easy does it.
Smoother, more responsive levers do little if the components they work with don't improve alongside them, so we weren't surprised to see Shimano revisiting its dual-pivot rim brake design while quietly overhauling Dura-Ace for this year. The resulting Dura-Ace BR-9100 Brake Calipers make their entrance boasting a new steel bridge between each caliper arm pivot, which reduces flex for more consistent braking power when you're slamming on the levers. The bridge contributes to the calipers' enhanced modulation and more fluid, linear behavior across the braking curve, working in tandem with the levers to provide responsive stopping power whether you need to lightly temper your speed or pull up quickly to miss a crash. On the aesthetics side, Shimano subtly reduced the gap between each arm to create sleeker lines that align with the rest of the groupset's classy styling.
Dump speed with smooth, responsive braking power
Steel stabilizer reduces chatter and flex during hard stops
Predictable, consistent behavior across braking curve
Closer arms create a more streamlined aesthetic
The previous generation BR-9000 brakes were already the benchmark for the entire industry, and somehow Shimano has improved on it. They have added a steel bridge that stiffens the caliper further. There is no better brake out there on the market for power or modulation. Not officially compatible with SRAM or Campagnolo as Shimano uses a different pull ratio, but there are plenty of folks who run the setup with no ill effects
Tommy Liao
Do these brakes offer more clearance for wider (28mm+) tires than the 9000 brakes?
Yihsin Hu
According to Shimano's website, you can fit 28c tires:

http://bike.shimano.com/content/sac-bike/en/home/components11/road/dura-ace-9100/br-r9100.html
Badger
Can you run these brakes with Sram Red e tap ?
Casey T.
Hi Casey,



Yes, you certainly can! Please let me know if you have any questions on this or would like to place an order; I'd be happy to help you.
Kody Gubler