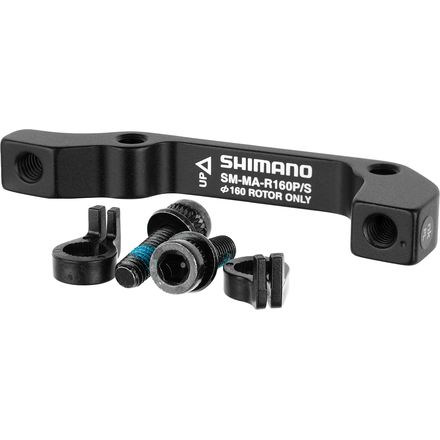 Colors
Adapt.
Whether you're trying to mount your 160mm rotor with an ISO or post-mount setup, we've got the right Shimano Disc Brake Adapters for the job. All you need is the skeleton key to understanding Shimano's admittedly byzantine model naming convention. SM-MA stands for Shimano Mount Adapter, so that'll be universal across models and can be safely ignored now that you're here.
The rest of the model name is the important part. An "F" denotes front brake and an "R" denotes rear brake. The following number (160, 180, or 203) is, of course, the rotor size, with special parentheticals for 203mm rotor conversion. The final two initials respectively describe the caliper type and the frame/fork mount type with either a "P" (post-mount) or an "S" (ISO). To alleviate confusion, we've reiterated the front or rear specification at the back.
To recap, model number SM-MA-F160, P/S Front is for the front brake (F), it accommodates a 160mm rotor (160), it holds a post-mount caliper (P), and it attaches to an ISO fork mount (/S).
Durable alloy construction
Mounting hardware included
Compatible with ISO and post-mount calipers and frames/forks
Simple
Familiarity:

I've put it through the wringer
Easy to use and a good option for upgrading your rotors to a larger diameter
Matthew Lundberg
great
Familiarity:

I've put it through the wringer
i love running bigger rotors so In return I love that this lets me run them! never had an issue with these!
johngchrist
It Works
Familiarity:

I've put it through the wringer
If you are using Shimano brakes this is a must have. Super easy to match up what you need.
Chad Cordell
Gotta have it
Familiarity:

I've put it through the wringer
You gotta have adapters if running a larger rotor. The Shimano adapters do the trick.
Brett Cole
It does adapt correctly. Black anodized is nice. They should mill these out for weight savings haha
William Krempa II
These are simple and easy. You don't need those oldschool cup and cone washers
William Krempa II
It works
Familiarity:

I've used it several times
Comes with everything you need to increase stopping power. Easy to install with clear instructions included.
Jacob Popek
Worked perfectly on a Giant Trance 2
I bought two of these adapters for my Trance 2 and they worked great. You use the same adapter for the front and the rear. The arrow on the front faces up and on the rear the arrow faces forward. I went from a 180 mm rotor to the 203 mm rotor, front and rear. I used the Shimano RT-86 ice tech rotors (XT 6 bolt style). I am very pleased with the performance and braking power it gave me. The only thing that is confusing is the photo shown. The photo shows the IS/Post but the description shows the correct one for Post/Post
Tom Couture
Part is great. Shipping was overpriced.
Familiarity:

I've used it several times
Part is great and have no qualms about it. However, I paid for overnight shipping, and it came in three days. That really is bs when you pay an extra 20 bucks for shipping and it still doesn't come when you need it. very disappointing.
Justin B.
I want to put a 203mm rotor on a rock shox pike using SRAM guide RSC brakes. What is the model of adapter I need.

Thanks,

R
Ryan H.
I'm not sure, but this unit is for Shimano brakes.
Justin B.
Fit like a glove
Familiarity:

I've used it several times
The letter f will fit rear for p/p 180, if you are wondering. Needed an adaptor p/p on front and rear on my Niner jet 9 and was searching for letter designation for rear for 180mm p/p adaptor. Anyway fit like a glove. Love competitive cyclist, but you guys are going to have to step your game up in the shipping department. Way to slow!
jay
Yeti SB6
Familiarity:

I've put it through the wringer
Works on my 2016 Yeti SB6 with Fox 36 fork. Running 180 rotors front and rear. Bought 2 - SM-MA-F180, Post/Post Front/Rear. Running guide brakes.
Sunn Kim
With this, you can put bigger rotors on your bike, and stop faster.
Braydn Tanner
Works great
Familiarity:

I've put it through the wringer
Tolerances are good, work great, and come with all the hardware you need. What more do you need?
Luke Dordai
Purchased for my custom build on an SB6
Purchased for my custom build on a new Yeti SB 6, worked out perfectly!
Sheila
Gets the Job Done, Nothing Flashy
Familiarity:

I've put it through the wringer
It is a brake adapter, if it allows my brakes to function properly without rub it is a 5 star in my book.
Matthew Kiel
Make your rotors fit your frame
This simple piece of metal makes it possible for you to reach unprecedented speeds biking, and come back alive. simply select the version you need, attach it to your frame and caliper, and magically when you squeeze the lever on your bar, you will begin to slow down. Amazing.
Braydn Tanner
go big, go bigger
Familiarity:

I've put it through the wringer
Built a Jones bike recently and JeffJ advocates 203mm rotors up front, 180mm in back. Needed the appropriate adapters to get the discs around those big rotors. Mounted quickly, adjusted appropriately. Worked perfect.
Josh R
kguillen