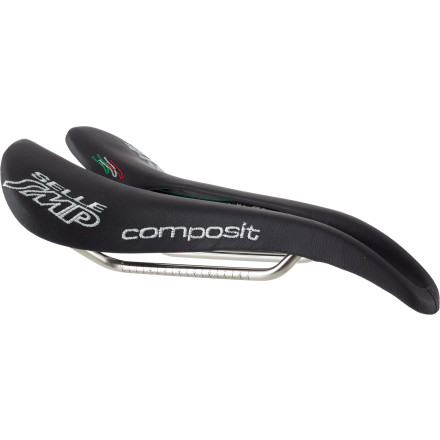 Colors

Detail Images
Don't Selle your saddle short.
You—and everyone else—can recognize Selle SMP saddles at a glance, but can you explain why they look so distinctive? Selle didn't design the beaked nose, high back, and large central channel for no reason, after all, and while all the above are common features on Selle saddles, each has been tailored to fit specific riding styles, anatomies, and disciplines. The Composit Road Saddle, for example, employs the same shape and materials as the SMP4BIKE series, but it ditches the foam to better suit aggressive road riders with narrow to average pelvises.
The lack of foam makes the Composit slightly less cushy, but that's not a racer's primary concern. More important are support and stiffness, which the Composit delivers via an elastomer nylon and carbon composite shell. The beaked nose provides more space for your twig 'n' berries, and the pronounced center channel relieves pressure on other soft tissue areas so you can sit comfortably without loading up on padding. The raised "whale tail" back gives you something to push against, and the durable steel rails handle years of hard riding without getting loose or losing strength.
Elastomer nylon and carbon composite shell
Leather (black) or Lorica (white) cover
Steel rails
Beaked nose
Raised back
Central channel