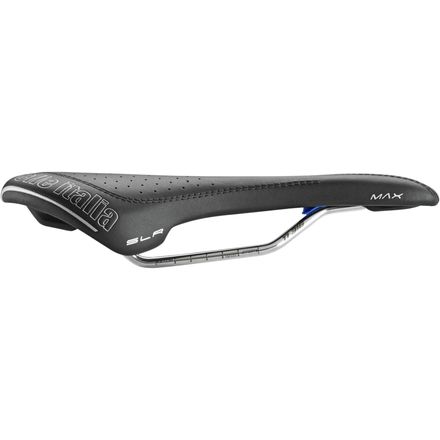 Colors

Detail Images
Happy gap.
The Flow part of the Selle Italia SLR Max Gel Flow Saddle is its most distinctive feature and will probably be its key selling point. If you want a saddle whose anatomic cutout alleviates pressure where you don't want it, then here you go. No one in the game does it as well or as dramatically as Selle Italia.
A bit of grippy material runs down the middle portions that remain in order to keep you from sliding about during long, in-the-saddle grinds. Gel padding keeps the contact with your sit bones soft but not bouncy. The shell's 10% carbon construction is stiff enough to support well, but elastomer inserts between the rails mean this won't translate to undo road noise coming up through your seatpost.
The Selle Italia SLR Max Gel Flow Saddle is available in the colors Black and White.
So Comfortable – For Years!
Familiarity:

I've put it through the wringer
I've had this saddle for over five years and it continues to be the most comfortable I've ever used. I'm about to buy a second one for another bike. I've always loved Selle Italia saddles, and knew that I need a 145 mm wide model like this one. The central cut out is quite large and gives ample room for that "area". The profile is slim, yet there is ample comfortable padding. I use it on a road/gravel bike that's set up with a slightly more forward position. It's comfortable while hammering a time trial or group ride, cruising for long or short solo rides on flats or hills. I've ridden it through rainstorms and all kinds of weather, and it still looks almost new. The quality is top of the line, like every Selle Italia saddle I have used (I haven't used any other brand in years and the several saddles I have from them continue to be like-new (my previous favorite model is the ProLink Gel Flow in 145 mm). If it fits you, then this saddle is probably the best investment you'll make in your bike.
Gregory R.
Good for MTB
Familiarity:

I've used it several times
Got this to replace a WTB Silverado on my mtn bike, and it's a great replacement. Definitely more comfortable out of the box than the Silverado, though I give it 4 stars because the attachment bars sit higher than my old saddle so I had to adjust my dropper post.
Andy F
Found the right saddle
Familiarity:

I've used it several times
I got this for my husband after trying a couple of others, and this is the keeper. It eliminates pain from bearing weight on soft tissues, with no sit bone discomfort. Other saddles which address the soft tissue problem can be too wide for sit bones and inner thigh tendons, and have ridges in uncomfortable places. This one is padded, but firmly; not so cushy that there's a sinking feeling. Or so he says.
Sandra T.
Ahhhhh. Enjoying the ride again!
Familiarity:

I've used it several times
I got to point where I'd ride 100-180 miles in three consecutive days and my old saddle was literally rubbing me the wrong way. I read the reviews, watched YouTube videos and went with the Selle Italia SLR Max Gel Flow Saddle. I love this saddle, the shape lets me move around and alter my pedaling stroke on long rides. Now when I finish my rides, my legs are burning not my butt ;-)
OttoBozart
Does the job
Familiarity:

I've used it several times
I bought this saddle after my Selle SMP Hell was damaged in "accident". I think this feels more comfortable because it is flatter than the SMP, however I think in terms of avoiding numbness, the SMP wins there. Maybe because of the shape.
I haven't use this one as the SMP but so far it works.
Andres Soto
After riding my bike for a week I was getting the junk tingles. I started doing a bit of research and stumbled on this gem. As other have attested, this is a great seat. It is a bit stiff, but puts pressure on the sit bones a lot better than stock junk seat.
Matt
What an amazing difference
Familiarity:

I've put it through the wringer
After purchasing a bike with a slacker seat tube and a different stock seat, I was finishing long rides feeling like I'd been kicked in the nuts. It took me some time to figure out what was going on as it would take some time for the discomfort to settle in. That said, once I figured out what was going on, I replaced the stock seat with this one and have not looked back. Its been a huge difference. Not only has this seat been more kind to my sit bones, but it also has not left me with that gutted feeling.

Like all Selle Italia seats, workmanship is beautiful as well.
Patrick Mulligan
It does the bottom good!
Familiarity:

I've put it through the wringer
First, let me say for the record, this saddle went on my mountain bike, not my road bike.

I have experienced numerous different saddles over the past fifteen years and none of them has been as comfortable as this one. I now have about 3,500 singletrack miles on this and I couldn't be more pleased with the results.

I wasn't experiencing some of the anatomical abnormalities that move folks to buying this type of saddle. My search revolved around simply finding a more comfortable saddle. The sit bones and the manly stuff have cheered my selection and I'm just singing in the breeze now.
Craig J.
Finally found a comfy saddle!
Been through a half dozen saddles. Different issues with all but the biggest issue has been comfort and numbness.I am 6ft 195 and need a >143 size saddle. I noticed the relief immediately. A little firm but just enough padding anything less for a big guy would be like riding on a brick. Good weight as well...
robert F.
Numb Cucumber Vanished
Familiarity:

I've put it through the wringer
I replaced my stock Oval saddle with this Selle Italia, and couldn't be more pleased. I typically ride 40-70 miles which is about 2.5 to 4 hours on the bike, and the Oval saddle would put me to sleep... if you know what I mean.

I haven't had any issues since this purchase, and would highly recommend it to anyone experiencing numbing or tingling in their man bits.

I am 6'2" and 190 as a reference point for fit.
Paul Cressey
One of the best road saddles out there
Familiarity:

I've put it through the wringer
First, gentlemen, it is really important to protect the nerves and soft tissue around the perineum while riding 2-3 (or more) hours in the saddle. Numbness and urological problems can develop if the perineum (and pudental nerve) is compressed for long periods of time (ouch!); which is what happens when roadies ride in the typical inclined forward position. Hence, "pressure relief channel" saddles such as this superb Selle Italia "SLR Max Flow."

Yes, saddle choice is extremely personal. Variables such as specific anatomy (sit bone width), position on the bike, etc. result in... no size/model works best for everyone.

That said, this SLR Max Flow is a great saddle for riders with ave (to ave+) hip width from arguably the most renowned road saddle maker in the world (Selle Italia). The SLR Max Flow is certainly a very high quality and well thought out saddle. Made in Italy.

The rails are now made of Ti 316. Nice. Ti 316 is a lightweight titanium/stainless steel alloy.

I found that the cutout on this saddle works really well to decrease pressure on the perineal area. Next: Despite the Selle Italia website saying this saddle has "extra padding," the seat is certainly not excessively padded. Indeed, it feels rather firm at first. But then feels very comfortable when riding (if it fits you) because of the proper shaping, and the fantastic cutout.

FIT: I'm 5'10", 185 lbs. I think this 145 mm wide saddle should work well for most fit cyclists over ~5'8". More petite or super-fit riders may want to check out a 131 mm wide saddle from Selle Italia like the "SLR Flow."
Jonny Heinken