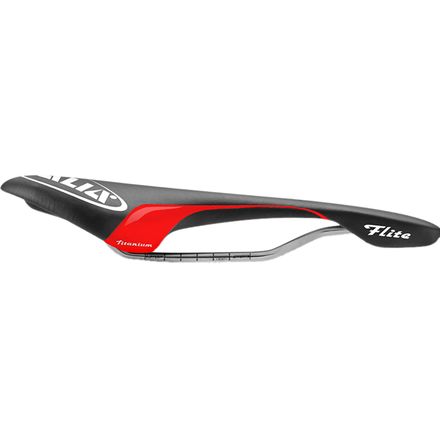 Colors

Detail Images
Flow with the team.
For over a century now, Selle Italia has been crafting beautiful, functional saddles for road and mountain. We're always excited to see new offerings from the firm, and when its own team of professional cyclists finally received the opportunity to leave its mark on a special edition release, we had high hopes for the result. The Selle Italia Flite Team Edition Flow Saddle takes the mid-width and moderately padded Flite shape and gives it Team Edition graphics to create a versatile option for road or XC, with a blend of comfort-focused details on a responsive, efficient design.
The Flite starts with a mid-width composite base that's 30% carbon fiber and 70% nylon. This composition situates the Flite Team's shell between that of the stiffer SLR line and the more flexible traditional Flite model, with the extra carbon adding support and the nylon enabling flex to neutralize road and trail chatter. Dimensionally, the tail is 145mm wide, just a touch narrower than the original and often-imitated 1990 Flite design, and 14mm wider than the company's SLR saddle platform.
Selle Italia distinguishes the Flite Team as having extra cushioning, which refers to a minimal amount of impact-absorbing padding that won't leave you feeling like you're trying to race on a pillow. For added comfort, a Flow cutout in the midsection of the saddle's shell serves to relieve pressure on perineal nerves and arteries to combat numbness and tingling that some riders experience over long distances, with the whole thing covered by a durable, weather-resistant Fibra-Tek cover. Selle Italia trusts the longevity of the material to protect nearly all of its saddles, and it serves to both guard the saddle's internals from the elements and create a smooth surface that won't catch or chafe against shorts.
A lightly-cushioned, versatile road and XC saddle
Team Edition graphics and design
Flow cutout for pressure relief
Carbon/nylon shell blends support and flexibility
Lightweight, durable titanium rails
Selle Italia brings a century of expertise to modern designs