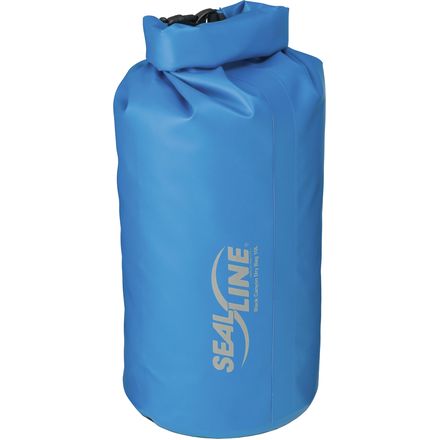 Colors

Community Images
Dry gear makes happy rafters.
SealLine makes the classic Black Canyon Dry Bag with PVC-free double-coated nylon to protect the environment while it keeps your gear dry. Chose from a wide range of sizes to fit your needs, and take comfort in knowing that SealLine's Dry Seal, dual-strip closure won't let in so much as a drop of water if you flip your boat.
40L is HUGE
Familiarity:

I've put it through the wringer
Got this bag to take deep water soloing. It's huge and burly. Threw all my stuff in it, throw it in the water and used it as a floaty to swim back to the beach. Pretty neat
Reagan Chung
Its a bag it holds things
Familiarity:

I've put it through the wringer
This bag is pretty sweet, I got the 5 Liter and its perfect for day trips or even weeks on the river. The only thing I don't like about it is the plastic PVC is kind of tough so you need to break it in. I personally wanted something like the Baja bag which is more elastic. Otherwise this bag is awesome and im going to put it through the wringer on the GRAND CANYON in a week.
Eric L.
Burley
Familiarity:

I've used it once or twice and have initial impressions
During the summer I work as a river guide. Though, I haven't used my dry bag much yet, a lot of my friends use these day in and day out. Yes they wear thin after a lot of heavy use, but these bags are pretty bomber. The larger sizes are great for long or large trips when you need extra gear. the 30L is clutch. It fits in my kayak and doesn't take up too much space in a raft. Though I do love this dry bag, I've had a plastic NRS dry bag for about 7 years and that thing as been to hell and back and survived.We'll see how they stack up.
Tristan
Solid dry bag.
Familiarity:

I've put it through the wringer
If you are looking for a top loading dry bag, I have no complaints about this one. Eventually will have to repair some spots that have rubbed the material thin. No leaks yet, but that's be expected from any dry bag you use regularly, and abrasively like I have on river trips.
Zachary R.
Material super thin
Familiarity:

I returned this product before using it
The material was really thin and, at least compared to my favorite old drybags that have lasted forever, this dry bag seems really cheap. I didn't give it a chance, so all I know is I was surprised flimsy feeling material and I returned it.
katherine.2139583
So Dry!
Familiarity:

I've put it through the wringer
This dry bag is awesome. A lot of dry bags these days are super thin to save on weight but I am afraid that if some rock or something scratched it once it would tear. This thing is super durable. You could keep a cotton ball dry in this thing. Not only that but I had this attached to the back of my kayak under straps but also clipped on by a carabiner. After one big rapid this thing was under the water for a while and got smashed into half the river's rocks on the floor bed. At the end of the day everything still completely dry and my bag as good as new!
Marc
its like Fort Knox !
Familiarity:

I've used it once or twice and have initial impressions
First thing I noticed is how well made this bag is. Inspecting all the seams and materials you can see the quality. I have not had it out in a river, but bathtub tests were a total success. Overall I think this will be an awesome drybag and based off what I have observed I think I will have it for years and year
Matt Park
Ain't no H2O getting in
Familiarity:

I've put it through the wringer
Great dry bag and it does just that.....keeps your gear dry.
Greg Hladik
keeps stuff dry
Familiarity:

I've put it through the wringer
Works well with just a little bit of care. Don't cram too much into it. Leave enough room at the top to get at least a couple of folds before clipping and.....it will work great!
Keith A Kvam
Good bag
Familiarity:

I've used it several times
I used this back as a river guide. I bought the 30L and am able to fit Mountain Hardwear Lamina 35 Sleeping Bag, and a weeks worth of clothes(underwear, sleepwear, swimsuits and shirts). The bag would not be big enough for sleeping bags that don't compact well.

This bag is long and narrow, so at times it is difficult to retrieve something from the bottom. The material is tough and did withstand normal wear and tear, however it would not withstand too heavy of abuse.

Did it's job and kept things dry, and big enough to haul what I needed.
Ben Knight
I used this dry bag over a week of rafting, constantly had problems with the closure mechanism staying water tight and the bag overall. Other reviewers seemed to have a much better experience than me though, but I will not be using this dry bag again.
DavidK
I am wondering about size options of 30L...
I am wondering about size options of 30L vs 40L vs 55L. I am looking to store my rain jacket, rain bibs, small/medium sized camera bag. What would be the minimum size needed? I would like to see it in person to try it before purchase but no retailers in my area carry this product.
Justin H.
I finally found this bag in the store nearby (Cabelas store in Hoffman Estates near Chicago). The 40L was more than big enough for a rain jacket and bibs. I did not put a camera inside but I am sure that a small/medium bag would fit but maybe tight. The 55L was more than big enough for jacket + bibs plus you have the opportunity to roll down the top if not stuffed full.
Justin H.
Completely Bomber, Great In The Cold, Light Weight, Last Forever
I have used the standard SealLine bags before, in Alaska in Winter for paddling and when they get cold, they become difficult to use, so I bought a fleet of the SealLine Black Canyon bags for a solo kayak trip in Alaska in Winter. That was 14 years ago. To this day the same black canyon bags are 100% waterproof and remain in perfect shape. They are lighter than standard hypalon dry bags, which if you are going light and fast, is key. Love these. I'm buying a few new ones just for different kayak sizes.
Holly
Love these bags. I use one 40L and one 30L as a kayak instructor in Yellowstone National Park and these have taken a beating. Still standing strong - as durable and waterproof as ever.
April Pocorus
SeaLine Canyon Dry Bag works!
The dry bag accompanied me on float trip. The bag kept 3 jackets completely dry on our 5 mile float. The bag was a little difficult to get folded and tight at first but after working with it for ten min., the bag did everything I wanted it too! Great dry bag for a great price!
Chanae H.
I go Kayak Camping and this bag suits things very well. I use several 10 liter bags - they hold a fair amount of gear and slide easily into my Kayak hatches. They keep gear dry and feel super durable/reliable. I have several Sea to Summit bags as well - while those are nice, these Seal Line bags inspire more confidence. Two thumbs way up!
Brian Reyman
I purchased this dry bag in the 55L option for a 2 day kayaking adventure with my brother in law and a few friends. It worked GREAT! I had it about half to 3/4 full and no leaks. I took a spill and everything in it was perfectly fine. If I need another one I will buy it again but really I can stuff anything I need in this one bag!
Robert G.
Bought this as a backpack liner.

Worked as expected. It kept all my gear dry while in the backcountry.

Even passed the 'Backpack-As-A-Float' in the pool test!
Fernando Octavio Brendinberger
Bought the 30L bag recently, and it kept all of my underwear and socks bone dry during a recent camping trip, which turned very wet on the last day. Bag does exactly what it was designed to do, keep all of your gear dry.
Terence B.