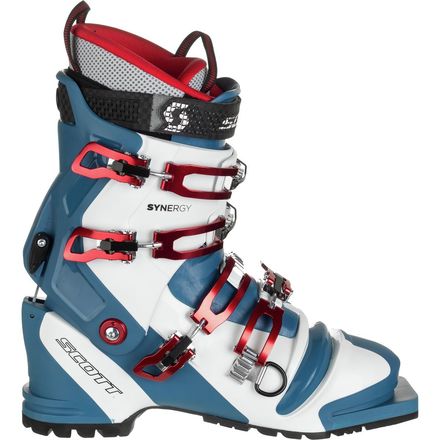 Colors

Detail Images
Knee-dropping gnar.
A seriously burly tele offering, the Scott Synergy Men's Telemark Ski Boot is built to work with big skis, in big terrain, and at high speeds. Its Pebax upper supplies a 130 flex, while the high overlap panel construction provides all the power you need to handle your big boards with confidence and precision. Inside, a PWR Tour heat-moldable liner allows for plenty of power and all-day comfort, and a power strap up top locks things down so you can push without flexing through the front of your boots.
The whole package is locked down with four Ergal micro-adjustable aluminum buckles, which have lock catches to keep them from flopping around when you're hiking, so you'll be able to handle uphills and downhills as easily as most folks ride a lift and cruise down a groomer. The toe buckle is inverted to prevent breakage, and the ski/hike mode provides 46 degrees of cuff rotation for smooth skinning and easy hiking, so you can get to your line, rally down, and head up again before your alpine-booted buddies have taken their skins off.
A telemark boot for big skis, big terrain, and high speeds
Very stiff 130 flex ideal for advanced to expert skiers
Wide 103mm last ensures a comfortable fit
Compatible with traditional cable bindings
Stiff Powertour shell with stiff Pebax inserts
Thermo-moldable PWR Tour liner
Hike mode with 46-degree cuff rotation
75 mm classic
Familiarity:

I've put it through the wringer
Now that I am accustomed to riding an NTN, fairly reviewing 75 mm gear is kind of difficult.
A lot of the 'flaws' holding the Synergy back reflect the limitations of the 75 mm system rather than actual errors in the boot's design.
Five or so years ago, Scott bought Garmont's tele/AT molds, and started distributing their own iterations of old, well-tested designs. I am mostly appreciative that Scott decided to preserve Garmont's technology, and I think that the original Synergy probably represented Garmont's pinnacle. The overlap cuff boots that followed (the prophet, then the voodoo) didn't manage to capture the same smooth bellow feel as the Synergy. The Synergy is powerful and consistent without feeling overwhelmingly snappy or responsive when pushed hard.
The Synergy is a classic design in the telemark world, and while I don't see myself spending many ski days on 75 mm gear, this boot is an indisputable crusher across all conditions.
Conor Hampson
Scott Synergy
Familiarity:

I've put it through the wringer
So... I really wanted to love these boots. I did my research online, went into a store and had them fit properly, and they felt great! Until I started skiing... they are most uncomfortable boots I've ever owned. I had serious cramping at the front of both feet from the first time I used them. I really like the some of the features on the boots so I wasn't going to give up on them. I went to the best orthotics lab here on the east coast and worked with them to get the boot to fit right. Immediately the guy I was working with found the internal sole of the boot to have a weird design that he thought might be contributing to the cramping in my feet. I had a custom footbed made up at a cost of $275 and it helped a little but didn't solve the problem. We tried a number of different iterations but in the end, I've given up. I tried to contact Scott to see if they could do anything for me, but their response was a resounding NO. "There's nothing we can do for you". I even managed to get in touch with their head tele ski guy Paul Parker, but even he wouldn't help me out. So, in the end, I'm out the price of the boots, the cost of the footbed, roughly 16 days skiing in immense pain, and the boots are now going to ebay. I'm going back to my BD Push's for the remainder of this season and I'll try again next year. All I can say, don't assume because the feel good in the store or at home that they will be comfortable at the mountain. Or that Scott will give you any support if things go wrong.

Be warned!
erik bernstrom
Terrific, but with 2 significant flaws
Familiarity:

I've put it through the wringer
I already knew these would ski great and fit my high-volume foot well, since my previous boots were Garmont Ener-G's, and this boot is made from the same molds (which Scott evidently bought from Garmont).

However, 2 things: first, the liner is absolute junk. Super flimsy, terrible tongue, couldn't ever get them as tight as I normally like without big pain (and yes, they were heat-molded) - far worse than the Garmont G-fit liners that were stock with Ener-G's (which were not great either, but usable, unlike these). I skied in pain all last season, and this year went and got a pair of Intuitions fitted - freaking *worlds* better! Why can't they just ship these with Intuitions, like Scarpa?!?

Second is that the 2nd buckle up is not a good design vs. the shell: it's eating away at the crimp in the "outer tongue" (blue plastic thing under the lower buckles) above it, every time I flex the boot. Not good! Hopefully it will stabilize.

Otherwise: great boot! But -1 star for each of these non-trivial shortcomings.

Get 'em while you can, as so far Scott does not have a '16/'17 model on the website - fear these might be going bye-bye.
funk_dup545907