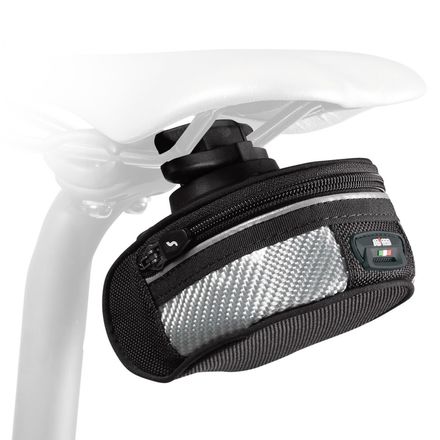 Colors
Portable repair station.
Roomy enough to fit a tube, multi-tool, mini-inflator, and spare CO2 cartridge, the SciCon Vortex Roller 2 Saddlebag is an ideal companion for long road rides and backwoods trail adventures where a flat or mechanical could mean a long walk home. Its innovative Roller 2 attachment offers increased security over standard hook-and-loop straps, with a plastic cleat interface attaching to your seat rails, which then affixes to the bag with the 1/4-turn of the bag's binding mount. Toss in two integrated tire-lever slots, with included levers, for an incredibly practical saddle bag that houses everything needed for simple repairs.
Holds tube, multi-tool, mini-inflator, CO2 cartridge
Roller 2 attachment system
Two tire lever slots with included levers
Reflective tape along zipper and bottom
Easy to swap between bikes
I love how easily the SciCon bags can be swapped between bikes. They are securely held, but it's very easy just to twist them off one bike and slap onto another.
Will S.
My Fourth SciCon Saddlebag
Familiarity:

I've used it several times
I have SciCon saddlebags on my other bikes and like the attachment design and they hold up well. Based on this positive experience over a number of years, I went ahead and purchased this for my new C-60. The aesthetics and appearance fit perfectly with the Italia Flag model C-60. The built in tire iron is a plus. However, because of the storage of this tool, the bag sits further below the seat than the older models I own. I prefer the bag to be a snug to the seat as possible.
PDXCyclist
Great bag great mount
Familiarity:

I gave it as a gift but have feedback to share
This is a good size bag for a tube, 2 co's and valve, tire levers, money and a little room left over. I add my own tire levers because I'm afraid the included ones my break. luckily I haven't had to use them to find out. If they work then you have even more room in the bag.
The bag size fits well under the saddle and my legs do not rub on the bag.
The mounting system is great and I do have the adapter on my other bikes so switching is easy but it is important you make sure you have a positive lock. If you are not careful you may not have it fully locked.
I like the fact that it does not strap to the seat post, I think that look is cheesy and it creates a friction point. I have ridden this bike on the rough roads of CT and It has never rattled off.
I do remove the bag when transporting the bike. Why subject it to unnecessary vibrations. I also only use on my road bikes and I think it is great. I would not recommend for mountain biking.
This bag was a gift to my daughter. I use the 430.
Geoff
Unanswered Question
Considering the Scicon 615 (9X13X10) and...
Considering the Scicon 615 (9X13X10) and the Vortex (8X6.5X14 cm). Are the dimensions given in the same (usual?) format i.e. LXWXH? Either the 615 is not long, real wide and tall while the vortex is not long, skinny, and real tall. Seems to me that the largest # should be the length. Confused in frisco
David F.