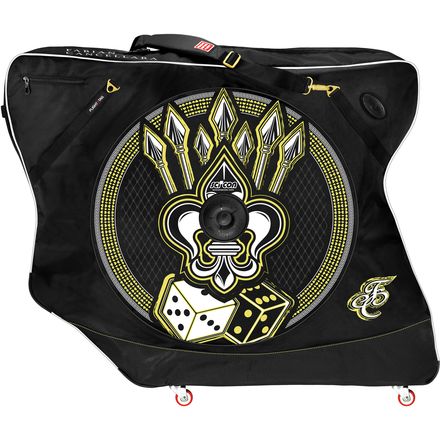 Colors

Detail Images
Race through airports like a Spartan.
Race through airports with the SciCon AeroComfort 2.0 TSA Bike Bag- Team Fabian Cancellara edition. With all of the outstanding features of the standard AeroComfort, you'll find a reliable bike bag designed to travel around the world with minimal effort on your end, with the addition of Fabian Cancellara's Spartacus design for a flashy pop that stands out on baggage carousels. Used by the Swiss Spartan himself for traveling around the world to ride, you know you can trust the AeroComfort to provide you with the sturdy case you need to travel with your bike. You don't have to be a professional cyclist to travel with your bike, enjoy your trusty steed and dialed in fit anywhere you deem fit with the help of the AeroComfort.
Getting into the nitty-gritty of it, SciCon's AeroComfort bags stand out for its ability to transport your bike securely with minimal disassembly required on your end, which means less time is spent wrenching and more time is spent riding. Simply remove your wheels and secure your bike to the metal frame with its skewers, throw on a couple of pads to keep your top tube and bars protected, and store your wheels in their designated pockets. With no need to remove your bars during travel you can be sure that your fit remains perfect, and you won't have to spend a day at a shop at your destination getting it dialed back in.
The exterior is made from durable 840D nylon, with padded internals, and two internal padded pockets for your wheels to keep your rims, hubs, and cassette protected, along with a metal frame structure on the base for securing your frame. There is a deployable shoulder strap, for when you need to sling the bag over your shoulder, and 4 swiveling wheels can turn direction on a dime in train stations and airport terminals for easy maneuvering. A standout feature you'll find with soft cases that stands above the heavy duty hard shell cases is their ability to fold down into compact spaces. Small rental cars might not be able to accommodate large hard cases, and stuffy hotel rooms can become cramped with the addition of a bike box in the corner. The AeroComfort can be folded and packed down to slide into the back of small cars, or underneath your bed in your hotel room to keep your floor space open.
Seriously tough bag for traveling with your bike
Team Fabian Cancellara edition graphics for added flair
840D durable nylon withstands rough handling
Metal frame provides rigid base for your frame
Designated padded pockets secure your wheels
Packs down and can slide under hotel beds
4 swivel wheels for nimble maneuvering
TSA lock for added security
Designed with minimal disassembly required so you can ride more and wrench less