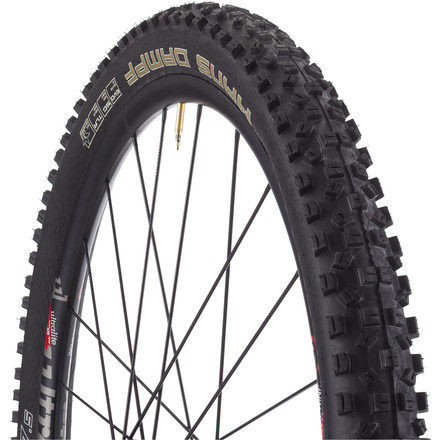 Colors
All-mountain Bavarian.
The 27.5in Hans Dampf Tire is Schwalbe's median all-mountain model, riding with a penchant for the kind of terrain and aggressive lines that favor five or six inches of travel while still insisting on the occasional bursts of speed. The TrailStar compound supports these tendencies, privileging a tacky grip over the pure speed of Schwalbe's XC-oriented PaceStar compound. The SnakeSkin version is puncture resistant but light, while the SuperG model focuses on gravity-grade durability at the cost of a few extra grams.
Two protection options
Sidewall reinforcement
Tubeless-ready
Definitely some of the grippiest tires on the market in term of straight rubber compound. Some concerns people have had are about durability and how long they last. To address the first part, I prefer the Super-G variant... heavier than the regular series but makes for a much stouter tire. These tires definitely wear faster than say, a Conti or a Maxxis Dual-Compound tire, but offer levels of grip that you can't really get anywhere else.
Peter N
Good Tire, Great Customer Service
Familiarity:

I've used it several times
My initial review scored the Hans Dampf with one star. They roll well, and I like the traction, and cornering.

The issue I had was with the side knobs. They separated from the tire before they crossed the 100 mile mark .

Schwalbe is going to make it right and send me a replacement tire. I appreciate the fact that they are going to stand behind their product and where before I may have hesitated buying a Schwalbe tire, now I won't think twice.
Lee M.
Rollin' With Hans
Familiarity:

I've put it through the wringer
For whatever reason the Hans Dampf gets a bad rap. Durability seems to be the main issue and like any mountain bike tire they will wear out eventually. But in my opinion these tires rip and roll. I have been riding with Hans Dampf tires for 7 years plus and cannot count how many times they have saved my butt on a loose corner or slick patch. Last year I ran over a goathead bush and got about 50 thorns in my tires and still was able to make it to the trail head before my tires went flat (the wonders of tubeless!).

I currently run the Snakeskin 2.35" front and rear on my Pivot Mach 6. In my experience, a pair of Hans Dampf tires last me about 1.5-2 seasons of tough riding. A popular set up is running the 2.4" Magic Mary up front and the Hans Dampf in the rear. Either way I would highly recommend these tires.

Feel free to contact me directly with any additional questions about the Hans Dampf, other mountain bike tires or anything bike related.

Kyle L. - Expert Gearhead
Kyle Livingston
Tearing Knobs, Dry rot
Familiarity:

I've used it several times
I purchased this tire to pair with a Continental Mountain King on the Front. I put less than 50 miles on Michigan trails at Copper Harbor and one loop at Heil Valley Ranch last fall. Great trails but not super tough on equipment. Stored inside for the winter. Took the bike out this Spring and the side knobs on the Schwalbe were torn and about to come off. Worse was the dry rot on the main casing. The Conti looked new if slightly dusty. The Conti went six hard days at Moab paired with a WTB Riddler in the rear and both look great. I'll not buy another Schwalbe tire.
Scott B.
Not Durable
Familiarity:

I've put it through the wringer
Tacky tires but wow do they lack durability. I had a knob rip out down to the inner wall in the front tire and a large puncture in the rear tire within 100 miles, trashing both tires. Granted this was the lighter, snakeskin rubber but I don't think any amount of traction is worth sacrificing a reasonable level of reliability. The bead is very tight as well, making these a serious pain to remove.
Matt Dombrowski
Amazing traction
Familiarity:

I've put it through the wringer
This tire is super tacky and have great corner tread, they are also fast rolling. I love how the tire handles in all conditions. The one down fall of this tire is it has thin side walls and wears out quick. Other then that this tire is my go to!
Dan Dalton
get a grip
Familiarity:

I've used it several times
Picked these up as an alternative to the out-of-stock Maxxis HR2. The first one I installed had quite the issue that didn't even touch dirt. So got a replacement, Backcountry took care of the exchange.



They roll quick and corner okay, but durability has been a problem. Riding mostly around Salt lake city the rear sideknobs showed wear after <50 miles and I cut the casing in some low-speed tech shortly after. The offer tremendous grip and would be great for more trails that are more dirt and roots rather than rock . They have a pretty soft rubber compound.
johngchrist