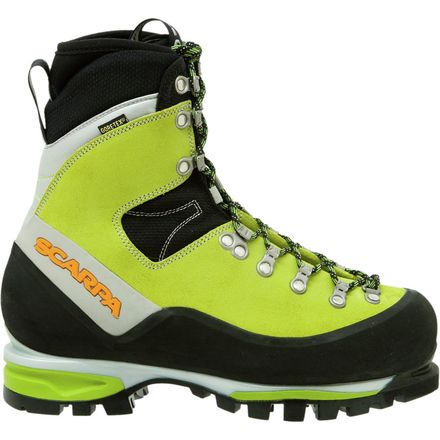 Colors

Detail Images

Community Images
Approach in comfort, charge with traction.
Female winter warriors take note: the Scarpa Women's Mont Blanc GTX Mountaineering Boot enables sure-footed mountain meandering or burly peak bagging in a last fit for a queen. Thanks to classic mountaineering design and the protection of Gore-Tex waterproof breathable materials, this boot conquers all. Lace up the versatile Mont Blanc, and experience unmatched comfort while on your approach without sacrificing stability on steep terrain.
A women's-specific AGW last provides a lower-volume fit and features a slimmer mid-foot and heel area
Scarpa Ergo Fit allows for increased forward ankle mobility while climbing and controls lateral range to protect your ankle in rocky, rugged terrain
A lightweight TPU midsole is thicker directly underfoot and thinner at the toe and heel to support comfortable approaches
The Total Traction sole and the Pro Fibre insole have enough flexibility for long approaches but maintain enough stiffness to support Crampomatic crampons
This stiff but slightly forgiving Pro Fibre insole matches the midsole flexibility and allows a small degree of longitudinal flex for comfort
Upper cuffs use integrated gaiters to lock out the snow and trail debris
So Comfy & Warm
Familiarity:

I've used it several times

Fit:

Runs small

Size Bought:

39.5
I used these for my first ice climbing trip. I was worried about the warmth. The toe box is a little larger than the La Sportiva Nepal EVO so these were perfect. Lost of room to wiggle and keep warm, but still felt secure when kicking in. I was surprised at how comfortable these felt with how stiff they are! I wear a 38 1/2 in a climbing shoe. And a 7 1/2 in running and hiking shoes. But the 39 1/2 fits perfectly. I knew from trying on rentals that these would fit me.
Kat
Height:
5'4"
Weight:
130lbs
Just what I was looking for.
Familiarity:

I've put it through the wringer

Fit:

Runs small
I have a pair of LaSportiva Glacier in a size 40.5 and can wear a good size winter sock. This boot however just wasn't keeping my toes warm enough. The Scarpa Nepal is GREAT. My toes just hit the end of the boot in the 40.5 and had to order 1/2 size up to 41. (my reg. shoe size is 81/2 to 9 ) Every part of this boot fits my feet. Toes have room, heel is supported and best of all the ankle suport is outstanding without having to lace the shoe throughout the day. I use these boots for work daily drilling and hikig through rough terrain. Temps in the teens. I have gone through many boots through the years trying to find good support. Very happy with the Scarpas
Shawna O.
I have tried on the Scarpa Phantom Guide...
I have tried on the Scarpa Phantom Guide in a 41, I usually wear a mens boot or unisex. Would a 41 in the men's Mount Blanc be comparable to the unisex phantom guide? I wear a 41 in both women's and men's usually and have an average wide to wide foot. The women's boot is not available in a 41. Thanks.
Monique W.
I found the Mont Blanc to fit just a touch wider than the Phantom Guide, but the length to be the same.
Paul Nanawa
do these boots accept cramp ons?
do these boots accept cramp ons?
tessphillippi
Best Answer
Nice boot choice! Front and back welts...they'll not only accept a nice pair of step-in crampons, they'll embrace them.
Phil Maher
is this the right boot for mt shasta? too...
is this the right boot for mt shasta? too much?
Mariana A.
Best Answer
I used this boot on Shasta in May and it was perfect. If you go later in the season you might be able to get away with something like the Triolet Pro or Charmoz both of which are not insulated.
Paul Nanawa
I am wondering how these compare in fit...
I am wondering how these compare in fit to the La Sportiva Nepal Evo. It's almost impossible to get either in Australia for a woman. The Evo is too small in 41 and too big (wide) in 42, but does come in 41.5 that the store in Austria didn't have. I have a pair of La Sportiva Glacier Evo GTX in size 42 and they did the job ok but I slid a lot on the snow because the tread isn't so deep. They are a perfect fit with excellent insulation. They are obviously narrower than the Nepal and I don't understand why they would do that.
Is the insulation comparable? The inside of mine feels thicker but the Nepal is supposedly a more 'extreme' boot.
Dena
You will find that La Sportiva fits much narrower than Scarpa
Mitch Andrews
I can't comment on the fit, but I believe the Nepal and Mont Blanc very comparable. I'm a big fan of the Mont Blanc for mountaineering, vertical ice, etc.
Ryan Hamilton
I have a pair of Scarpa Charmoz in size...
I have a pair of Scarpa Charmoz in size 41. Do the Mont Blancs fit the same? I am happy with the fit of the Charmoz, a bit big but the 40.5 would probably be a bit too small. Thanks!
Christina D.
Best Answer
The Mont Blanc will fit very similar to the Charmoz. I have both in the same size.
Paul Nanawa
How does this one compares with the mens...
How does this one compares with the mens regarding sizing? I have a pair of Vegas (can't see what size they are) and they fit me REALLY well. I also have a pair of Scarpa Treks womens 40 and they are a bit on the tight side so I usually wear them with thin socks. Should I get a 41 mens? I've got VERY wide feet! thanks for your help.
Beatriz C B.
These fit very true to size. Since you have VERY wide feet you might want to go with mens. I typically wear a 11.5 US and followed the size chart for the men's Mont Blanc and they fit perfectly, leaving room for some thick socks.

This may add to the confusion, but both my wife and I found that these are little wider than other Scarpa shoes/boots so you may be able to stick with the women's boots.
Ryan Hamilton
These boots are great. Right out of the box, took them on an alpine climb this weekend. No pressure on my toes kicking steps on the way up; good fit through the heel kept my feet from sliding forward on the way down. They performed well on the four pitches of rock too, the added stiffness helps when the feet get a bit small. These were on my feet for 12 hours in the snow with no break-in; my feet were warm, dry, and comfortable the entire time. I haven't tried them with crampons yet, but for everything else I'm sold! Also, Scarpa makes these in up to a 43 in the women's version, which is great; that's what I have and the women's version really does have a much lower volume heel/overall fit. The Sportivas only go up to a 42 in women's and the men's are just too wide.
Get these boots!
Amanda G.
Bought these for my wife because I love mine so much. Boots fit very accurately to the size chart, no need to go bigger for thick socks. Used these boots for lots of winter hiking, mountaineering and ice climbing. They shine in every way. The green color even looks cool.
Ryan Hamilton
So, I bought these boots because they were the smallest non-plastic moutaineering boots that I could find. That, and let's face it, they're bright green. Having tiny feet and poor circulation, I was naturally worried about two things: sizing, and warmth. Having taken them out on a few occasions now, I feel as though I can comment on them.

Sizing: I have a pair of old Scarpa leather hiking boots, a half size smaller than these - the fit is as I hoped it would be, although I do have to wear an extra pair of socks. The moveable tongue insert thingie really allowed me to make room for my super high arches yet lace the boots tight enough to eliminate heel slippage. Awesome.

Warmth: these baddies are surprisingly warm for leather boots, though the fact that I can actually move around in them probably helps. They play very nicely with my crampons, too, although I might have to bend the front piece a bit to accommodate the narrow toe box. I took them out in 0-30F weather, I'm interested to see how they work in sub-zero temps, though.

Overall: I am extremely pleased with my tiny mountaineering boots.

UPDATE JAN 2012 - wore them in -10F w/ 40MPH winds, still warm as long as I kept moving. Would probably want some double boots for temps much colder than that.
Susan Rogers
How do these boots compare to the La...
How do these boots compare to the La Sportiva Nepal Evos with ice climbing?
Caffeine
Best Answer
These boots are very similar to the Nepal's in about every category.
Gone Fishing
I'd suggest trying both on and seeing which one fits better.
Paul Nanawa
Is this a double boot? Need a boot for a...
Is this a double boot? Need a boot for a trek in Nepal, 20,000 ft. told to get a double boot for warmth, et al...
dottie jakobsen
Best Answer
This is a single boot, i.e. it does not have a removable liner. The double boots are warmer because first, the removable liner can be worn into your sleeping bag to be warmed and dried during the evening and second, they are generally thicker and heavier. Double boots have either an inexpensive, heavy, plastic shell ($200-300 Koflach Degre, Scarpa Inverno) or a lighter, more expensive synthetic shell ($400-600, La Sportiva Spantik, Baruntse)

Backcountry.com doesn't have a lot of options for double boots, and manufacturers don't make a lot of women's double boots in general, so you're probably going to have to go with a men's design. The smallest BC.com does stock is the Spantik ( http://www.backcountry.com/la-sportiva-spantik-mountaineering-boot-mens ) in 41, a W's 9.5.

This site has the Baruntse (a warm, synthetic double boot) in sizes as small as 37 (US W's 6) http://www.whittakermountaineering.com/cat/1155/on-sale/mckinley-gear/la-sportiva/baruntse

Best of luck, hope that was a help.
Simon H.
How do these compare (warmth-wise) to the...
How do these compare (warmth-wise) to the La Sportiva Nepal Evo?
Marida B.
These will be equivalent warmth to the Nepal
Paul Nanawa
Do these boots come in a woman's 44?
Do these boots come in a woman's 44?
Fernando Octavio Brendinberger
No, the biggest produced is a 43 in this women's version.

The Men's however is available up to 47, depending on the volume of you foot you may want to check it out:
http://www.backcountry.com/outdoorgear/Scarpa-Mont-Blanc-GTX-Mountaineering-Boot-Mens/SCR0149M.html
Cory Guru