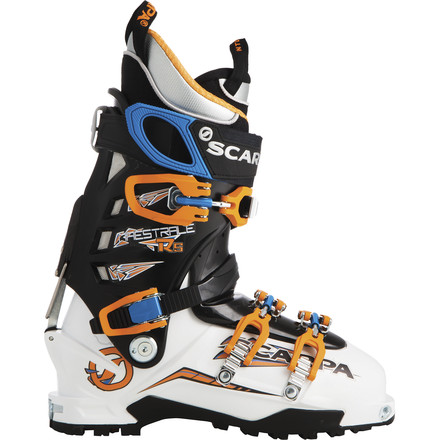 Colors
For those about to shred.
Remember when backcountry touring meant wool sweaters and knickers, skinny skis, leather boots, and low-angle turns while whistling carefree tunes? Neither does the hard-charging Scarpa Maestrale RS Alpine Touring Boot. Wool is great, as are mellow turns, but the Maestrale's more interested in shredding the crap out of steep chutes, ripping big faces, and slaying deep pow. It's 20% stiffer and only 1.5oz heavier than the old Maestrale, with a burly 120 flex, stiff polyamide shell, and stout power strap that provide plenty of juice when the lines get big but still checks in at under 3.5 lbs for most sizes, so you'll be able to make it up the skin track faster than your partner. The cuff also rotates a full 37°, which isn't too far behind many more uphill-oriented AT boots. Scarpa's new Mirage Pro ski/walk mode makes it super easy to switch between uphill and downhill settings, and locks the cuff to the shell with two stiff metal pins for serious power and control without the risk of coming unlocked when you don't want it to. In conjunction with the Evo V-Frame cuff, this gives the Maestrale plenty of fore and aft stiffness, so you'll be able to crush it without feeling like you're wobbling backwards and forwards.
Perhaps the Maestrale's most distinctive feature is the stiff Axial Alpine Pebax tongue, which hinges at the toe and pivots out away from the boot for super easy entry and exit, as well as a smooth and progressive flex that eliminates stiff and dead spots. It cinches down better than traditional overlap-style shells for uniform volume control through the forefoot, eliminating pinching and slop, and the oversize Zeus buckles and Predator HRS instep strap increase heel hold and power without making the Maestrale heavy and clunky. It comes complete with a heat-moldable Intuition Pro Flex RS liner and Vibram Cayman rubber sole for a customizable fit and serious traction, respectively, and features Dynafit Quick Step-In tech inserts with the Fitting Indicator System for friction-free pivoting and easy alignment with your bindings when you're stepping in, even in deep snow. You're welcome to keep waxing poetic about the golden old days of backcountry skiing, but the Maestrale RS will be too busy ripping to listen.

Polyamide shell with Pebax tongue
120 flex and 101mm last
Heat-moldable Intuition Pro Flex RS liner
Mirage Pro ski/walk mechanism with 37° range of motion
Dynafit Quick Step-In tech inserts with Fitting Indicator System
Axial Alpine tongue construction
Vibram Cayman rubber sole
Evo V-Frame cuff with Air Ventilation
Four oversized Zeus buckles and a Predator HRS instep strap
The "Do It All" Boot.
Familiarity:

I've put it through the wringer
If you're looking at this review it probobly means you're interested in this boot. Look no further. I originally had the non RS model and found that they were alittle bit flexy for hard charging so I upgraded to the RS model. The added stiffness of the RS helps you stomp landings and get the full potential out of your skis. If you do a good mix of lift riding and touring you will be very happy with this purchase.
Chris Latimer
Great boots!
Familiarity:

I've used it several times
I have some 5 year old Maestrales and loved them but got bigger skis and felt the boots weren't stiff enough for them. These are a lot stiffer and yet seem to be better at touring! I'll gladly trade the small weight disadvantage for the improved downhill performance!
Tom W
Too Much Comprimise
Familiarity:

I've put it through the wringer
On paper this boot appears to be the Holy Grail for backcountry hard-chargers who have ditched the resort for lawless powder slaying on steep technical lines that would be the envious desire of any ski film movie star, and are looking for a boot that can handle the barbell bending power of their offseason training. In the end, however, this boot sacrifices some of the uphill comfort of a traditional touring-focused boot, but fails to deliver superior performance on the down.
Like many touring boots, the skier cannot precisely engage the foot to the ski from the mid-arch through the toes. There is the back-seat sensation that, even when in an aggressive stance, the boot is only applying pressure to the ski from the mid-arch to the heel. This results in a numb feeling with the ski and the snow. Furthermore, the boot lacks any improved lateral stiffness over a lighter and more comfortable touring boot.
Numb ski control and a lack of lateral stiffness is common in a lot of touring gear, and given a pass by those focused on gaining vert or who don't regularly charge steep technical lines. If however, you are using the Dynafit Radical 2.0, G3 Ion, or Marker Kingpin, all which have a forward pressure setting, this numbness is no longer mandatory.
If your mission is to precisely carve a proper tribute to the powder gods upon the canvas so graciously laid down among the rocks, trees, and steep wind-swept alpine faces, then this boot will probably disappoint. If you have already taken the weight penalty of a higher performance tech binding like those mentioned above, I suggest taking a small weight penalty on the boot as well and investigate the options from Tecnica and Lange.
This boot is adequate for making smooth turns in open terrain with some speed, but you aren't looking to drop serious coin on boot, hike your ass off in single digit temps under a headlamp, and stand over a fresh powder garden divinely illuminated by the few rays of the rising sun piercing the clouds of the last bountiful storm to make adequate turns! You are there to lay such epic trench that no one dare even think of making a figure eight out of your line.
Think this boot still cuts the mustard for those looking to add a ski toting selfie from the summit of some rad peak that requires more rappels than powder turns to descend; think again! The same lack of foot pressure balance that limits the precision of this boot when carving turns, limits traction on technical skin tracks. The rockered sole doesn't fit crampons properly, but I suppose a benefit of that is the extra Kegel exercises you will get from the added pucker factor of trying to climb in these boots. If you want to climb, stick with boots that focus on doing that well.
Bottom line is that this boot tries to be all things but does none well.
Still looking for a boot that fits your backcountry skiing desires? This rad and experienced expert knows boots:
egiebler@backcountry.com
801.619.7481
Tripp
So far, I'm happy
Familiarity:

I've used it once or twice and have initial impressions
I've had these out for a couple of tours and they feel good. The last is nice and provides good room for my toes but I'm able to get a solid fit on the rest of my foot to provide performance.

My foot is high volume but not necessarily really wide. The 101 mm last seems to work great. I haven't had the liners molded yet and I'll likely require some small bits of work on them.

As has been reported the tongue movement is a bit awkward but all in all I should be able to live with it.

The boots are stiff for a dedicated touring boot and would likely be serviceable as an in-bounds boot when needed.
Shawn Craig
Unanswered Question
Are my Maestrale RS boots compatible with Fritschi Freeride pro bindings?
Shawn O.
Lighter....but
Familiarity:

I've put it through the wringer
I got these boots since I needed to replace my blown out BD Factor MX 130's. Coming from this boot which has a higher cuff I was used to being able to drive any of my skis very aggressively. I tested these day 1 at the resort and on the first turn, I folded them over more than any other boot I had owned. I was shocked and a bit terrified as these were going to be my hard charging backcountry boots for big lines. These boots are a compromise between the world of light and fast and hard charging performance. Unfortunately they don't do either extremely well. After a few runs I got used to the lower cuff. You simply cant ski these aggressively like a race boot. They take a bit of finesse and do very well in soft snow conditions.

The weight savings are really noticeable on the way up. I was able to shave time off my regular tours without added effort, which is invaluable on big days. They did well driving my light touring setup on the down in soft snow. The flex is more noticeable in firm conditions.

The rockered sole is nice for the stride, but I find the severity of the rocker to be an issue with matching crampons. I have smaller feet (size 24.5/25 mondo) and find many crampon toe bails dont mate with this boot very well. I've gone so far as to mix and match different brand crampon parts to get a more secure fit.

These boots are far from perfect and a friend of mine had the cabrio cuff crack on his first day in them in cold conditions, but so far I have had great luck with the durability. The buckle adjustments tighten down nicely, the toe pin connection works flawlessly, and the ski walk mode had a fantastic range of motion.

If I could do it all again I would probably get the Scarpa SL120 for driving my bigger skis and continuing to take the hit on weight and the Dynafit TLT 7 for light and fast missions.

Revision: After about 35 days use the togue hinge on my boot broke as shown below. It doesn't greatly impact the skiability. Customer service is great to deal with.
Ryan Gibbs
Great boot
Familiarity:

I've put it through the wringer
I bought these two years ago for glacier skiing with BD amps and Dynafit's. Last Winter I skied about 1,000,000 vertical feet downhill on them with Line Supernatural 100's and Solomon Warden bindings. Worked really well and pretty much powered through a variety of conditions. For me the biggest plus was the warmth and comfort, allowing long ski days without foot fatigue. Once you get the trick of popping the hinged tongue open the entry and exit are easy enough. The fit with the Wardens and release seemed to be satisfactory and the ease of walking and traction are quite good.

A good AT boot and with enough performance for most on piste applications.
Richard F.
SNowboard to Tele and finally to AT.
Familiarity:

I've used it several times
I started snowboarding in New England in 1986 at a little mountain called Loon. I was 13, and it was the second best thing in the world to surfing.

Moved to CO in 1998, tried tele. Loved it. But sucked at it. Moved back to New England in 03, and had zero fun on the snowboard due to my inability to ride the park without serious consequences. Acceptance was not happening, so i went and bought a tele setup and had a blast touring and struggling on blue runs.

Last winter, almost blew out my knee deep in the woods on a tour, and decided it was time to try something that has a release mechanism. Bought the Kingpin 13 and these boots.

I have now put about 10 days of resort skiing on them. Conditions have been horrible for a full time worker bee and no tours have happened.

Review: Super comfortable boot. Had them heated and fit correctly (toe caps etc/) I'm a 10.5 US street shoe. Went with the 28.0
Did five days in a row on Mon Tremblant, had a good day of 18"s of fresh. Awesome. -21f and feet were fine.

Walk mode is similar to my BD Push. Tongue is akward, but i got used to it. Stiff enough for me, but for the hard charger, it might have some unwanted flex.
sam l
Unanswered Question
Will the heel throw on the black diamond cyborg crampons fit on the heel of these boots?
Victor
what is the sole length of the 27.5?
Richard L.
The 27.5 is going to be 314mm, it actually shares a shell with the 28. Contact me directly with any other questions.



Trey Schanzenbach

Expert Gearhead

Office: 1-800-409-4502 ext. 4689

tschanzenbach@backcountry.com
Trey Schanzenbach
Unanswered Question
will these work with 2014 Salomon Guardian MNC?
Kevin C.
Hi
Will the Maestrales RS work fine with an over 110mm wide skis? It is the waist width, just for clarity. The binding is Marker F12 EPF.
Piotr
Best Answer
Should be quite fine. I ride 125's with tech bindings and the softer Pegasus.
Anders C.
How do you adjust the forward lean on these boots?
Mark A.
It's with the walk mode lever. Keep it in walk mode but in the position right before ski mode. Lean forward and there are two levels of forward lean. You will feel it click past the upright position and on the second click, that is the more aggressive forward lean. Lock it down.
sam l
Unanswered Question
Will these boots work with my
Fritschi Diamir Freeride Pro bindings that are like 5 years old?

Michael S.
I am making the transition from telemark only to using AT gear as well. I ski a 25.5 T-Race. Will I also be a 25.5 in this boot? If so, what is the sole length of a 25.5?

Thanks
Forrest C.
Hi Forrest,

The BSL on the Maestrale is 297mm. The BSL on the T Race is 309mm. That is not a real accurate representation however seeing as the T Race has the duckbill in the front. Since these boots are both from Scarpa I would imagine that you would be the same size in both boots.

If you have any other questions, please let me know.

Thanks,
Matthew Pizza
Hey Forrest. Just made the same move as you. My T-race scarpas are a 27.5 performence fit. My Mastrale rs boots are a 27.5 also, no need to mold. Fit is great!
Benjamin K.
I went from a 28 T1 to a 28 in this boot seamlessly.


John Duke
Are these compatible with the Marker Dukes?

Thx
CCW
These will work great with Marker Dukes. Rippin' setup!

Ben
Ben Rabinowitz
Very compatable. AFD adjustment can be a bit tricky, Ive found, to find that 'just right' spot.
John Duke
I'm a size 8.5/9 street shoe, should I be looking at the 27 mondo?
brentedens1@gmail.com
That's exactly what I'd look at! Contact me directly at the phone/email above if you'd like a personalized experience here at Backcountry.

Ben
Ben Rabinowitz
Legit, but not too legit too quit
Familiarity:

I've put it through the wringer
Overall a great boot. Skis and walks well. The only complaint I have is that I've broken the walk mode several times in one season. That being said, I work in my boots and am way harder on gear than your average guy. I wish they had the same walk mode as the freedoms.
Ford Mahan
What is the BSL OF A 27.5? (There needs to be a Ask A Question feature on the App)
John Duke