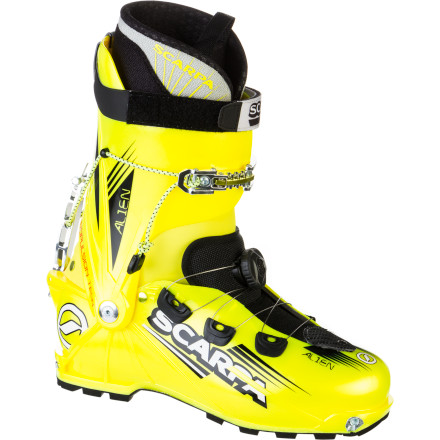 Colors

Detail Images
Ski like an alien (that's a good thing).
Fresh from our friends on Alpha Centauri (sick mountains there, check 'em out if you haven't), the Scarpa Alien Alpine Touring Boot splits the difference between full-blown rando racing boot and hardcore tourer, with a nylon/carbon shell and cuff that are plenty light enough to crush the skin track while still handling their business on steep faces and in shotgun couloirs.

The Alien's most distinguishing feature is the fit. Not many boots can boast a micro-adjustable Boa closure system, but the Alien uses it to secure the foot smoothly and evenly, completely eliminating pressure points and dead spots. Your feet will also dig the HRP Intuition Liner, which is instantly comfortable and offers superb touring performance in any conditions, as well as the UFO Vibram Sole (also recently received from our space friends) which cushions shocks and provides top-notch traction in all kinds of terrain.

Of course, what's most important about a lightweight, race-bred touring boot is its uphill performance. The Alien has a 2-piece construction that locks into ski mode and opens with a single A-Light buckle, providing 60 degrees of uphill-touring power and variable degrees of forward lean between 9 and 13 degrees for the way down. When you're locked in ski mode, the Alien's Propulsion Tech System ensures that the cuff remains stiff, giving you all the power and edge grip you need to handle the steep and icy sections that are part of every serious ski descent. Scarpa also gave the Alien a Quick Step-In system, which uses indicators and self-guiding notches to make it easy to step into your tech bindings, even in snowy spots.

Boa forefoot closure system
Single A-Light buckle
60-degree cuff rotation
Variable forward lean
HRP Intuition liner
Propulsion Tech System for stiffness and edge control
Quick Step In system
UFO Vibram Sole
Can one of the gearheads please address this concern. I have a Scarpa Alien 27.0. which one of your crampons would fit the toe bail nicely. Also, I want the rear clip to be small so as not to interfere with the ski-skin lever at the back. The smaller the rear clip that sits on the heal welt is... the better.

I am not interested in race 290 or tour 350 by CAMP.
I am interested in lightweight steel crampons like the 2018 tour nanotech. Which can do everything from steep couloirs to glacier traverse.

Please advise.
jerry
Hey Jerry, any step in crampon will work with your boots. If you like the design of the Tour Nanotech you may also want to check out the Neve Pro from BD or the Haute Route from Grivel. As long as you are not doing vertical or water ice these crampons will work great. For vertical ice though there are better purposed crampons out there. If you have any further questions feel free to reach out to me directly via the information listed above.
Wesley Eads
@wesley



I just ski'd down a very high Himalayan peak with these boots. I think I am in a very good position to address this.



I got the grivel ski tour 2.0. it works like a charm. I even climbed some very steep terrain. The ski tour 2.0+aliens got me from 5600-6250m. The front locking mechanism of the tour 2.0 removes the anxiety factor that is caused because of the rear clip of regular auto/semi auto crampons interfering with the ski/walk lever of the aliens.



While the race 290 is probably a great crampon, it doesn't look stable enough for steep terrain/hard ice/mixed terrain.



I think I hit gold with the ski tour 2.0.



I wouldn't recommend any other crampon for the aliens and for that matter any ski Mountaineering boot.
jerry
I use scarpa mistralaes in a 28.5, can you...
I use scarpa mistralaes in a 28.5, can you advise what the equivalent in the aliens is?
alan semple
Best Answer
29.5 or a 30 at least. I would definitely size up. You may want to try a few different pairs or get shell fit so you get it right.
William P.
I don't know why you would want to size up, especially since you're comparing Scarpa to Scarpa. I have the Alien, but not the Mystrale. I primarily use Dynafit boots (TLT-5 & 6 are my favorites). When I purchased the Alien, I bought the same size I wear in Dynafit, mondo 30. I was told that Scarpa and Alien size 28 were the same. Above 28, Scarpa would be a little smaller than Dynafit in length. In my experience with mondo 30, I'd say the Scarpa Alien is less than half a mondo point smaller than Dynafit TLT-5; Scarpa last is wider, heal is similar. I'd start with the same size Alien as Mystrale, assuming the Mystrale size fits!
Kerry H.
Light, Fast, Skis, Climbs, and Drives
Familiarity:

I've used it several times
When you first hold the boot in your hands your have to admit you have hiking boots that are heavier. These are so light, they even make your wallet lighter! Skiing with them is different but, not bad. I Had to adjust the forward lean and that made them ski slightly better for me. They are stiff in the cuff however I feel they flex in the forfoot, it feels wierd but I Have not experienced anything that hurts my turn. I have not tried them on steep icy terrain making hop turns yet so I cannot speak for that. I am skiing a 95 underfoot 185cm ski and they drive it somewhat fine. I am waiting to get into my La Sportiva GT 89mm underfoot and 177 cm I am sure they will be able to drive that easier. My Garmont Radiums were a 26.5 I am a size 28 in this boot, so they definitely fit small. I do get some snow in the forefoot but, stay moving and you will stay warm, thats the nature of this boot and I like it. It really does deter you from standing around and walking slow. I also intend to ice climb in them. Today they did alright, I am sure a mountaineering boot would do better but I was still impressed that they climbed. My favorite part of the boot is the fact that I can put them on in my living room and just drive to the trail head with them on. No more switching from my Bogs to ski boot just hop in the car and drive, they have that much cuff rotation. I might try them with a booster strap to see if I can get a more progressive flex out of them, we will see.
William P.
Let the alien invasion commence
Familiarity:

I've used it several times
I love these boots so far. They are amazingly comfortable to even just wear around. The cuff articulation makes it so that walking and skinning in these is a dream. I almost never have to use the risers on the bindings either. I was worried that the lightweight of these boots would mean that some of the skiability would be compromised. Luckily, this has not been the case at all. They're definitely stiff enough to drive any skis that you'd probably be considering if you're planning to use these boots in the first place. One thing to note is that these are not particularly warm boots, the liners are really thin. However, they're not made for standing around or riding chairlifts on a cold day. If you keep moving they're plenty warm in my experience.



These boots do run a bit smaller than other offerings from Scarpa. I wear a size 12 shoe and last year had a pair of 27.5's in the TX pros. I changed these up to a size 29 and they seem to be just about right. I do like very tight boots, so that might be something to consider with your sizing.
Casey Glaubman