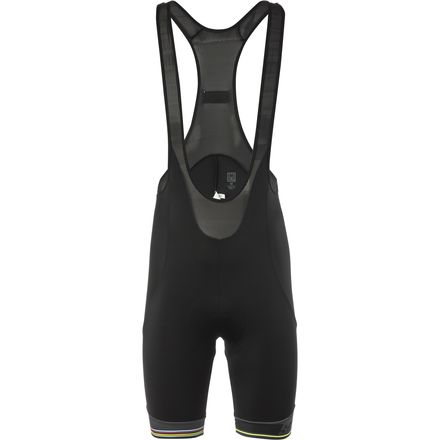 A nod to the champion.
We all would've liked to have been flying down that final descent in Richmond last year, opening up a lead with the unmatched bike handling and effortless confidence that could only have been delivered by Sagan himself. Though he earned his stripes while we watched on television, we can still pretend we did too—or at least show our support for the World Champion's memorable ride on American soil with Santini's UCI Line Men's Bib Short. As an official partner with the UCI, Santini is able to allow us mortals to don the iconic stripes for group rides and weekend training days, and the simple black bib short features few embellishments to allow the stripes themselves to shine.
Made with a supportive, moisture-wicking synthetic, the short is shaped with a modern, longer inseam and cut to follow your body movements in the saddle without bunching or stretching over time. The high waist blends neatly with an airy mesh bib, cut in a high, classic shape to give you a structured fit in the saddle. Each leg hem held subtly in place by a printed silicone gripper.
Along the back of the short you'll notice the back fabric extending far beyond where it we normally see it, a purposeful design decision from Santini that it refers to as its GITevo Case Back, which provides a smooth, uninterrupted fit over the lower back before it subtly blends with the mesh bib straps. Along the inside of the short, Santini trusts its GITevo chamois to lend the right amounts of cushion and support as you spend hours in the saddle, with breathable foam arranged to move with you as you ride.