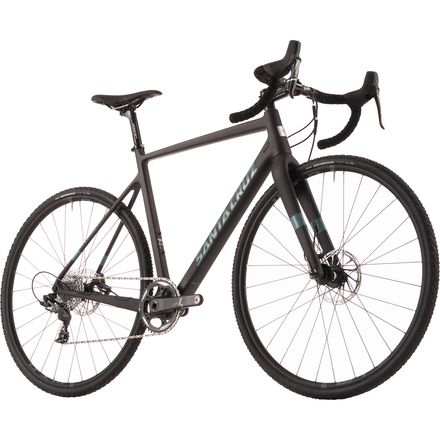 Santa Cruz Bicycles Stigmata Carbon CC Force CX1 Complete Cyclocross Bike - 2017
View Larger Image
Colors

Detail Images
All you need to add is a costume.
While the Stigmata is known for its versatility across terrain ranging from gravel to grass to smooth singletrack excursions, there's no doubt that the 2017 Santa Cruz Bicycles Stigmata Carbon CC Force CX1 Complete Cyclocross Bike is also built to throw down amidst the barriers, mud, and cowbell-fueled melee that is a cyclocross race. Kitted out with SRAM's Force 1 drivetrain and hydraulic brakes, this Stigmata sacrifices the few extra gears of a double and ditches the front derailleur for single chainring simplicity and confident chain retention whether you're rocking and rolling over washboard whoops or punching up a steep flyover.
This version of the Stigmata sports Santa Cruz's top-shelf CC carbon lay-up, which delivers robust strength and stiffness alongside lightweight efficiency. Up front, the Stigmata CC Cyclocross Fork uses this same high-end carbon for uncompromising stiffness and strength when you need it most.
Modern geometry places the Stigmata Carbon CC solidly in contention with the herd of high-end 'cross bike options, with a 72-degree head angle, 73.5-degree seat angle (based on 56cm model), and a 69mm bottom bracket drop that falls neatly between Euro-'cross high and road-racing low and caters well to American-style cross courses. Even with its race-bred outfit, the Stigmata's geometry allows for versatility beyond the barriers. It's just as confident and composed grinding over gravel back roads or exploring light-duty singletrack.
While cross racing places limitations on tire width, venturing off the course opens up myriad possibilities of plush. Santa Crux designed the Stigmata to accept tires up to 41mm wide, allowing you to drop the pressure (especially when running tubeless) for a more comfortable ride through rougher terrain. Conversely, toss on a set of skinny road tires to throw down on the local group ride or noodle through the city on a Sunday social.
Thru-axles at the front and rear add poise and confidence for better tracking across rutted-out straightaway and gravel-strewn corners. Add in the ability to accept 140 or 160mm discs, and you get a sprightly ride that also slows down in a hurry when you need it to, no matter how mucky or wet the conditions. Internal cable routing cleans things up by running the brake and shifting cables through the fork, providing a bit of added cable protection and improved aesthetics over frames with external routing. And for riders worried about future compatibility, the Stigmata's ability to run both mechanical and electronic drivetrains keeps it relevant in today's ever-shifting landscape of technology.
A one-by machine for gravel and cyclocross
Pairing modern geometry with Santa Cruz's high-grade CC carbon
'Cross-specific drivetrain gearing
Internal cable routing maintains clean lines
Responsive ride complements of thru-axles
Accommodates tires up to 41mm in diameter
Accepts 140 or 160mm discs
my new favorite bike
Familiarity:

I've put it through the wringer
I LOVE this bike. Of the 5 steeds in my stable, this one puts the biggest smile on my face. Versatility is out of this world and make me wonder why I have so many other bikes. I have 3 sets of wheels/tires to cover road, gravel, cyclocross and I even take it on semi-technical single track.
David D.
Stigmata ride with Steve Peat
Don Myers
this is a test review this is a test review this is a test review this is a test review
test user
Mudslinging
Familiarity:

I've used it several times
Cyclocross, sure it can handle that. Gravel grinding, yup, it can handle that too. Long summer road rides, no problem. The beauty of this bike is that it can do all these disciplines to the highest level and allows you to have one bike, not 3.
When you want to hit the gravel this machine will fit 41mm wide tires to allow for plenty for mudslinging and trench digging. However, when you want to put the Assos kit on and pretty up it will handle effortlessly with skinnies, I would recommend Gatorskins 28mm, but that's me.
This bike and many others at this caliper are changing the game, 4K for a bicycle is a lot, but when you're getting 3 for 1 it is not bad at all. Really nice to see the X1 on this, unlike the Ridley X-Night, although I understand the reasoning on both, but I foresee X1 taking over the game for good in due time. Any questions at all on the beauty let me know, happy to help out:
Bill Sherman
Customer Account Manager-Bike
Office: 801-204-4545
bsherman@backcountry.com
Bill S.