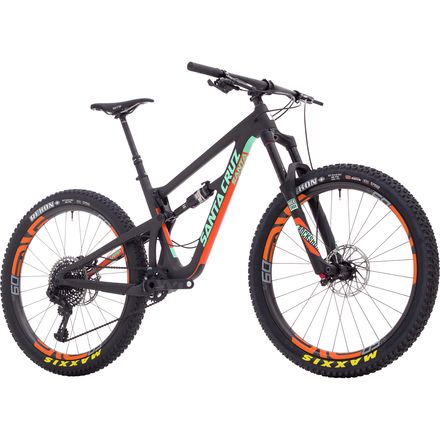 Santa Cruz Bicycles Hightower Carbon CC 27.5+ XX1 Eagle ENVE Complete Mountain Bike - 2017
View Larger Image
Colors

Detail Images
Seek out adventure.
If you're looking for the finest possible steed for singletrack adventures to parts unknown, consider the Santa Cruz Hightower CC XX1 Eagle ENVE 27.5+ complete mountain bike your ride of choice. It's been widely praised for its instinctive handling, and since it's now shod in Plus size rubber for maximum grip when traction is scarce, there is precious little that this dream ride can't take on with aplomb.
The Hightower shines when big rides are guaranteed but nothing else is certain. Such conditions, whether it's a weekend road trip or a season spent exploring new trails in your own back yard, warrant a machine that's poised, capable, and extremely versatile. To that end, the Hightower has been built to accommodate 27.5+ wheels and 29in wheels. The major difference between these setups can be found at the upper link, where you'll notice a reversible "flip chip." Setting the flip chip to the "low" mode relaxes the head angle by roughly half a degree and lowers the bottom bracket, which makes for an ideal setup when paired with the slightly larger diameter of 29in wheels. The slightly smaller 27.5+ wheels pair with the "high" setting, allowing for similar clearance between the bottom bracket and the ground. Whether you're likely to pick one wheel size and stick with it, or swap between the two when it strikes your fancy, the Hightower will easily accommodate your needs.
The Hightower develops 5.3in of travel through the latest version of Santa Cruz's VPP technology. As with all VPP bikes, the Hightower's counter-rotating links are carefully arranged to resist activation by pedaling forces, all but eliminating unwanted bobbing under power. This being the latest iteration of VPP, it's tuned to provide more midstroke support than previous generations of the VPP platform, giving the rider a better feel for the terrain, and a livelier ride feel.
Despite not topping the 6in mark, the Hightower has become notorious for hitting above its weight. That's largely the product of an impeccably tuned formula, from rider position to chassis stiffness, but the suspension itself should not be overlooked. The controlled midstroke keeps the bike planted when rallying into rocky sections at speed, and rides high enough in the travel for speed on smoother trails. Of course, the outstanding pedaling efficiency that's so closely associated with VPP suspension designs remains unchanged, helping the Hightower make easy work of steep climbs and precarious switchbacks.
More than any other factor, the Hightower's versatility can be attributed largely to its geometry. While many bikes in its category push certain measurements farther, the Hightower is somewhat more restrained, and in this case, that's a very good thing. At 67 degrees, the head angle strikes a nice balance between high-speed composure and the light steering feel necessary to negotiate quick direction changes. The 17.1in chainstays are tucked in just enough to further enhance the Hightower's willingness to turn, while still being long enough to provide control and traction on steep ascents. The low bottom bracket helps the Hightower carve turns, and it pulls the rider into the bike, lending a nearly invincible feel that's helpful when the terrain gets downright scary.
The Hightower is built using Santa Cruz's top tier CC carbon fiber construction. By using some of the finest, and strongest, raw materials available, Santa Cruz is able to make its CC level frames extremely lightweight, while maintaining outstanding impact resistance, exceptional stiffness, and just the right amount of finely tuned flex to cancel out trail chatter. Of course, balancing these factors requires true mastery of carbon fiber, and the design team at Santa Cruz has proven time and time again that their command of carbon fiber construction is unsurpassed in the bike industry. The result is a frame that will hold up to years of hard riding, provides a comfortable ride, and does so at a very competitive weight.
We're typically far more interested in how a bike rides than what it has hanging on it, but this Hightower build warrants special attention as it includes some of the finest components available. It begins with an outstanding suspension package from RockShox. The fork is a Pike RCT3 unit, and it's paired with a Monarch RT3 air shock. This setup offers a supple stroke that's enhanced by its distinctive Kashima treatment, on-the-fly adjustments at the flip of a lever, and easy tuning. SRAM's phenomenal XX1 Eagle 12 speed groupset provides the gear range necessary to venture into uncharted territory, while the Guide Ultimate brakes provide stopping power when an unexpected switchback catches you off guard. The Rockshox Reverb dropper post enables the necessary on-the-fly saddle height adjustment, while the Santa Cruz carbon fiber handlebar offers a perfectly tuned balance of stiffness and flex that simply surpasses many of the best aftermarket carbon fiber handlebars available.
The icing on this well-appointed cake is ENVE's class-leading M60 Forty Plus wheels laced to Industry Nine Classic hubs, which boast a staggering 3 degrees of engagement for precisely timed pedal stroked in tricky terrain.
A versatile trail bike for long rides and challenging terrain
5in of finely tuned, highly efficient VPP suspension
74-degree seat tube angle optimizes pedaling efficiency
Longer reach shifts weight forward for better traction
Carbon CC frame saves weight without sacrificing strength
ENVE M60 Forty Plus wheels for grip when traction is scarce
Superlative XX1 Eagle drivetrain with the ultimate bailout gear
Adjustable flip-chip enables compatibility with 29 inch and 27.5 Plus wheels
A big surprise
Familiarity:

I've put it through the wringer
Not a cross country bike? I question whether or not I really want to ride it. I want to climb fast, I want to go fast. I also don't like surprises, but I was surprised and I loved it riding the hightower. I would honestly say for about 80% of the riding population this is the perfect all rounder. VPP suspension is efficient and smooth, it really hits the sweet spot. Santa Cruz just does a good job in all respects. It inspires confidence in the turns whether they are tight, or fast, or both. It rolls over any terrain and makes the rough rocky terrain all doable. And finally.. it goes uphill, yes it climbs, I climbed 13 miles straight, 5100+ vertical feel to prove it to myself. The bike is just plain fun, it really is, it will improve your skills and that just makes riding more fun.
Kyle Br