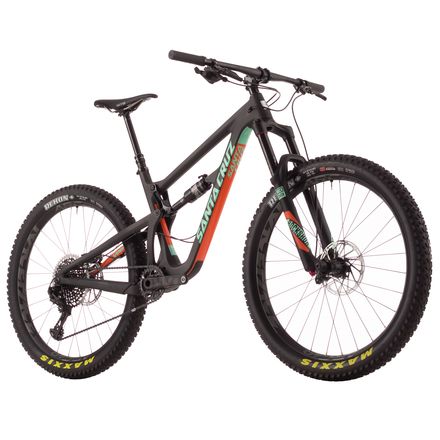 Santa Cruz Bicycles Hightower Carbon CC 27.5+ XX1 Eagle Complete Mountain Bike - 2017
View Larger Image
Colors

Detail Images
Take flight.
With a long, low, aggressive geometry and a unique flip chip shock mount that lets you easily swap between 29-inch and 27.5+ tires, Santa Cruz's 2017 Hightower Carbon CC 27.5+ XX1 Eagle Complete Mountain Bike is built to get rowdy. Boost axles give it the stiffness to climb like a trail bike and blast burly terrain like an all-mountain tank. While the flip chip does add the versatility for 29er conversion with minimal impact to geometry, the 27.5+ build's combination of plush, grippy 2.8in tires, Boost axles, stubby chainstays, a long reach, and a decidedly slack head tube constitutes a versatile platform that you may never be tempted to change.
This build sits firmly in the eye-catching dream bike category with SRAM's groundbreaking, top-tier XX1 Eagle one-by 12-speed drivetrain, lightweight yet powerful Guide Ultimate hydraulic brakes, and Race Face ARC rims laced to Industry Nine's venerable Torch hubs.
As with the ability to swap wheel sizes, the Hightower's mid-range, 5.3in travel belies its true nature. Though its travel and wheel clearance may initially inspire comparisons with the more moderate 5010 or the Tallboy LT, Santa Cruz instead encourages us to "think of it as the Bronson's taller brother." Yep, that Bronson. The 27.5+ Hightower's 66.8-degree head tube angle, generous tire clearance, and reworked Virtual Pivot Point suspension all mean that it's capable of cleaning lines that would make the steep-angled Tallboy stop in its tracks.
Santa Cruz is so intent on proving the Hightower's outsized merit over rock gardens that it bypassed the Bronson and went straight to the 6.5in Nomad for suspension inspiration. Besides the obvious big-hit benefits, one result of this is that the link stays out of the way, which may be why the Hightower can accommodate both a bottle cage and a piggyback shock—yet another indication that it thrives on XC hardpack and enduro shuttle loops.
The Hightower's two triangles are joined by the latest generation of VPP suspension. Santa Cruz refers to it in-house as third generation VPP, but it's essentially the same VPP we know and love with the Nomad-inspired updates mentioned above. A repositioned lower link now shelters above the bottom bracket, increasing ground clearance to decrease the chance of rock strikes while indulging the Hightower's desire to masticate scree fields and dice through the rooty, rocky, techy stuff. The upper link has also wandered up and forward, which makes for a more accommodating standover height for smaller riders wanting a huge ride, and it also stiffens the back end.
The latest VPP's changes aren't limited to wandering links, though; the system's tuning has also been tweaked. Where the old suspension curve described a deep "U," the new VPP's curve resembles a flattened check mark, with less dramatic ramping on either end of the arc. The results are that, during the initial and mid stroke, it boasts increased bump compliance to keep the tires glued to the trail for more traction across lumpy trails and root latticed climbs. It also maintains its predecessor's firm feel during accelerations while jockeying for position in a mass start or a finishing sprint. The RockShox Monarch's ramp-up arc doesn't dramatically alter as the shock compresses, so the pedaling platform stays consistent across travel, with less wallowing, bob, and bottom-outs — even while the Boost axle's path turns rearward to absorb big hits deep in its travel.
The Hightower features the same Carbon CC frame construction that's ruined our taste by giving us unrealistic expectations for how carbon should feel. For the top-tier CC frame, Santa Cruz engineers use a higher modulus carbon than the Carbon C model, so less material is required to hit the same strength and stiffness numbers. Less material equates to less weight, and climbing and pure speed both benefit when there's less mass for your engine to propel.
The frame's two carbon triangles are built as whole pieces rather than glued together from disparate bits, a method that saves weight and increases structural integrity by allowing Santa Cruz to wrap carbon continuously through and around key junctures. This process reinforces the frame with less material while eliminating the artificial stress points that result from bonded construction methods. Finally, the carbon is also compacted from the inside and the outside for a more even finish that avoids any structural defects, excess material build-up, and resin pooling for even more weight savings.
Finally—and despite the appeal of 27.5+—the little flip chip niblet that sits in the upper link and allows the shock mount to migrate is pretty damn cool and definitely warrants some attention. Being able to reposition the shock attachment point effectively accounts for the 9mm difference in total wheel/tire radii between 27.5+ and 29in setups, keeping the geometry as static as possible across wheel sizes. There's definitely a trend in the industry towards slacked-out, four-inch 29ers, but the Hightower's optional 29er incarnation pushes that trend into the proper all-mountain realm.
Santa Cruz's ultimate 27.5+ trail bike
Responsive pedaling platform with 5.3in of VPP travel
Spacious geometry for sending bigger lines
Flip chip allows compatibility with both 27.5+ and 29in wheels
Carbon CC construction reduces weight and increases stiffness
Santa Cruz Bicycles continues to lead the industry with innovative design
Radness
Familiarity:

I've put it through the wringer
Let me just preface this, by saying this bike rips.

As I'm sure you know, this bike can be run with 27.5+ tires or 29 inch wagon wheels, and having run it with both, ill give you my impressions with both.

In both wheel configurations, this bike is fast. Going both up and down, it will surprise you. Like pretty much every nice bicycle on the market, it pedals really well. Like pretty much every nice bike, it also descends admirably. Here are a few things that make this bike different, and how it stacks up to a few other bikes.
This thing plows. Its travel is definitely not indicative of its trail manners on rowdy descents. Its definitely not as playful as the Bronson interestingly enough, but its fast and confidence inspiring, but going slow isn't that fun, and this bike isn't slow.
Its incredibly versatile. Apart from its ability to change wheels (which I haven't done that often, actually) you can spend all day on an epic single track adventure, and be perfectly happy, and after go charge a rowdy downhill, and be perfectly fine.
This bike feels more like a bike you would point at a descent and hold on, and requires less input than the bronson, but it does not pop off of things as easily. It reminds me of a bulldozer.

29 VS 27.5+?
27.5+ has been pushed hard in the industry, and here is my take. They are super fun, but in order to optimize them, you have a very small range of air pressures that will work compared to a lower volume tire, and I attribute this to a tire acting like an un-dampened air spring. Even so, if you are a beginner or intermediate rider, the wider tires will give you more confidence than the 29 inch wheels, regardless of pressure, and will definitely make you a better rider. If you are intermediate-advanced, are comfortable cornering, and want to charge, I would go with 29 inch wheels. The Hightower was definitely funner in that configuration for me, and I felt like it really woke up with the larger wheels. Which is for you? If you ride more technical, choppy, and aggressive, I would go with the 29s. if your riding is usually smoother and looser, I would tend towards the plus tires.

This bike is great for all of the alpine riding around the Salt Lake/Park City area, and will shred in places like Moab on their techiest trails as well. Its not as forgiving as its longer travel brethren like the Nomad and Bronson, but the large majority of us don't ride stuff that requires that big of a bike anyways.

If you have any questions about this or any other mountain bikes or gear, shoot me an email at btanner@backcountry.com or call me at 801-746-7608 (EXT 4589)
Braydn Tanner
Plowability Plus + Crushability
Familiarity:

I've used it several times
There is so much to consider when buying a new mountain bike but 2017 is the year of Plus + tires. Out here in Utah, plus tires make a lot of sense considering the variety of our terrain between Moab, Park City, St. George and beyond. After demoing a lot of different bikes I landed on the Hightower 27.5+. My pup Jasper (pic below) and I could not be happier with the choice.
Instead of the XX1 Eagle drivetrain and Race Face ARC 40 Wheels highlighted on this build, I went with the X01 Eagle components and ENVE M60 forty carbon wheels. I love the balance of the super stiff ENVE M60's and the low air pressure (~18 PSI) in the 27.5+ Maxxis tires. I feel like I can plow over anything and still have precise control around corners and berms. I will probably end up adding a Maxxis DHF on the front for the larger knobs on the outside of the tread. I have been working on a modified rating system for all the bikes I have tested and here is my breakdown for the Hightower:
Plowability - 9.5
Climbability - 8.5
Maneuverability - 8
Wheelie Rating - 8
Closest Competitors: Yeti SB5.5, Niner RIP 9
Feel free to contact me directly with any questions on the Hightower or any other Santa Cruz bikes. I would be glad to help you build your next dream bike from the frame up. Also check out my article on "How to Choose a Mountain Bike" for additional info.
https://www.backcountry.com/explore/how-to-choose-a-mountain-bike
See you out on the dirt.
Kyle L. - Expert Gearhead
klivingston@backcountry.com - 801-736-4337
Kyle Livingston