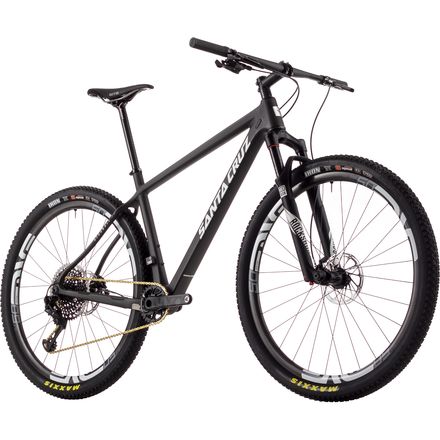 Santa Cruz BicyclesHighball Carbon CC 29 XX1 ENVE Complete Mountain Bike - 2017
View Larger Image
Colors

Detail Images
Just enough of a good thing.
We always thought the "too much of a good thing" adage was a bunch of nonsense, especially when it comes to XC speed. The superlative build kit of the Highball 29 Carbon CC XX1 ENVE Complete Mountain Bike indicates Santa Cruz Bicycles agrees with us. It combines what may be the most optimal carbon lay-up schedule in the knobby tire world with a set of ENVE M50 Fifty hoops. Does that amount to too much weight loss, stiffness, and speed? Nah, we don't think so. It's telling that the inclusion of SRAM's flagship one-by drivetrain is kind of an afterthought on this build, but when all that carbon steals the limelight, even the new 12-speed XX1 Eagle can pale in comparison.
The Highball 29er's frame is a single-piece layup of carbon fiber instead of a jigsaw puzzle of individually-cured carbon tubes. This allows Santa Cruz to wrap the fibers continuously around structurally important junctures like the head tube and bottom bracket, strengthening the frame, dissipating the force from impacts and pedaling load, and allowing for comparable strength with less material. Translated into trail talk, this means it hits the bricks when you stomp on the pedals, dampens high-speed chatter, and holds lines like a cat on carpet—all with a low-weight that makes any full-suspension bike look like a bloated downhill-only machine.
The Highball does somewhat address the lack of rear suspension with a diminished seatpost, slimmed down to 27.2 millimeters. While this doesn't quite equate to the square-edge hit capabilities of the Nomad or Bronson, it does help to eat up chatter that will otherwise accumulate over the course of a long ride. Up front, the 29-inch model has a sharper head tube angle than the Highball 27.5 so it dances nimbly through switchbacks and technical sections. Although it has longer chainstays than the 27.5 version, The Highball 29er actually has a shorter wheelbase, courtesy of that head tube angle, which contributes to the confident handling when quarters get tight.
Finally, Santa Cruz's approach to the carbon layup process deserves a quick mention before we sign off. The carbon is compacted from both inside and out, eliminating voids, preventing delamination, and creating a smooth interior. While that level of aesthetic perfection is a nice idea, even if we can't see it, the real-world benefits of a perfect interior include no resin pools or unintended material abnormalities, which can structurally compromise a frame over time.
A cross-country bike built for the most demanding racer
Steep front end stays on point while grinding out climbs
Exhibits nimble agility when the trail turns crunchy
Top-tier Carbon CC construction drops weight and stiffens up
ENVE rims add speed and subtract grams
SRAM's superlative one-by drivetrain turns it up to 12
Few companies continuously reshape the industry like Santa Cruz
Turned me to a dirt guy
Familiarity:

I've put it through the wringer
As a refined roadie for 20+ years I am happy on light, fast, stiff, european steeds. Somehow I got turned around and my last few races have been on dirt. Heaven help us all. It took a pretty rad bike to do it and I have more to say about the highball than you probably want to hear. Lets just say if you want to know more you can email or call me here kylebrown@backcountry.com 801-204-4699. Light, fast, fun, sums it up.
Kyle Br