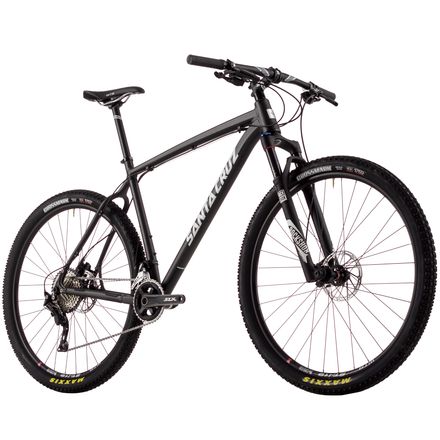 Colors

Detail Images
Save it for the trail.
Besides the signature color options, Santa Cruz's Highball 29 R2 Complete Mountain Bike has a checklist of qualities that recommend it for the mountain bike recreationalist who also has occasional interest in pinning on a number. The newly upgraded Shimano SLX M7000 drivetrain, the 29in wagon wheels, Santa Cruz's meticulously dialed XC geometry, the no-nonsense hydroformed aluminum frame—the only things separating it from the California firm's enduro models are half-a-dozen inches of unnecessary rear travel and a few thousand more dollars of cost. We're sure that money would be better directed toward race entries, national park fees, or your knobby tire crew's traveling gas fund.
In order to accommodate its big wheels, the Highball 29's chainstays register at a hair under 17 inches, but a steep head tube brings the wheelbase to over a half-inch shorter than the smaller-wheeled Highball 27. The Highball 29 is nimble enough to gently pick through trail furniture and it tracks through berms like a cat on carpet, but it still shines brightest when the throttle is fully open. The 12 x 142mm rear axle is the stiff rear triangle's best friend, ensuring that every possible watt goes straight into the trail, but the slimmed-down 27.2mm seatpost helps to alleviate chatter from the countless more miles of trail you'll be able to cover compared to the hulking six-inch bikes your buddies are on.
An XC bike as tough as the trails you take it on
Steep front end stays on point while grinding out climbs
Alloy frame doesn't crumble under off-road abuse
Shimano's wholly upgraded SLX M7000 drivetrain
I've been riding bikes for the past 55 years and I've owned a number along the way. This Santa Cruz AL Highball is by far the nicest bike I've owned. I'm not sure there is a better AL frame Hardtail on the market. I was between a size L and XL so I ordered the L but it turned out to be too small. Had to send it back and ordered the XL. The folks at Competitive Cyclist were great to work with and went out of their way to sort it out. It's best to buy a bike in person and this was my first online bike purchase. With a bit of patience on my part it all turned out fine, in fact, I would have no hesitation in ordering another from this company.

The Highball is very responsive and indeed nimble. It likes to be ridden fast and climbs like a Goat. Bike geometry feels perfect for me. I ride mostly trails so I'm not doing any crazy downhilling or racing - hell, I'm 60 and those days are behind me.

The Reba fork is more than I need for trail riding. Full suspension is overkill. The Shimano SLX group is just fine for now. Shifting is very precise. The 2x11 drivetrain is something new for me and I like it. In the future I may experiment with some different chain ring combos to get a bit more speed at the top end. Braking power is very strong and ultra responsive. Love the 29's as I've been riding 26's for decades. The way the bike is set up, I don't see any need for upgrades at this time.

The AL frame seems bullet proof and I'm confident it will last for years to come. Got the matte black with white lettering. I love everything about this bike! I can't wait to get out and ride again.


Jeff A.