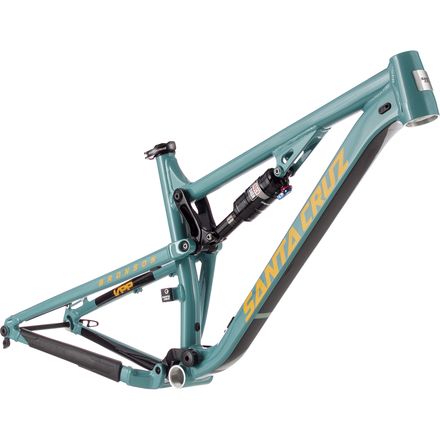 Colors

Detail Images
Affordable all-mountain versatility.
While 2016's 2.0 reboot made the Bronson leaner, meaner, and even more capable than its 1.0 predecessor, those of us with less than unlimited finances were still left to dream of a day when we could afford to add one of those beautiful machines to our stable. Fortunately, Santa Cruz marks 2017 with the release of the Bronson 2.0 Alloy Frame, which features that same much-loved geometry found in its high-cost carbon fiber kin and a much more attainable price point that looks to see even more Bronsons headed to the dirt.
Of the 2.0 updates, arguably the most impressive alteration to the old Bronson's all-mountain pedigree is the head tube, which slacks out by an extra tick on the protractor to drop from 67 to 66 degrees. This change is complemented with a corresponding increase in top tube length, a lower bottom bracket, and a raised lower link — a combination that allows for short-stemmed, strike-free, point-and-click confidence while traversing lines and dropping steps that would cause even the previous Bronson to hesitate. It also effectively erases root lattices and moderate rock gutters, letting you mash across terrain that trail, XC, and even other all-mountain bikes have to pick through with delicate care.
Compared to the 1.0 version, the Bronson 2.0's seat tube gets steeper by almost a full degree for better positioning over the cranks. The revised geometry keeps you on top of the pedal stroke, and relocated links allow for a shorter chainstay, which makes for more efficient power transfer. The back end is further stiffened with the 12 x 148mm Boost axle standard, ensuring that the extra watts produced by the improved pedaling position and shorter chainstays aren't lost to wheel flex. Despite its slacker head tube and longer geometry, the back end configuration helps the Bronson 2.0 pop over cruxes and maintain speed across hard pack.
The VPP suspension system represents the latest update to Santa Cruz's classic VPP. Where the old suspension curve described a deep "U," the new curve resembles a flattened check mark, with less dramatic ramping on either end of the arc. The results are that, during the initial stroke, VPP boasts increased small bump compliance to keep the tires glued to the trail for more traction while climbing across lumpy trails and root lattices. It also maintains its predecessor's firm feel during accelerations while jockeying for position in a mass start or a finishing sprint. The ramp-up arc doesn't dramatically alter as the shock compresses, so the pedaling platform stays consistent across travel, with less wallowing, bob, and bottom-outs — even when the bottom link activates and the axle's path turns rearward to absorb big hits in the deep end of the travel pool.
Despite the expansive list of changes and new frame material, most of the impeccable details that we've come to associate with the clean lines and understated aesthetics of Santa Cruz frames carry over, including down tube and chainstay protectors and a 73mm threaded bottom bracket shell. In comparison to its carbon counterparts, the aluminum Bronson 2.0 ditches ISCG tabs and features an integrated headset, which helps reduce overall weight and minimize the difference between materials.
Hard-charging all-mountain machine with 150mm of VPP suspension
Aluminum construction lowers the price tag
Updated geometry is slacker, lower, and longer in the front
Boost thru-axle increases stiffness and improves tracking
Santa Cruz blends cutting-edge tech with timeless style
swiss army knife
Familiarity:

I've put it through the wringer
I had the opportunity to put the Bronson to the test over the past two weeks. I come from a downhill background but have learned to love the climbing aspect since moving to utah and have been searching for a quiver bike that can really perform solid in all category's and this is it. Now this bike isnt the fastest climber but man is it stable. The long wheel base, and stiff VPP design make this bike an effortless climber so you can put more energy to cranking the pedals than balancing through tech sections. For me not coming from climbing and riding a much shorter wheelbase bike this was a massive improvement in my confidence and speed uphill. Now the downhill on this bike is where your really going to get you money's worth. This bike is fast. It really sits nice into corners and snaps out fast. The longer wheel base allows you to open the bike up much faster than most trail bikes again being super stable tracking straight through rock gardens. This also feels great jumping and in the air. Super predictable pop off lips, and quickly felt at home in the air on this rig. The big differentiators here are VPP, and Santa Cruz. There are many people that copy this design but santa cruz's r&d through their race teams have been able to also put the perfectly tuned suspension in these bikes through race teams/time. They ride out of the box dialed from the low end to the highest end bikes and provide one of the best long term customer experiences out there. If you are looking at this bike and have any sizing questions or just want to chat with somebody who has spent time on a lot of different bike including this one give me a call!
Joseph Davies
Budget Amazingness
Familiarity:

I've put it through the wringer
I have had the opportunity to ride many bikes recently, and this is my favorite. I generally ride pretty aggressive trails, and I usually end up pedaling to my descents. I like to have 2 bikes, one bigger for Park and DH shuttling days, and a smaller one for trails that are still aggressive, but where long travel isn't a necessity. This bike hits the perfect middle spot between those two. If I had to have one bike to ride all the time, this would be it.

This bike climbs better than its number suggest. Its not as good as a short travel bike like the 5010 or Tallboy, and not as well as bikes in its category like the SB6, but better than pretty much anything else in its class.

This bike is also super fun. I am not a racer, I like to think I am pretty fast, but I ride to have a good time, and this bike makes that happen. While the SB6 is a true Enduro race rig, this bike pops and jumps and gets sideways much easier. I would even say that it is more playful than the shorter travel Hightower, which feels more like the hard charging Enduro bike (and Santa Cruz actually uses the Hightower for their enduro factory racers, not the Bronson). It descends very well, and I haven't ever felt like I have pushed it beyond its limits, even on the most technical tracks at the resorts around here.

If you are an aggressive rider looking for a bike that's just plain fun, this is the bike. You might not be faster, but your grin will certainly be bigger.

If you have any questions about this or any other mountain bikes or gear, shoot me an email at btanner@backcountry.com or call me at 801-746-7608 (EXT 4589)
Braydn Tanner
Rear shock setup for this bike.
Rear shock setup for this bike.
Don Myers
Hi,
Just wanna ask if do you ship bike frame over to Philippines?
Roniel Fernandez
Hey Roniel - We cannot ship Santa Cruz products outside of the U.S. per our contract with them. Your best bet would be to send the bike to someone you know in the U.S. and they can forward it on to you in the Philippines. Feel free to contact me directly to set it up or with any additional questions.

- Kyle L. - Expert Gearhead
Kyle Livingston