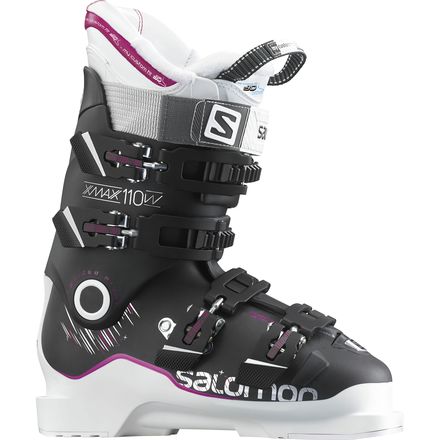 Maximum customization.
Customizable boots have a reputation as being seriously comfortable, and they are. A total custom fit doesn't get as much credit for helping make your skiing better, though, which is exactly what it does—just try the Salomon X Max 110 Women's Ski Boot if you need proof. Not only does it boast a fully customizable liner, but the shell itself is made of Salomon's heat-moldable 360° Custom Shell material, which can be formed to your foot to provide space where you need it, eliminate it where you don't, and help improve the power and precision of your skiing.
The moldable shell is made of bi-material polyurethane, and features fully customizable panels around the ankle, shin, instep, and upper foot, so you can dial in a fit that conforms to the funky shapes of your feet without any aggravating punching or grinding. It's also easy to mold the My Custom Fit 3D Race women-specific liner, so you can dial down a fully personalized fit that improves your downhill performance while helping to keep your feet locked down and comfortable even in tough terrain. Salomon also designed the X Max with a short cuff to better accommodate women's calves, and included a cuff-adjustment screw that can provide some extra volume to better fit ladies with wide lower legs.
Crushing the comfort aspect of a boot is undoubtedly a good thing, but prioritizing it over performance isn't really the right call. There are no such worries with the X Max, which uses Salomon's Oversized Pivot—the pivot is the spot where the shell and cuff are joined—to keep the boot laterally stiff, which is key when you're trying to roll wide powder skis edge to edge. The wide power strap lets you reduce the volume and batten down the hatches when you start skiing more aggressively, and the micro-adjustable buckles cinch your foot down into the bootboard for killer control with zero slop.
360° Custom Shell made of bi-material polyurethane
Women's low cuff and calf adjustment
My Custom Fit 3D Race liner
TwinFrame mapped shell stiffness
Oversized Pivot
Micro-adjustable aluminum buckles
Flex-adjustment screw and adjustable cuff angle
Unanswered Question
How much do they weigh?
Jenny V.
Unanswered Question
What is the weight of these boots?
Jenny V.
super tight
Familiarity:

I returned this product before using it
These claim to be 104 last width but I couldn't even walk 10 feet in them without my feet going numb. I made sure I had the right size and I do have large calves, but man, these hurt. I tried adjusting everything I could adjust but it didn't help. They went back right away. I was bummed because I had a pair of Salomons for years that were some of the most comfy boots I've put on my feet. I had high hopes for these but nope. I didn't bother to do the heat molding, I'm not positive it would have helped with how tight they were though.
Sonya Salansky