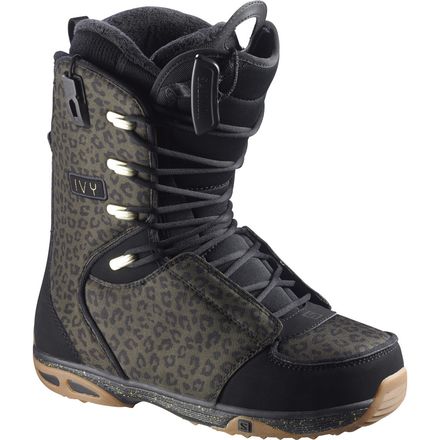 Colors
Third time's a charm.
Made for ladies who like to keep it classic, the Salomon Women's Ivy Laces STR8JKT Snowboard Boot is the third offering in the Ivy line, outfitted with traditional laces for tried-and-true function. Don't let that fool you into thinking this is a basic boot though—this mid-flexing all-mountain boot is packed with plenty of comfort- and performance-enhancing features to help you take your riding to the next level.
Traditional laces offer the fit and feel you've known and loved for years, while STR8JKT liner lacing keeps your heel locked down for enhanced response and less fatigue. The women-specific Halo 2 liner has a heat-moldable foam in strategic areas to provide a comfy custom fit, and a plush lining keeps your feet toasty throughout the day. The Ortholite C2 footbed features memory foam for a comfy and supportive custom fit, plus it has an antimicrobial treatment to help fight foot funk. Based on the men's Lo-Fi outsole, the Trinity outsole uses EVA to keep weight to a minimum while maximizing board feel and cushioning, along with rubber panels that ensure reliable traction and durability.
Traditional lacing
STR8JKT liner lacing
Custom Fit Foam
Halo 2 liner
Ortholite C2 footbed with memory foam
Trinity outsole