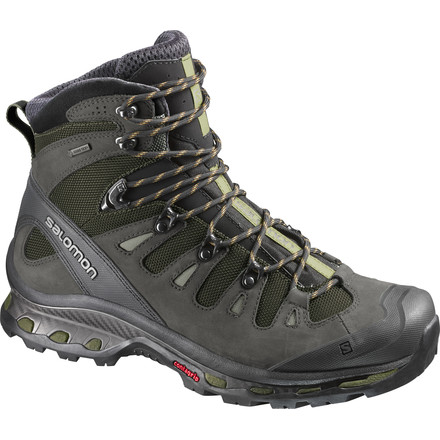 Colors
Begs to be pushed to the limit.
From sunny days navigating ridges riddled with rocks to soggy days trudging along tree-lined trails, the Salomon Men's Quest 4D 2 GTX Backpacking Boot knows what it takes to make the journey enjoyable. Built for the long haul, this boot is built with enough ankle support to carry a heavy backpack in comfort. The combination leather and textile upper creates a lightweight, breathable fit that handles the rigors of the trail with ease. It's backed by a Gore-Tex membrane that keeps your feet dry whether you're trekking through the rain or powering through creek crossings. Designed with a stable chassis construction, the Quest provides support and great torsional stability as you eat up the miles. Salomon finished this boot with a high traction sole to ensure purchase whether you're navigating packed-out trails below treeline or loose scree in the high mountains.
A high-cut boot built for backpacking
Gore-Tex membrane for waterproof, breathable protection
Nubuck leather and textile upper is breathable and lightweight
4D Advanced Chassis provides stability and support
OrthoLite sockliner and molded midsole for cushioning and stability
Contagrip outsole ensures traction on rugged terrain
Lace locker keeps laces in place for a secure fit
Comfortable and Dry
Familiarity:

I've put it through the wringer

Fit:

True to size

Size Bought:

11.5
Picked these up last minute before a trip to Kings Peak and didn't have time to break them in. Hot spots on the first day hiking in but after that, smooth sailing. No blisters or pain. These boots are super supportive and you can also wrap your laces around the boot once below the top two gromets to give yourself more support if you want it. The sole grips really well to wet and dry surfaces alike. Mossy surfaces I would still be careful of though. They are pretty warm because they trap in heat very well and keep everything else out so I would say to possibly wear lighter socks in the warmer months and with thick socks you can use them in the winter on some occasions. Gore-Tex membrane also held up to its name! Tromped through the streams and muck almost to the top of the boot and nothing leaked through. The inside was dry. Also got caught in a rain storm with 3 hours left on our hike out. I was wearing pants with a light dwr treatment but of course they soaked through after a half hour or so. No big deal, it was in the summer but when we got back to the car at the parking lot, my derriere may have been soaked through but my feet were nice and dry.
William O
Height:
6'1"
Weight:
195lbs
I always twist my ankles. With these shoes being so high its now almost impossible for me to fold my ankle over. I will replace these once they wera out.
Asa P.
Height:
6'3"
Weight:
175lbs
Good for some hikes, great for others
Familiarity:

I've put it through the wringer

Fit:

True to size
Strengths: 1. light, 2. well made, 3. nice lace lock & beefy laces, 4. particularly good slip-resistant rubber in the soles, 5. very good ankle support keeps your toes from stubbing the front insides (a huge plus downhill). 6. Little or no break-in for low volume med wide feet, like a giant sneaker. This is key, these are for low volume feet!

Weaknesses: 1. low mass (light) means less than the best protection from rock-bang particularly in the toe and outside edge, 2. low mass means good, not great underfoot shock protection. 3. I have a peel beginning in the toe rubber that I will stop with black Sikaflex sealant. 4. the riveted lace hoops can be felt (a bit) at the end of a long hard day.

Conclusion: If your feet are shaped for these (low volume, wide foot) you will like these for hikes that are not constant rock to rock. I was recently 5 hrs up & 3.5 down Mt Madison in the Whites with ordinary expected foot soreness by the end. I may put one long strip of moleskin (or foam) on the inside, down the rivets, for extra comfort at the end of long days (at the end of a long day, any little irritation is magnified). If you are buying for rock to rock all day with a pack get something beefier. Their light weight is both the best feature, and the reason for the very reasonable weaknesses. Overall grade-A light hiker, with killer ankle support and super traction on wet rock. Speaking of wet I was never in the pouring rain with these, but no boot outside plastic/rubber is completely waterproof.
Chris K
Initially a great boot but....
I have had these boots for about 18 months and hiked simple short dog walks in the park to multi-day hiking trips. I would say my usage has been easy to moderate in terms of Miles and conditions the boots have experienced. Out of the box they are pretty comfortable and require minimal break in time. They are supportive and lightweight but the laces come loose even when knotted multiple times. It is a good job they have the lace lock to keep the tension in the lower half of the boot. The laces have roughened up over time so do not loosen as much as they did new, it could be sorted with new laces though. The big downside for me is that the boots have not lasted well and are now leaking. Initially they were waterproof but somewhere between 6 and 18 months they started leaking. Ive given them 3stars, knocked off one star for not that great durability and one star for leaking after a while...for the price, I would have expected better but they do have potential to be an awesome boot, just not quite there yet in my experience.
Peter D
Really great for tromping the woods!
Familiarity:

I've used it several times

Fit:

True to size

Size Bought:

11
I bought these boots with little time to break them in and a big hiking/hunting adventure trip looming. It did not matter the boot were very comfortable from the get go. Day 1 put 8+ miles on them tromping thru dense brush and steep terrain. Thru the week I put 30+ miles on them. Very very comfortable, zero problems. These will be perfect for hiking/backpacking. I highly recommend. Also my gearhead helped me with a price match making the price really decent. Thumbs up!
Jason G.
Height:
6'1"
Weight:
207lbs
Not the best
Familiarity:

I've used it several times
Had gave these as a gift for a friend and he said that he liked how sturdy and well made the boots are. He also liked how they looked and they kept his feet dry. But he didn't find them to be very comfortable. No matter what he did he just couldn't get them broken in. They kept rubbing his ankles bad and left him blisters on his ankles and his toes. Good boots, correct sizing, just skipped out on the comfort part.
Miranda Howell
Great Boots
Familiarity:

I've put it through the wringer

Fit:

True to size
Cant go wrong with these boots. Go buy a pair!!!
Travis McGrew
He loves them!
Familiarity:

I've used it several times
These were bought for my boyfriend and he loves them. We like to go hiking a lot and he will be using these for many camping trips to come. He said they feel supportive and have great grip!
Liz
Height:
5'10"
Weight:
150lbs
Fantastic boot/ worth the price!
Familiarity:

I've put it through the wringer
at 5'10 175, I got 9.5.
I've worn them on about 6 hiking trips, some tough 5-10 mile days. Some just quick 3 mile days. All different types of terrain, including mud,4 inch stream crossing, and tough big granite scrambling.
The boots performed beyond expectation. they are true to size. Pretty light for all of the support. Super comfortable. Maxed out on a 10mile day and didnt ache one bit. Zero blisters.
5 day trip in Patagonia really made these boots shine.
I read some 1 off bad reviews, but just think they bought the wrong size. Just make sure your heel doesnt move and your toes don't touch the front of shoe on descent.

Amazing. Really happy.
sean P.
Worth every penny
Familiarity:

I've put it through the wringer

Fit:

True to size

Size Bought:

10.5
Haven't had the chance to wear my most recent pair yet but my previous pair served me very well on Kilimanjaro. Can't wait to wear the new pair on my way to Everest Base Camp.
Phil F.
Height:
5'9"
Weight:
185lbs
Boot are fantastic, but a bugger brk in.
Familiarity:

I've used it several times

Fit:

True to size
These boots are fantastic and support really well. For me they were a total bugger to break in - painful on the ridges of my feet, but once they are properly broke-in - fantastic. No hesitation recommending them.
Frank B.
Height:
6'0"
Weight:
230lbs
Waterproof Sneakers in a Boots clothing!
Familiarity:

I've used it several times

Fit:

True to size

Size Bought:

13
The Best Hiking boot I have ever owned, Absolutely love it, comfortable out of the box, zero to minimum run in period. I have a long Narrow(er) foot size 13. But if I buy narrow it does not fit well, the representative at backcountry com suggested these boots. High Five it was perfect fit. Perfect room in the toe box and some arch support. These fit and feels like sneakers, comfortable for slow run.
It has the right amount of flexibility, not too stiff but enough protection. I am a heavy backpacker, I carry around 80Lbs, and these boots had no problem. You can feel the rocks and bumps a little bit also it has some cushioning, I like it this way.
Good grip/traction generally, I had a fair amount upslope and down slopes on rocks and gravel no problem. However, treads are not enough for very slushy muddy conditions.
The lacing works amazing, it wraps around the foot up till the ankle snuggly.
Durability and longevity – i have used these on atleast 3 trips each 30 – 40 miles multiday trips, no problem so far. The plastic eyelet does concern me a little bit and even hearing from other ppl that it does wear out quickly. Lets see!!!!!
Waterproofness - I have not had water entering the shoes yet (crossed a shallow stream, was in a rain)
Accessories – I tried my Microspikes on just to try, fits perfect. Tried my Grivel crampons (well might not be using it for the climb) not the ideal fit as the heal portion did not sit in perfectly, but would work. Planning to try this for a short snow shoeing trip.
If you are looking for a lightweight, waterproof, multipurpose hiking/backpacking boots, look no further, this is it. I highly recommend it,

saranyan saalai
Height:
6'2"
Weight:
190lbs
Very capable boot
Familiarity:

I've used it several times

Fit:

True to size

Size Bought:

9.5
After a few day hikes and light overnighters I am impressed thus far with these guys. Very supportive without feeling stiff and absolutely lighter than they seem like they should be, also comfy right out of the box. They should easily handle multi-day loads. Some reviewers said they felt bulky but for me they felt nimbler than I thought they would. You do give up some durability to heavier boots, but its worth the trade off to me. A pound off the heel is two off the back!
Ryan Potts
Height:
5'11"
Weight:
145lbs
Unanswered Question
Went hiking in wet grass and brush today- no actual immersion, but after 4 miles my feet were so wet that I could wring water out of my socks. They were kind of dirty to start. I have now cleaned them, but do I need to treat them and if so, with what? Thank you.
Kurt Starbuck
Versatile, tough, comfortable, adept
Familiarity:

I've put it through the wringer

Fit:

Runs small

Size Bought:

10.5D
These boots are really impressive. I've used them mainly for hiking, but also for snow shoeing. After a year of recreational use, they show no signs of wearing. I have slightly wide feet and the boots are comfortable even after wearing them all day. I find the fit tight, but that also makes them less clumsy when trying to rock scramble or negotiate slippery terrain. This boot really gives you a lot of the advantages of a backpacking boot without the weight. As they are described, they are like a backpacking boot that moves like a running shoe. The boots are completely waterproof in my experience. I've used them in deep snow without any issues. They are fairly breathable, but like any leather/GTX boot, it's not going to breath like an athletic shoe. The sole sticks to wet rock well. It also sticks to wet metal and artificial surfaces too. You don't think that's important until you walk indoors after a hike and start sliding around. I haven't had any issues with being cold in the boots until about 10 or below. Between that and the solid waterproofing, I think they are a true four season boot. If I had to pick the downsides, they'd be the following. The soles are trail shoe like and this means you feel the ground very well. This can be nice for agility and speed, but you can also feel the small rocks that you walk across too much at times. They are also not so breathable that I'd want to use them in 80+ weather very long, but I doubt you'll find a backpacking boot that does work well in those conditions. I found the boot broke into my slightly wide feet, but I don't think they'd fit well if you were a EE or wider. Finally, they look technical and can't be passed off as a casual boot like a Danner or Zamberlan or other all leather boot (though they are by no means ugly, just wouldn't wear them casually). Overall, great boot. In the zombie apocalypse, I'd roam the earth in these.
Brandon T. Morris
Height:
5'10"
Weight:
197lbs
Quality and Comfort
Familiarity:

I've used it several times

Fit:

True to size
It's been years since I bought a boot for anything other than alpine climbing or skiing. With hunting season just around the corner, I decided to pull the trigger on something that would be appropriate for hiking long, loaded miles on trail, and scrambling around in the deep nasty corners where elk live. I've only worn them a few times, but I'm happy with the fit and comfort while hiking. No hot spots or problems so far. I'm a fan.
Andrew Wike
Height:
6'3"
Weight:
175lbs
Salomom 2 gtx
Familiarity:

I returned this product before using it

Fit:

Runs small

Size Bought:

12.
Absolutely love them but they run a little narrow for my foot. Tried to wear around the house and hoped they would stretch a little but no luck. Had to sadly send them back. Couldn't find them in a little wider size.
Dana S.
Height:
6'0"
Weight:
235lbs
Unreal Comfort
Familiarity:

I've used it several times

Fit:

True to size
These Salomon Quest's are by far the most comfortable boot i've ever worn in general! They fit like a glove, and form to your foot so perfectly with no extra play to spare. The footbed is so comfortable, and because they fit so great they do not slip in the back at all (which is usually the main thing that causes blisters). Super durable boot, with top notch comfort. I've been out hiking and backpacking a handful of times in them now and I still can't believe how comfy they are every time I put them on! They run super true to size (as long as your wearing a thicker style hiking sock), but do not run very wide. So if you have a pretty wide foot they may not be the best fit for you.. Overall, would highly recommend to anyone looking for an awesome hiking/backpacking boot that will offer maximum comfort and still be really durable and supportive.
Caleb Lecker
Comfortable Boots
Familiarity:

I've used it several times

Fit:

True to size

Size Bought:

13.5
Ended up getting these boots cause my brother purchased these and had so much positive feedback about them. What I like about them is that they are lightweight yet have great ankle support. I've used them from walking trails to hiking and camping. Very comfortable and durable for me. Haven't had any problem with them so far.
Zachary Lambert
Height:
6'9"
Weight:
220lbs