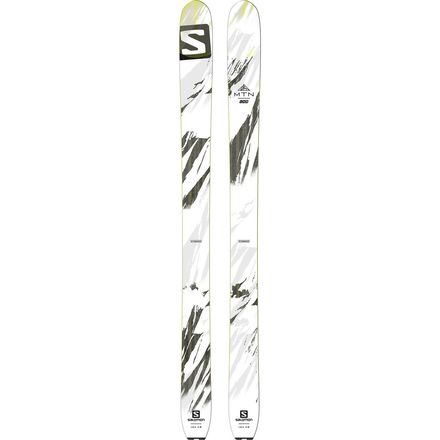 Colors

Detail Images
Shred the descent.
Super light touring skis may be nice on the skintrack, but more often than not, they'll leave a lot to be desired on the descent. And while plenty of skis may claim to be light and powerful, few have the pedigree of the Salomon MTN Lab Skis. The versatile design of the MTN Labs will please on both the up and down with a wide platform that effortlessly floats pow, remains manageable in variable conditions, and is still light enough to keep you on the tails of your vert-counting touring partner.
The design of the MTN Lab makes no compromises in terms of downhill performance, but it still maintains a skinner-friendly 7lb 15oz per pair. You won't find a flimsy cap construction on the MTN Labs. Their full-length ABS sidewalls deliver a solid and stable feel you'd expect to find on pair of boards weighing well over nine pounds. Their full wood core paired with Salomon's CFX Superfiber carbon/flax laminate help shave weight from the ski, while keeping them damp and torsionally stiff, so you can open them up down open faces with confidence. First and foremost, the MTN Lab is designed for the backcountry, so Salomon threw in a few features to increase efficiency on the skintrack. Salomon's G-Spot technology maximizes edge hold underfoot for added security when you're side-stepping on an icy traverse, or making hop turns down a steep couloir. A honeycomb tip saves weight, helps eliminate tip chatter, and allows the skis to float deep fluff with ease. Utility Rocker puts plenty of camber underfoot for solid carving with plenty of the rocker in the tip to keep them playful in the powder.
Utility Rocker profile (rockered tip and tail, camber underfoot)
Sandwich construction
Full wood core
CFX Superfiber laminate (carbon/flax)
Honeycomb tip
114mm waist width
Five point sidecut
Light stiff great all around ski
Familiarity:

I've put it through the wringer
These aren't quite as light as my skinnier touring skis but still light enough for full day tours. quite stiff flex for great mixed condition performance and fat for incredible powder performance.
rob
Unanswered Question
I'm trying to understand if I want these or the q115. Other than the sidewall construction what would be the differences in the way they actually ski?
Harry B.
Strictly for deep pow & big turns
Familiarity:

I've put it through the wringer
I bought a whole new set up this summer. These MTN Labs were called QLab BCs when I bought 'em. Apparently, they're the same ski in every way, but the branding. I put the Marker Kingpin 13s on them and added Technica Cochise 120s with the aim of having a reasonably light set up that I could tour with all day, yet ride as hard as my body will permit me, and maybe beyond what my ability allows.



I've toured only four days so far, all in the upper Cottonwoods.



On the skinner, these skis are light for their size. I notice the low weight in the honeycomb tips when switching back on a steep track. Skins clip in well to the tail slot, but not really any better than my Volkls that didn't have a tail slot for skin tabs. I think the G-Spot technology for better edge hold while traversing in tour mode isn't noticeable, so far. This morning, the slick skinner accessing Grizzly Gulch sucked as much as doing in in my old skis. I haven't had to do jump turns, yet, so I can't comment on how the G-Spot works there.



On the downhill, these skis want to fly! No question, you can make tight turns with 'em, but they want to make small arcs big and big arcs into straight lines. It's like the feeling of driving slow in a truck with a big engine or a fast car; you just want to gun it! I can't wait for more snow to fill in the rocks so I can access some of the bigger faces in the Wasatch. I'll update the review then.





END OF SEASON UPDATE:

I've put around 50 days in the Wasatch backcountry on these this winter. Most of those days were pow days. In deep pow, you can ride anything and it'll feel great, and so did these. Beyond trackless pow, these skis make you work to turn 'em. Apparently, this is because they've got very little side cut. They absolutely wanna make small turns into big ones, and big turns into straight lines. But unless you're bombing Alaska lines these aren't going to be the best skis for you.



The flat tails grab in crusty or damp/thick snow, making the second half of the turn tiresome.



The skin hook cut-outs in the tails make no difference in keeping skins attached. To the contrary, the flat tails get in the way on really steep kick-turns; I've kicked off the tail hook of the skin on one ski with the other ski multiple times. I didn't have this issue last year with my Volkls that had twin tips.



The ski is sort of durable. I hit a submerged rock right under the binding, which dented the edge and cracked the laminate apart, The ski shop tech said they're unfixable, and eventually moisture would compromise the core and ruin the ski. I've been riding with that damaged edge on the outside, so I don't risk hooking it on another rock and ripping the edge out. Maybe I the rock damage is right in the ski's Achilles' heel. But I've never had this happen on any ski or snowboard I've owned, and I've damaged several of those.



All in all, this ski rips, but it doesn't like much of anything except huge, super fast turns. May not be the most durable ski out there.
Erik K.
lovely
Familiarity:

I've put it through the wringer
A lightweight backcountry powder ski that has a stiff flex, tip rocker, and the perfect dimensions for hiking and skiing quality lines. I skied the MTN Lab ski and boot for a solid half season last year and I couldn't be happier with the set up. I will sometimes hit an air but mostly just ski on the aggressive side (as conditions permit), and the 184 was always plenty of ski for me.
jamey parks
Unanswered Question
Hi,
I just got a pair of those babies in the 184 length, and intend on mounting them with Dynafit Radical. Where do you guys recommend mounting them? I have read somewhere (wildsnow???) that the recommended line was too far forward. Any take on that?
I am 5'10", 200lbs and ski agressively but in a more "traditional" way (i.e. no skiing switch, but a love for a nice clean carved turn, whether on hardpack or in powder - the later being made possible by those nice new wide and rockered skis!) Thanks!
arnaud de brux
MTN Lab in the French Alps
As an athlete for SALOMON going on 8 years, I've had the opportunity to travel the world to help test and develop new products. This past winter I hopped on a plane and met up with the SALOMON FREESKI TV crew in the Val de la Clarée in the French Alps.

I mounted up a pair of the MTN Lab skis coupled with the new MTN Lab AT boot. The combo makes for the ultimate human powered mountain bagging machine! With skis light as a feather and boots to match, you can run up mountains like a breeze, then charge down just as hard as you would on your traditional alpine set up.

Look for me, the guy in a blue coat, hiking, jumping, slashing and bashing my way through a winter wonderland!
Leo Ahrens