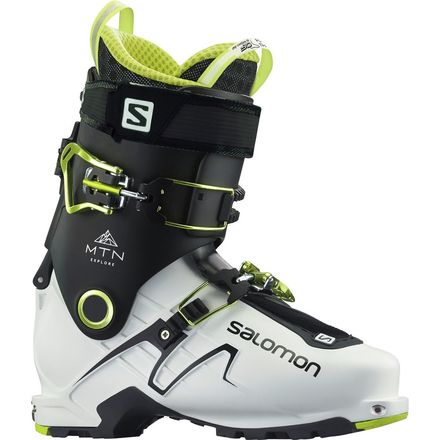 Colors

Detail Images

Community Images
A lightweight touring boot that skis like it isn't.
The popularity and attendant quality of touring boots has exploded in the last three years; virtually every manufacturer is offering a touring-specific boot these days, and they all claim to be the most comfortable, most versatile, and best to ski. We can't say for sure who's right, but we can say that Salomon's been at the forefront of this movement from day one, beginning with its backcountry-capable Quest lineup.

The new MTN Exlore Boot is a different animal than the Quest, though. It's designed primarily for real backcountry use, not short expeditions out of bounds, and has a lightweight, highly mobile construction to reflect that. The shell is made from lightweight Grilamid and the cuff from flexible Touring polypropylene, and the two are joined together using Salomon's oversized pivot, which provides a stable connection that's ideal for driving wider skis without slop or unnecessary flex.

When you're touring, though, it's the front-to-back movement that's most essential. The Explore has a flex rating of 110—stiff but not crazy—and a Surelock ski/walk switch with Motion Flex technology, which gives the cuff a killer 63 degrees of rotation, so you can skin and bootpack like you're wearing a pair of hiking boots. When you lock the switch into ski mode, a carbon fiber spine forms a bomproof connection between the shell and the cuff, so you can use every millimeter of flex without worrying about slop or lack of precision. The power strap lets you cinch things down tight for a highly responsive fit, and the reversed instep buckle pulls your heel back into the pocket and pushes your foot down into the bootboard for top-shelf control.

Heat-moldable liners are standard these days, and the Explore's Ultralight CF 3D liner doesn't disapppoint. It conforms easily to the lumps and bumps of your feet, has a flex zone around the ankle and Achilles for smooth striding, and features several loops that are great if you're a lace-up kind of guy. Salomon also designed shell and liner with its Sensifit technology, which makes them easier to get on and off, so sliding your feet into and out of your boots won't be the hardest part of your day anymore.

Grilamid lower shell and Touring polypropylene cuff
Sensifit ergonomic shell technology
Ultralight CF 3D thermo-moldable liner
Surelock ski/walk switch with Motion Flex technology
Carbon fiber TR spine
Tech inserts
Oversized pivot
Reversed instep buckle
Awesome boot
Familiarity:

I've put it through the wringer
This boot strikes a perfect balance for me between weight, performance and comfort. Ive had about 75 days in these boots over the past 2 seasons ranging from mellow powder skiing in the trees to steep ski mountaineering. I upgraded to an Intuition liner and superfeet insoles since the stock liner was a little wonky (the tongue was annoying and always ended up to one side). I also added a booster strap to even the flex pattern out. These boots are the softest boots I've owned but they do really well in a lot of different snow conditions and are comfortable enough for 7,000' days. My only cons are that the walk mode sometimes gets set back to ski when I pull my gaiters down and the mesh layer on top of the boot will sometimes absorb moisture from wet snow. Other than that these boots are perfect for me.
Kevin Bradford
Unanswered Question
Do these boots fit the same as the Mtn Lab?
matt
After skiing for most of two seasons on these boots I have to give them high marks. I did add a custom footbed and went through the heat molding process. I didn't realize the process at first so I wore them for a few days and then did the heat molding. I would have done it immediately if I would have known. I have learned that I will tighten or loosen the boot based on the aggressiveness of my skiing. When going for a tight fit I noticed that after my run the bottom or the shin would sometimes hurt or cramp. My initial though was to loosen the buckle closest to the discomfort, but it's the opposite. When I over tighten the top buckle it puts pressure on the base of my foot. Knowing this has resulted in far less adjustments while I ski. Some days I just set them and go. The walk function is so good that you can nearly run in these boots. It's common for me to go int the lodge and just flip the boots to walk without adjusting the buckles or the strap. These boots haven't disappointed me.
Russ Vaagen
Unanswered Question
Does this boot not come in full sizes? Are the liners expected to expand during molding to fill in the space for a smaller foot?
Philip A.
Great boots, very happy
Familiarity:

I've used it several times
This brief review is after a light season of skiing, maybe 7 days in the backcountry and 6 at the resorts (with a few more days coming up this season yet!)

These have been excellent boots for me. I had been skiing on a pair of Scarpa Skookums for several years and having generally good luck. When I took them in to get the fit adjusted at my local bootfitter, they mentioned that they had just gotten the MTN Explores in, and he recommended I give it a shot since I have relatively narrow, low volume feet (B width on a Brannock device).

I was not expecting to buy new boots, but after trying them on they felt great. Stiffer when locked in, more ROM when unlocked, more comfortable, and lighter weight. I also tried on the TLT5 and TLT6, but found them less comfortable for my foot shape, less stiff, and with less ROM (unless you removed the tongue, which is a fiddle-fuck-factor I just know I'd screw up on some summit).

I had the liner molded in the shop, which was important, and very much improved the fit. It didn't change shape quite as much as the Intuition liners in previous boots, but it did conform well. Despite a slight tendency for the liner tongues to get knocked to the side while touring, the liner has been comfortable and warm, with no blisters.

I'm not an aggressive or heavy skier, but have taken them down double black glades on 105mm skis at the resort, and a variety of CO backcountry conditions, and not been left wanting on stiffness. Any stiffer and I don't think I'd get any benefit.

Touring comfort is great, and only having to deal with two buckles makes for very fast transitions. I typicaly tour with the bottom buckle totally undone, the top one in the long bail hook and the buckle in the "locked forward" position so it doesn't catch on my pants, and the power strap very lightly secured just to keep the liner from flopping around. Transitions are one handed and fast - lock bottom buckle, tighten the top buckle, tighten the strap, flip the switch.

In summary, it is a great boot, and was the first boot I ever bought at full price. It is very rare to pick up a gear upgrade that is better than your previous item in every way, but that is what happened here.
Sam Ley
Liner is so so
Familiarity:

I've put it through the wringer
I have about 35 days in the backcountry in these boots, and 8-10 days inbounds in them. They are a very good boot, the weight is fairly light and they have a pretty good range of motion. They do occasionally switch into ski mode on their own sometimes, usually only when boot packing, but that can get annoying.



I did switch out the liner they came with to a wrap around intuition liner that I had laying around. It is more comfortable and ended up subtracting some weight from the boot total. I had some hot spot issues on the pivot point of the boot right over my medial malleolus, but I have eliminated those with the new liner .



They have no trouble driving mid-fat skis and I doubt they would have trouble driving a fat ski either. You can not adjust boot canting or forward lean, which would be kind of nice.



I am giving it 4 stars because I feel there are a lot of boots out today that can match up fairly well with these, they don't perform head and tails better than something like the Scarpa Maestrale, though they do have a slightly better range of motion.



I would highly recommend the boot as long as you can get in on sale or at reduced cost.
Kyle
After a few days on the mountain
These boots are light and simple, but my foot moves around too much and has caused a couple blisters. I find myself constantly trying to tighten them up. With just two buckles it seems like it has a hard time keeping my foot in there tight, especially in the soft stuff. I think they might be a bit too big for me which might be the problem. I picked up some heat moldable soles that I will add them to see if that can improve the situation. I wish I had better news, but I think the lack of a buckle near the pivot point and being a little too big keep them from being great.
Russ Vaagen
Unanswered Question
What's the forward lean angle for these boots in ski mode? Is the forward lean adjustable? Any chance you'll be stocking the smallest (24.5) size?
Ann G.
Would these fit into a Marker Baron binding?
Benj Shasha
Best Answer
They will fit but, Salomon wont guarantee it unless its in one of their Salomon or Atomic bindings that have a MNC feature.
Bill Porreca
These boots have been great. I've only worn them on two trips to the mountain. And so far so good. The walk function is pretty awesome. I've be resort skiing and have yet to do any backcountry skinning with them. I do think that's where they will really shine. I wore them the entire first day and skied hard. They were great. I didn't even mess with them. I'll add to the review after I take them touring.
Russ Vaagen
Would not let me add this all to my first review so here it is...

Day 2
First Tour:
As I mentioned I would follow up after some on the mountain experience in these.

Ascent:
I hiked and skinned to the top of Mt. Rosalie today on the south side of the Mt. Evans wilderness area and dropped into a couple of big lines, so I think it is fair of me at this moment to drop some insights. First off, I should mention, I have attempted to use dynafit Vulcans for the last year, they just did not work with my right foot. That said these boots are a comparable weight to those according to my scale (give or take a few ounces) and keeping in mind I put some intuition liners in these. The flex is really incredible in the salomon mtn explore. In walk mode I can flex these to about a 40 degree anterior angle. They lack a little on the posterior flex, not near as good as the Vulcans, but the forward flex is sooo much better. That makes sense considering the Vulcans are a 120-130 flex depending on 2 factors; whether you have the tounges in and the source of the information. With the intuition liners in, I felt like I had a 103 last boot on (just like my Full Tilt descendent 8s.) The boots hiked strong on a 3.5 mile hike/skin. I only had a 1 hot spot, however that is a liner molding modification issue, not a boot issue. On the flats the hiking was like I had a pair of soft hiking boots on (incredibly comfortable) The outsole tread grips snow great, and on icy sections I was incredibly impressed by the stability. Hiking steeps on front points, I felt incredibly stable and of course again was impressed with the outsoles. For a ski and binding setup I had these paired with Armada JJ's 2.0 185 length and Dynafit beasts. They adapted to the beasts beautifully when clipped in. I skinned about 1.5 mile
JP Rambo
My initial impressions are premature being that I just received these today, however I thought it would be good to discuss fit. First of all, these boots are suppose to have a last width of 98. I have narrow feet, but a bunion/spurs on the ball of my right foot prevent me from wearing narrow footwear (so my left foot is always looser inside shoes and boots). Because of this I can't tolerate anything but a wide boot even with intuition low volume liners. Considering this, I tried the stock linters on and wore them for about 1 hour, while sitting on my couch and occasionally ambulating. In this time I felt 3 points of pressure out of the box. The first 2 points being at the very top of the foot (metatarsals) before the point where the ankle flexes. The last point was the ball of my big toe. Keep in mind this was the stock liner without thermo-molding them. I then took the insoles out of the liner and wore them without for about 2 hours. After wearing them for a total of 4 hours, the liners did not conform and I decided that the stock liners were just too rigid for me and that the heat molding process would probably not be adequate. At this point, I threw in some older Intuition liners I had from my previous touring boots, and ECSTACY! They were soooo much softer than the stock liners and the volume did not crowd my feet at all. I want to add that I used a medium volume pro tour intuition liner and kept them on for about 2 hours.

In summation; the boots are considerably wider than described above and by the manufacturer. The stock liner has several pieces afixed and sewed into the liner that makes it them very rigid. Though touring boots are softer than alpine, the liners are traditionally more rigid. The stock liner may work for some but not me. I had 3 points of contact that created an uncomfortable pressure. With my experience with boots and liners I decided that there was no way heat molding would be the fix considering the volume issues. I am going to take these out for a tour in the morning and will update/review my experiences from there. I want to thank MR. Ben Rabinowitz (Geared) for our conversation and the suggestion, the signs are good so far!
JP Rambo
How do these stack up against the more burly MTN lab or other more Alpine inspired boots? I've been hard pressed to find a real review showing how these MTN explore's rate going downhill. With all that ROM, are they too soft when charging deep or cruddy snow on the way down? Thanks!
jason
Hey Jason,

Differences between the two boots are few and nuanced. Mainly stiffness, weight, ROM, and the lower buckle. It's picky to pick between the two because they're both great touring boots.

Not to dumb it down, but here's how I'd answer your question. If you're looking to go on long tours and put in the miles, get the Explore. If you're mainly looking for a burly AT boot that is meant to charge hard, then go with the Lab. It's all about what you want from the boot.

Ben
Ben Rabinowitz