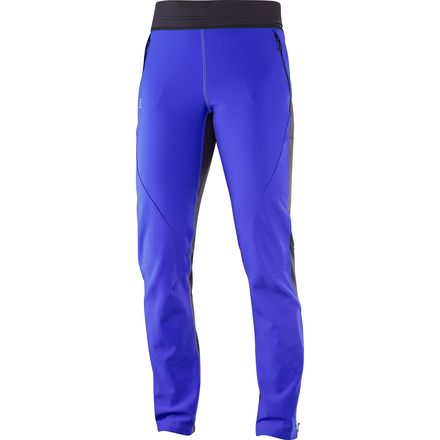 Hike, ski, jump, slide.
When the sun shines and the ice glistens, slip on the Salomon Women's Momentum Softshell Pants and head outside for a quick lap around the Nordic track. The durable shell features convenient front panels, which combine together to create supreme wind protection and moisture-wicking technology so you're protected against stiff winds. Even though the fabric is rugged and functional, it's surprisingly soft and flexible so you have room to move in the backcountry.
The Momentum Softshell Pants are semi-fitted for a flattering silhouette that still offers room for a baselayer, and they feature an elastic waistband so you don't waste precious seconds trying to untie a knotted drawcord when nature calls. Side zips make changing clothes simple, as well as create comfortable airflow for warmer days. And with two hand pockets and reflective logos, you have room for your favorite snacks from the morning to evening.
Nylon, polyester, and elastane shell
Nylon and elastane front panels
Moisture-wicking
Semi-fitted
Hand pockets
Elastic waistband
Side zips
Reflective logos
Great Pant for Skiing or Winter Runs
Love these pants! They're easy to wash and have kept me warm and dry while XC skiing, running in the sleet/rain during the dead of winter in Oregon, and summiting Mt. Whitney in late October when the wind increases and temp drops significantly. The back is soft and breathable but the top is windproof and great at repelling water. I wish they were a bit lower rise/more flattering and while they've held up well, a kick guard wouldn't hurt as I use hem with my metal edged skis.
Megan B.