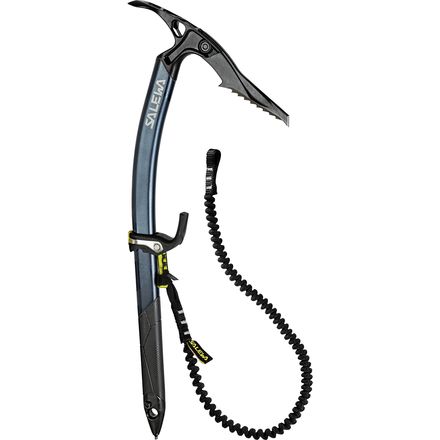 Colors
Multi-purpose versatility on technical routes.
Taking a coveted ISPO Award in 2016 for its innovative design, the Salewa North-X Ice Axe provides multi-function versatility for conquering technical alpine routes with mixed rock and ice. Standing out from the competition, the easy-adjust hand rest automatically slides upwards as you plunge the axe into steep ice, conserving precious energy on the ascent. On steep faces, the hand rest locks when it's loaded for greater support. The integrated webbing anchor provides an extra degree of safety while you're self-belaying without requiring you to clip it into the shaft.
The North-X Ice Axe is constructed with a 7075 aluminum shaft for robust durability and balanced swing action. Its adze comes in handy for a wide variety of alpine duties, ranging from cutting steps to digging snow anchors. The ice tool ergonomically grips in your hand for a comfortable hold on the way back down. Moreover, this axe employs a replaceable bottom steel tip instead of a spike, which offers better hold across rock and ice.
Security and grip for mixed ice and rock
7075 aluminum shaft for balanced swinging
Adze fulfills a variety of alpine duties
Hand rest slides up as you plunge axe into ice
Attached webbing anchor for self-belaying
Ergonomically shaped head for descending
Replaceable steel tip for steady grip