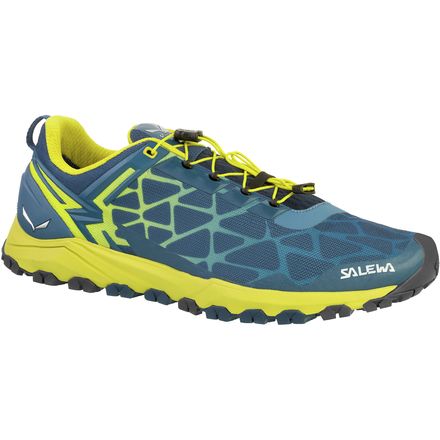 Colors
Three-in-One Versatility.
Built for pure, unadulterated playtime outside, the Salewa Men's Multi Track Trail Running Shoe offers you the convenience and versatility of a trail running shoe, hiking shoe, and flat pedal mountain biking shoe—all in one. Like its elder sibling, the Multi Track Gore-Tex, this shoe weighs in at 14oz, which puts it on the heftier end of the trail running shoe spectrum, but is compensated for in its versatility.
A breathable mesh upper encapsulates your foot for serious, stoke-worthy ventilation, while the quick-lace system touts a snag-free construction, so it won't get caught on bike pedals or errant tree branches. A cushioned midsole provides an energetic feel and shock attenuation underfoot, and the TPU inserts offer stability and rigidity in the face of trail-bound obstacles. Not to mention, a 3F Total System bolsters your support, providing some semblance of comfort when you really start to put the pedal to the metal. Additionally, the Michelin rubber outsole is structured as such that it touts ample traction when embarking on bipedal adventures, yet it remains compatible with mountain bike flat pedals—promoting a non-slip grip and comfort.
Hit the trails with this versatile shoe
Mesh upper promotes air circulation and breathability
Ortholite insole fights post-play odors and gnar
Midsole attenuates shock and enhances comfort
TPU inserts offer a semblance of torsional stability
Michelin Multi Track outsole is grippy and flat pedal friendly