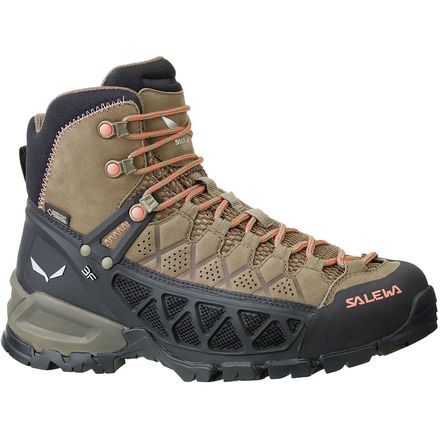 Colors
For flowing in the alpine.
The Salewa Women's Alp Flow Mid GTX Hiking Boot boasts the most innovative features found in boots. Gore-Tex's Surround midsole offers waterproofing superior to the competition, with a laminate that wraps around the entire boot. Unlike most waterproof boots, Gore-Tex Surround includes a specially-perforated footbed to provide true breathability underfoot, resulting in an entirely comfortable hike whether you're trekking in hot, muggy weather or cold, wet weather. Salewa paired Gore-Tex's Surround with Gore-Tex's Extended Comfort for even more waterproof breathable protection.
The Alp Flow also features Salewa's 3F System Evo for a surprising amount of flexibility and mobility in a supportive mid-cuff boot. Ballistic mesh makes the upper very breathable and durable, and Salewa added nubuck leather reinforcements and a 360-degree rubber rand for rock protection. Climbing-style laces give a snug fit from toe to foot. Vibram's Hike Apparoach sole gives the grip, flex, and durability that's ideal for the most demanding excursions.
Gore-Tex Extended Comfort
Gore-Tex Surround midsole
3F System Evo
Ballistic mesh upper with nubuck leather reinforcements
360-degree rubber rand
Climbing-style laces
Vibram Hike Approach sole
comfort but gotta be extra careful
Bought this shoes and wore it for a 6 day hike at Stok Kangri, Ladakh, India in late August recently. It's summer like 30C during the day and OC during the night as the basecamp is at 4800mtrs.
It passes the climate well during the day & super cold hours. Great breathability but run a bit small for me. I usually wear an 8. I bought 8.5 but still tight for winter socks. Should have gotten a 9 instead. Nice looking boots buta big problem is the shoelace eyelet is super dangerous. It tends to get caught to my other side especially when walking at narrow path. Certain trail required kinda catwalk and it get caught to each other. I trip couple of times. The shoe tounge doesn't secure properly too. I wish I could return this shoes.

Linda Ayub
Be careful
Familiarity:

I've put it through the wringer
I've been hiking in these boots for over a year now, including weekly use over summer and 5-7 day treks in Bhutan and Patagonia.

On the plus side
- the shoes are very precise to walk in on rocky terrain
- magically they are breathable and stay dry, along the vents on the side offer less protection of rocks
- they are quite comfortable

Watch outs
- after 2+ days hiking the back also starred to rub my heels
- there is a terrible design fault in the top 3 eyelets. They bend easily away from the shoe and protrude too much. To the extent that the shoe lace of one foot can get caught on the hook of the other, causing a hard fall and fracture to the patella (even with the laces double tied). So really watch out unless you want new knees.
carrie polhill
san3172823
That Gore-Tex, though...
Familiarity:

I've used it several times

Fit:

True to size
I used my Salewas for a week long hiking trip in Norway in early June. I subjected my boots to lots of knee deep post holing in snow fields, creek crossings, boulder scrambling, 14+ mile days, and up to 3,000 feet of elevation gains/losses on some hikes. Here is a bulletized list of pros and cons on the boots since no one likes reading a novel for a review:

PROS:
-Dear, sweet, baby Jesus... The Gore-Tex surround footbed was amazing. My feet sweat profusely when I hike, and the perforated footbed made the shoes incredibly breathable, so my feet stayed cool and did not reach prune consistency by the end of my hikes.
-Gore-Tex Surround struck again with keeping unpleasantly cold substances such as glacial runoff and snow from seeping into my boots (except for that one time I tripped and submerged my whole leg in the water... That one was my bad).
-Technical approach sole was very grippy, and I always felt sure-footed on slab.
-Good cushion and support, and plenty of room in the toe box (I did go up half a size from my normal shoe size since my feet tend to swell).

CON(S):

-Especially when trudging uphill, the backs of the boots dug into my heels, and I ended up with some bad blisters. I adjusted my laces several times to see if maybe I just had them tied too loosely, but it did not help.
Adrienne O.