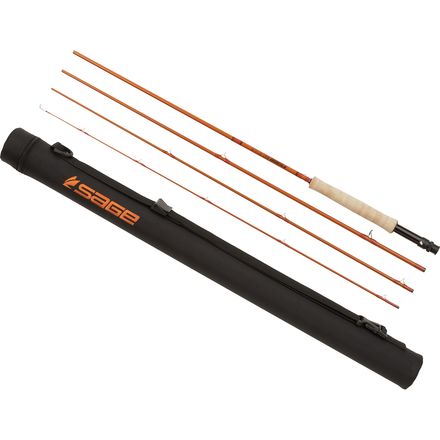 Wind won't be a problem.
When high winds blow crippled mayflies along the far bank, big trout pushing 20 inches will feed aggressively on the struggling bugs. And while the fish may be rising, making a decent cast, let a lone a good one with winds like this can be next to impossible—unless you're casting the Sage Bolt Fly Rod. Replacing the award-winning Accel in Sage's lineup, the all-new Bolt is an ultra-fast rod designed to cut through headwinds whether you're throwing streamers from the bow of drift boat, chasing saltwater species, or trying to hook that trout sipping crippled baetis flies on the far bank.
Made with Sage's Generation 5 technology, the blank is composed of a graphite hoop material and a carbon/resin composite—this gives the Bolt its stiff, tip-action feel and the backbone to push flies through obnoxious head winds. The bolt is available in weights ranging down to freshwater four- and five-weights all the way up to a saltwater-specific eight-weight. Four and five weight options feature a snub-nose half wells cork handle with a rosewood insert and up-locking reel seat, while weights ranging from six to eight will have a full wells handle, fighting butt, and anodized spacer with up-locking reel seat. Every rod in the lineup has a classic looking salmonfly color blank with a rich looking orange thread wraps with a black trim. Svelte looks aside, the Bolt is a fast-action rod that will cater well to the angler who prefers a light, stiff, and responsive feel, or the angler who is looking to add a powerful rod to their arsenal of rods to cast mice, large dries, and big, meaty streamers, wind or not.
Generation 5 technology
Ultra-fast action
Snub-nose, half wells cork handle (4 and 5 weights)
Full wells cork handle with extension handle (6-8 weights)
Salmonfly blank color
Orange thread wraps with black trim
Fuji ceramic guides
Hard chromed snake guides
Ballistic nylon rod tube included