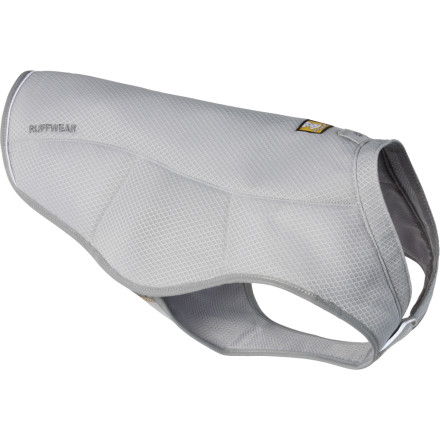 Colors

Detail Images
On a hot day, your dog will appreciate the cooling effect of the Ruffwear Swamp Cooler Dog Vest. Just soak this vest with water, secure around your dog, and as the water evaporates away from the three-layer material, the cooling effect of the evaporation will help your pooch beat the heat. And for dogs with dark-colored fur, the light color of the Swamp Cooler will be particularly helpful when the sun is beating down.
Vest utilizes three-layer construction with an outer layer designed to encourage evaporation, a middle layer that stores water for evaporation, and an inner layer the transfers the cooling effect of the evaporation process
Contoured fit is designed to secure around your dog's chest and then taper towards the haunches with large leg openings for full range of motion
Side-release buckles make it easy to slide this vest on your dog and secure it in place without fumbling around
Reflective trim improves visibility at dusk and dawn, and a loop allows you to attach a light so it's easier to spot your pooch in the dark
Perfect for desert season
Familiarity:

I've put it through the wringer
This vest is a life saver for us. My GSD does fantastic in very cold weather, but starts overheating to a concerning level when it's above 70. With her black saddle, the sun expedites her overheating. I was skeptical about this vest, but it has been so incredible for her. We spend a lot of time in the desert of southern Utah, and this vest makes it possible to venture out in mid day instead of waking up with the sun to catch the cool weather.We make sure to keep it wet, but it keeps her cold even when it has dried up. When I reach under the vest her coat is cool. I would recommend this to anyone who spends a lot of time in warm climates and has a dog that is prone to overheating or has a dark coat.

My dog is a 60 pound gsd/lab mix, and the medium size in this fits well.
Liat Ankonina
In My Doggie Travel Kit
Familiarity:

I've used it once or twice and have initial impressions
I frequently travel to Arizona, and I purchased this item for my service dog. She has had to wear it, along with Ruffwear boots, a couple of times now. I have been complimented by the motel staff for taking care of my dog in their hot, hot weather.
Myra M.
It works.
Familiarity:

I've used it once or twice and have initial impressions
Our Mini Schnauzer overheats really easily, usually having to seek shade within 10 minutes out on the trails. The swamp cooler has keeps her cool. Since we have been using it, she has yet to have to seek out a shady place to chill on hikes. Just add water every 30 minutes or so.
SW
It actually works.
Familiarity:

I've used it several times
I thought this was kind of a gimmick to begin with, but it actually keeps my dog cool. I live in Phoenix and have a black coat German Shepherd. Most of the year it gets really hot here. Heat has always been an issue with my dog. I'm an active guy but come the warmer months, my dog heats up so quickly that it really limits our walks/hikes. This product seems to be the answer. Just soak it in cold water, wring it out, and it keeps cool for many hours. I usually put my hand under the vest to feel it working. Very cool to the touch. My dog is 98lbs. and I bought the XL size. Fits her perfectly. I also have the Ruffwear Sunshower rain vest which runs a lot larger than this product. It is a very delicate material, my dog ran next to a bush, and the branches tore it a little. My dog doesn't like to lay down while wearing the vest. Maybe it's to constricting for her.
dubayaB
Couldn't get the fit right.
Familiarity:

I returned this product before using it
We tried two sizes on our Welsh Terrier - XS fit well around the neck, but only covered half way back to her tail. Small was too loose around the neck (afraid of getting it hung up on brush) but reached close to her tail.
Scott Hemming
Not a Hotdog
Familiarity:

I've put it through the wringer
Our dog is a pretty constant companion when it comes to mountain biking. Problem was that sometimes we wanted to go for a ride when it was too hot for him.
Enter the Ruffwear Swamp Cooler Dog Vest. The vest definitely extends our Cas's comfort range. We joke that it's his superhero cape. He hardly notices it's there and the evaporative cooling works like a charm, keeping him happy and chasing our tires.
Aaron Bender
I was a little skeptical at first but it worked great, the dog was kept cooler than normal and seemed to like the cooling vest. Good fit, the dog accepted it well within minutes.
ROBERT BETHKE
Great product for black labs
Familiarity:

I've put it through the wringer
It's difficult for my dog to go on long hikes in the brutal Utah summer heat. This vest has proved to be great to keep his body temperature regulated and prevents him from overheating. If you have a dog with a thick or dark coat and do a good amount of hiking, I would highly suggest this product.
Matt A
Works well but chafes short-haired dogs
Familiarity:

I've put it through the wringer
I got this jacket for my dog Ollie. He's a Boston Terrier and they overheat easily. The Jacket really does seem to keep him cooler, and he doesn't mind wearing it.



However, it chafes his legs pretty badly whenever he jumps; his legs rub on the chest of the vest. Ruffwear says that they are aware of the issue and the chafing is particularly intensive because of the texture of the fabric and the fact that it is wet. They say that over time the dog will develop calluses. For now, I reduce how much I use the jacket on him.
John M.
Is it possible to have my dog wear her pack over the vest, or does that completely undermine the purpose/effect of it?
tnoliv
Hi there,

Nope, I've had my pup do the same thing! Just as long as the vest is wet it will still create the cooling effect, and she can still wear her pack over it


Kayla Weiser
If you reduce evaporation of water from the vest (which is the mechanism by which cooling occurs) by covering it with a pack, good luck cooling off your canine.
Steven W.
Cool Canine
Familiarity:

I've put it through the wringer
Oliver insists on joining me on every adventure, but it's ruff out there for a black doggie in the sun. He was constantly huffing and puffing and refusing to leave shady alcoves along the trail. This Ruffwear Swamp Cooler vest was the answer to our problems. After pulling on his new outfit, a few intermittent squirts of water along the way is all it takes to keep him cool and happy all day long.



Oliver is ~55 pounds and rocks a size medium in style.
Cory D
This vest beats the NC heat!
Familiarity:

I've used it several times
Indy, my border collie mix, has a neurological disorder that causes seizures in warmer weather and prevents him from getting the exercise he needs. It's hard enough to keep him cool with that thick black coat of his! Since we started using the swamp cooler vest I have noticed a significant difference in his energy level and panting while outdoors. When you place your hand on his back underneath the vest you can feel the difference; his fur is cool and airy. Indy knows that when his vest comes out, it's time for an adventure. :)



Backcountry.com's phenomenal customer service rep made sure we got a vest that suited our needs and fit him properly when I found his measurements were in between sizes. For size reference-- Indy is 50 lbs and wears size M.
Nicole Hilaire
Is the ice blue vest ... last year's model...
Is the ice blue vest ... last year's model ..... which year has a better fit .... (more adjustable) thanks .... Audrey Podl
Audrey Podl
Audrey,



The "ice blue" it last years model. The newer model has a little more of a contoured fit and the side buckles have been placed lower on the jacket so they are not high up on your dog's back and prone to snagging.
Mike D Hilverda
Here is a size Large on our 90lb newfie. This vest goes with us everywhere, she loves it!
Kayla Weiser
Makes hikes last longer!
Familiarity:

I've put it through the wringer
My dog struggles with temperatures that rise above the mid 70's and so this vest had really helped with hiking here in Wisconsin in the spring and summer. She has been able to last much longer and go much farther. I like that it works in both the dry and humid weather as we get both here. When I refresh the cooler and put it on her, she gets very spunky. Prior to finding this item, I had to keep our hikes to only a couple of miles and time it to a cooler time of day. It is nice because you can recharge it with whatever water you have handy; I have recharged it in a lake, river, water fountain, etc. It always washes clean. It is made of high quality material that has held up well against tough terrain (we were bushwacking through raspberry brambles and it didn't snag). It hasn't damaged my leather seats in my car either. The only downside is that if it isn't fitting just right the bottom panel can chafe against the dog's chest and my dog has barely any hair there and she also loses weight as the summer goes on. But, the benefits far outweigh the one downside. I would definitely recommend this to anyone thinking of purchasing it, well worth the money.
Andrea H.
great vest!
Familiarity:

I've used it several times
My pug hates to put it on, but once it's on he's OK with it. It does help keep him cooler here in Texas, but once the temp is at or over 100 it doesn't help as much because his head gets hot. But it does allow him to stay outside for more than 5 or 10 minutes as long as he's in the shade. He wears the XS and it's the perfect size for him. the only complaint I have is the connector buckles are waaay up under a flap of fabric and it's a little difficult to snap them in place with wet or damp hands. Otherwise, great vest that we both highly recommend!
donp
We have a newfoundland pup, so it was pretty much essential to get this. Her girth measures 32" and we picked up the Large. It is VERY adjustable, you can definitely tighten it up there. It's very easy to get on and off with both straps, and the length was perfect! She seems to like it too, which is a plus. Can't wait to get this out into more weather and adventures!
Kayla Weiser
So the lengths of the LARGE is 110 cm and...
So the lengths of the LARGE is 110 cm and the EXTRA LARGE is 122 cm. My dog only measures 70 cm - maybe I should go with the LARGE and hopefully there is some space of adjustment as you can see from the photo he has quite a thick neck at the shoulders. Looking at the vest the leg 'gaps' look spacious and so I am hoping there is room to play with.

P.s. Just for the record, do you have last year's in his size because that looks like a good bargain to me?

Thanks and regards,

Michelle
michelle Keyte
Hey Michelle,

He is BEAUTIFUL, thanks for sending a picture!

The girth measurement is really the only one that matters for sizing this product. Make sure you are measuring the widest part of his chest. I suggest checking out this RUFFwear video on their website! If he is 38 inches around, then the size L should be the best for him.



I also double checked on last year's model in our OUTLET section, and unfortunately we only have the XXS size renaming in stock, not ideal for your pooch I'm afraid.



I also found a really great and comprehensive review here: http://www.intrepidpup.com/2013/05/31/swampcooler/#.UeAtWjugV2w
Lexi Dowdall