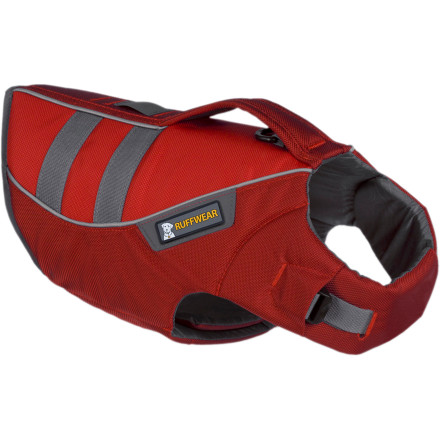 Colors

Detail Images

Community Images
He's going to love telling the cat all about it when he gets back.
You have a sweet vacation planned involving your dog and lots of water. The Ruffwear K-9 Float Coat enables Rover to come along for the adventure whether you're out fishing on a lake, sailing along the coast, or paddling down a lazy river in a canoe.
1680-denier ballistic nylon provides amazing strength-to-weight ratio so when it's time to haul your dog out of the water, you won't tear the coat
High-luminescence reflective trim on the sides and top of the coat offers more visibility in low-light settings
Rock Lockster side release buckles stay secure in the water and are easy to operate
Hidden D-ring attachment point lets you attach a leash when necessary
Variable-thickness buoyancy cells allow your furry friend to float without weighing him down
Ergonomic cut won't pinch or prohibit movement
Dual color panels in cool hues contrast against neutral backgrounds to make sure your pup stands out
The size coat you'll need depends on your dog's length (the measurement from base of neck to base of tail) and girth (measurement around widest part of rib cage)
Great for our Dog
Familiarity:

I've put it through the wringer
We have had a great experience with this for our dog. She does not seem uncomfortable with the life vest on and allows us to feel at ease with her swimming anywhere. Loved having this for our dog this summer to go paddle boarding with us.
Derek R
Ruffwear Delivers
Familiarity:

I've used it several times
This is my second Ruffwear product for my boxer / border collie mix - we also have a pack for hiking and running that she loves. No matter what, the design, durability and simplicity of Ruffwear products is impressive to me. The handle on top of the float coat is built to last, so no concerns about lifting her in and out of the boat. The straps in the middle of her torso really need to be cinched down so there's not tons of extra space - otherwise, loving this product! The blue / pink is adorable in person too!
Melissa Crespo
Perfect for the long days on the water
Familiarity:

I've put it through the wringer
My dog loves to play fetch on the water. But sometimes she doesnt know when enough is enough and it is break time. This jacket makes it possible for her to get after it as efficiently as possible. And on the throws where she is tired, i have peace of mind that she will make it without any worries.
Grant Kates
My dog is around 45 lbs and the small fit her perfectly. Seems to be very comfortable and doesn't bother her for full day float trips. The handle on the back is very strong and helpful with lifting her into the boat.
Mimi
My dog loves it
Familiarity:

I've used it several times
Doesn't seem to bother my dog and he is always stoked to put it on.
Charles Denney
Another Great Ruffwear Product!
Familiarity:

I've used it several times
I have an english bulldog-corgi mix - with quite a unique figure. She has the length of a corgi, but girth of a bulldog, usually fluctuating between 45-50 lbs. I originally bought her the large because the large in the ruffwear harness fits her nicely - but we had to return it for the medium. The medium works great, and the adjustable straps make it a perfect fit! The vest isn't too bulky, and she doesn't seem to mind it when it's on. She loves to swim - and now I can be a little more at ease when she's spending a whole day at the lake while we're kayaking!
Brittany Geffken
Feedback from my customer Angie:
Familiarity:

I gave it as a gift but have feedback to share
We received the Ruffwear Life Vest that we ordered from Backcountry. They arrived very promptly and fit perfectly. The quality is excellent and we could not be more pleased with your customer service. I'm attaching pictures of Max & Juno (she the larger of the 2) in their new life vests as promised. Max's is a little big, but I knew that when I ordered. He is just so small , 3.6 pounds, but I'm hoping he will grow into it. They were sized exactly as described. Angie bought the XXS size for both of her pups.
Koly Swistak
Great vest!
Familiarity:

I've put it through the wringer
looks good i bought it in red and the color looks great!
John Smith
Fits great, dog didn't seem to mind it, and does its job.
Hanh H.
Great vest!
Familiarity:

I've used it several times
This is our second Ruffwear product and we've really liked both for their durability and fit. The handle on top of the float coat was awesome for assisting her in and out of the boat. And she didn't really seem to mind having the vest on, so it must have been comfortable.
Tracey O.
Ruffwear does it again
Familiarity:

I've used it once or twice and have initial impressions
My pup loves the water a little too much and this gives me just the security I need to take him out on the paddle board or boat with the risk of him jumping overboard. It fits great and doesn't create the discomfort in the neck and belly area that previous vests have
Helena S.
85lb Golden
Familiarity:

I've used it several times
Our English Cream Golden Retriever is about 85lbs and fits in the Large. It's a nice fit with a little extra room (he just turned 1 so he might still grow a bit.) The adjustable straps under the chest is a great feature for a snug fit. He loves the water and is a great swimmer so we don't use this a ton however, when we're floating/fishing in the drift boat, the float coat is with us just in case.
Jaclyn Richards
My dog is about 75 lbs - the large fits well with some room for a bigger dog. He loves to swim but is no Michael Phelps... this vest keeps him afloat!
Katherine Matsumoto
Love the feeling that my dog will float
I have two goofy standard poodles who are not the best in the water. They love to swim but I don't want to risk them falling off of our SUP with a long way to swim. These vests keep them buoyant enough for longer swims.
Katherine Matsumoto
Great Training Vest!
Familiarity:

I've used it several times
I have a 50lb shepard,boxer, and pitt mix who is not a huge fan of swimming. I've been working with her on being more comfortable in the water and this vest has helped a lot. She fits the medium perfectly, and when wearing it you can already see that the improved floatation makes it much more enjoyable for her. This is a great buy for anyone looking train their dog to swim, or just to have on them when around water.
Judd Collier
I have a 90 lb boxer/pit mix who happens to be really broad chested, and right in between sizes (L and XL). The L fits snugly and perfectly for him. I think the XL would have been too large.
Adam
Keeps a rock from sinking.
Familiarity:

I've used it several times
Joey's dream of being a water dog has finally come true. The handle on top is wonderfully helpful if your dog bails off a paddleboard (or something similar) and you need to grab them up quickly. It looks really comfortable and is nicely adjustable. It's not too snug or too loose and is a cinch to put on. The leash latches right onto the jacket so no worries about needing a collar. We have 2 dogs that love this jacket. A large fits this 80lb pit mix as well as our 85lb barrel-chested catahoula. I know I know... its expensive... I put off buying it for a long time, too. But I promise its worth every penny. I had peace of mind when my other dog (wearing the jacket) swam far off to chase a flock of swimming ducks. I plan to buy a second.
Kelly D.